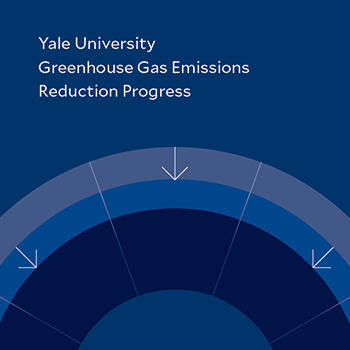 Yale has reduced emissions by 43% since 2005. These reductions equal the amount of greenhouse gases produced by more than 24,000 passenger vehicles in a year.
A Global Imperative
Greenhouse gas emissions contribute to climate change, which affects human health and ecosystems, weather patterns, and sea level rise. By reducing greenhouse gas emissions, we can help limit the increase in global temperature, and help protect people from potentially catastrophic impacts. 
Yale's efforts help bolster the Paris Agreement, a pact by 196 nations to reduce global emissions. In June, Yale joined 11 other research universities in publicly committing to support the Paris Agreement.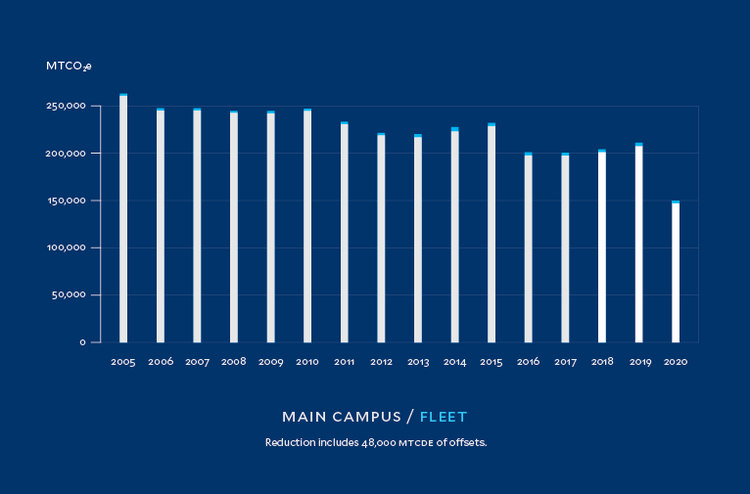 How was this 43% reduction achieved?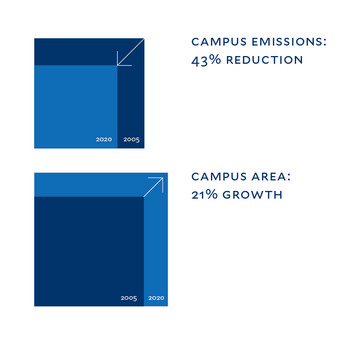 Since 2005, Yale has completed hundreds of projects across our buildings and central power plant utilities. Over the past five years, more than 150 individual energy conservation projects have been completed across campus, with ongoing attention to energy across our operations. 
What's next?
In 2021, Yale committed to reaching net zero emissions by 2035 and achieving zero actual carbon emissions by 2050.   Net zero will be attained by reducing campus emissions to 50% of 2005 levels and purchasing high-quality verifiable carbon offsets. Zero actual carbon emissions will be accomplished by fully minimizing campus emissions.  Since 2014, Yale University has reported its greenhouse gas emissions to The Climate Registry for third party verification. Now that our 2005 goal has been achieved, we will report exclusively with The Climate Registry to ensure comprehensive, transparent, and rigorous accounting. Greenhouse gas emissions reporting will expand to include more Scope 3 categories. 
Learn more about what's included in Scope 1, 2, and 3
. Initiatives such as the 
Carbon Charge
 will engage the campus community in contributing to our success by lowering emissions in campus buildings. 
How can you help?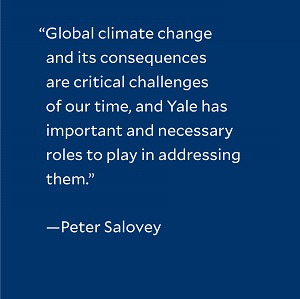 Do your part. Turn off electronics when you're not using them, follow temperature setpoints, and report any issues you observe.
Lead by example! Your behaviors make a difference, and can help influence others.
Learn more about our 2020 emissions reductions.
Read about our emissions reduction progress over the years
Greenhouse gas reduction strategy — 2006
Greenhouse gas reduction strategy — 2007
Greenhouse gas reduction strategy — 2008
Greenhouse gas reduction strategy — 2009
Greenhouse gas reduction strategy — 2010
Greenhouse gas reduction strategy — 2011
Greenhouse gas reduction strategy — 2012
Greenhouse gas reduction strategy — 2013
Greenhouse gas emissions reduction progress — 2014
Greenhouse gas emissions reduction progress — 2015
Greenhouse gas emissions reduction progress — 2016
Greenhouse gas emissions reduction progress — 2017