Our Climate Goals
Climate change is the most pressing issue facing humanity in the 21st century, and to address it requires urgent action. Yale is committed to meeting this challenge across every part of the university: through research and teaching, through the management of the university's assets, and through reducing campus carbon emissions.
On its campus, Yale aims to reduce actual emissions to zero as soon as possible and no later than 2050. This ambition—which aligns with the international scientific consensus around the critical importance of decarbonizing the world's economy by midcentury—represents a dramatic new commitment that over 29 years will reshape the university's approach to the consumption of energy.
It also represents an ongoing set of experiments. As a research university, we are especially well positioned to try new approaches to carbon mitigation in service of the global energy transition; where we are successful, and where our success is emulated, Yale will play a vital part in the global effort to dramatically reduce the use of fossil fuel over the next three decades.
The university will incrementally reduce campus emissions from direct sources—Yale's power plants and fleet, as well as purchased electricity (scopes 1 and 2). Some of the projects that help us rapidly decrease actual use of carbon on campus will reduce demand for energy, while others will reduce the carbon intensity of the energy used. Our current model suggests that by 2035 we will achieve a reduction of more than 65% of 2015 levels of actual emissions; we will update the community annually on our progress.
The judicious use of carbon offsets (also known as verified emissions reductions or VERs) to supplement the reduction of actual emissions will enable us to reach net zero emissions in 2035. 
Our Strategy
The social cost of carbon is a policy concept that provides the estimated economic cost of the destruction caused by an additional ton of carbon-dioxide emissions or its equivalent; an important model for estimating this cost was first developed by William Nordhaus, the Sterling Professor of Economics at Yale.
The projects we pursue on campus will use technologies that have a marginal cost of abatement less than the social cost of carbon. This decision-making framework allows us to strike a balance between aggressive actions and investments in on-campus carbon abatement and other priorities. 
We plan to achieve targeted emissions reductions in the following ways: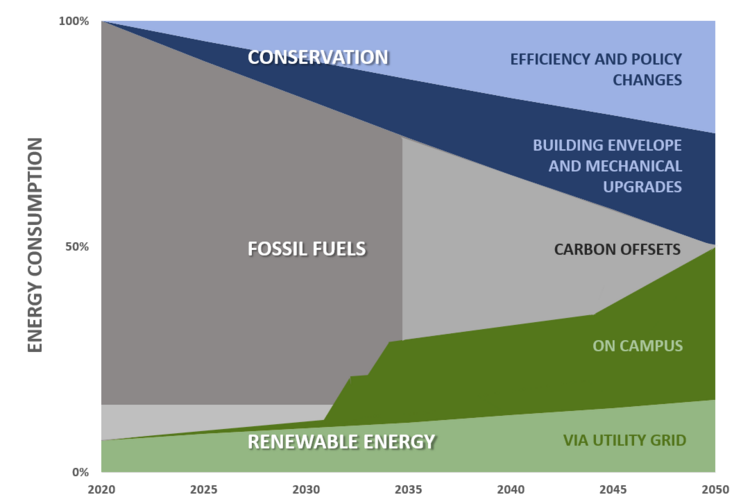 Increased energy conservation
For global emissions reduction targets to be met, there must be an economy-wide shift toward efficiency and clean energy. For Yale, preparing our buildings and systems to take advantage of this shift will be a priority. Steps to do so will include:
systematically assessing and readying buildings for electrified heating by improving building envelopes for lower demand and higher resiliency; installing responsive building management systems to improve efficiency; creating capacity for energy storage; and preparing rooftops for solar.  
using our buildings efficiently, with space-use policies that support emissions reductions.
designing new construction that supports a zero fossil fuel campus with, for example, more advanced building automation controls, building envelopes with high-insulating values, and local renewable energy sources such as geothermal wells with heat pumps and rooftop photovoltaic solar arrays. 
Increased use of renewable energy
Renewable energy is the future. Already, an increasingly clean regional electric grid offers Yale the opportunity to tap into renewable energy through electrification. As nascent, promising technologies mature and prove their viability, Yale is prepared to launch large-scale efforts to transition away from fossil fuels.
Beginning in the mid-2030s, Yale plans to use emerging technology such as deep earth geothermal heat, biomass gasification, and green hydrogen processes to close the gap that may exist between campus electrical systems and Yale's energy needs. 
Solar will continue to be installed on campus in combination with energy storage.
Investing in high-quality, verified carbon offsets
Yale's principal commitment is to reduce its actual on-campus emissions while investing in the scholarship and teaching that support the global energy transition. Carbon offsets offer another path toward greenhouse gas reductions, one that Yale will use only to supplement, not replace, on-campus reductions.   
In 2020, Yale retired 48,000 metric tons of carbon dioxide equivalent (MTCO2e) of verified emissions reductions to achieve our first greenhouse gas reduction target. We will continue to retire carbon offsets annually to maintain this 2020 net emission target.  In tandem, Yale science and policy researchers will work to advance the functioning of carbon offset markets, with the hope that those markets will mature by the middle of the next decade. Assuming they do, we hope to reach net zero emissions by approximately 2035.
Learn more about Yale's portfolio of carbon offsets. 
Implementing our Strategy
Addressing the urgent and complex problem of climate change requires decisive action. Such an undertaking will be logistically, technically, and financially challenging. Our plan accounts for these multiple requirements.
To meet the logistical and technical challenges of implementation, Yale will rely on its capital planning and development process to deploy projects as quickly as possible. In addition, Yale will form industry partnerships to pilot new technology in ways that accelerate its broader adoption, recognizing that, by using our campus as a living laboratory, we can help support emissions reductions beyond the university.
This plan will be expensive: it is estimated to cost approximately $1.5 billion over the next three decades. This is a living estimate, with the total investment determined by the cost of implementation and may need to be adjusted over time.
As with other uses of university resources, we are committed to the principle of intergenerational neutrality, balancing the financial burden over generations as much as possible.  In this case, that means committing that all units currently at Yale share the cost of this plan.  We will accomplish this goal through a three-pronged financing strategy:
Revamped Yale Carbon Charge:  This internal pricing mechanism—the first of its kind at any U.S. university—charges each top-level administrative unit at the university for the emissions its buildings produce.  Beginning in fiscal year 2023, the carbon charge will be modified:

to eliminate the revenue-neutral "return" of carbon charge revenues, so each budgetary unit will contribute funding based on their current emissions. 
to phase in an increase from $20 / MTCO2e in fiscal year 2023 to $50 in fiscal year 2025 and to re-evaluate the rate periodically as our understanding of the social cost of carbon evolves.
We expect this revenue to fund approximately 10% of the investments required to eliminate campus carbon emissions—a portion that reflects these investments' long lifespan (averaging more than 40 years).
The charge also serves to engage the entire Yale community in this effort: by ensuring contributions from the current generation using these buildings, and by offering greater understanding of emissions and a financial incentive to reduce them.
Repurposed capital project budget:  Yale currently devotes approximately $15 million per year of capital expenditures to greenhouse gas reduction projects.  This amount will be increased to approximately $25 million by reallocating capital from other projects.
Expanded capital budget: Any additional capital will be financed through an expansion in our capital budget, with the burden of paying for these additional projects spread across current and future generations of beneficiaries.
The Challenges Ahead

 
Our work on campus this decade is critical to the future of Yale. We are confident that by 2030 we will have completed a significant number of conservation and renewable energy projects and will have a clearer picture of the road to 2050. However, we recognize the many challenges that lie in our way: 
Changing the infrastructure of buildings and campus systems to improve energy efficiency is expensive and often disruptive to the academic mission of the university. We must pursue projects aggressively when programmatic renovations are taking place and buildings are not being actively used.  
The scale of work is large: Yale has more than 400 buildings to address within 28 years. However, this also provides an exciting opportunity to support innovations in workforce development in our region, as success will require a highly talented work force and a supportive community.
A commitment to climate action requires a change in culture. In adopting innovative policies, systems, and work habits across all academic units on campus, Yale has the opportunity to lead by example.