The New Year is a time of resolutions and reflections, presenting an opportunity to look back on the year's accomplishments. During 2017, Yale made numerous strides in alignment with its sustainability goals and completed the first full year of implementing the Yale Sustainability Plan 2025.
Planning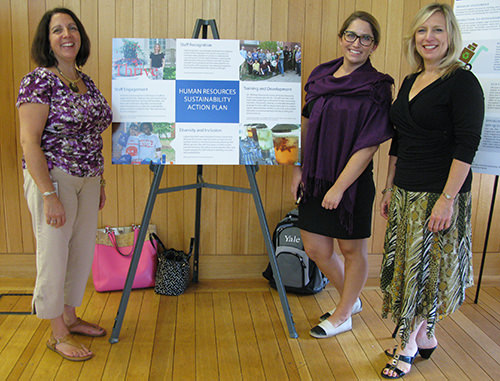 To guide the plan's execution and to develop and approve new goals, the Sustainability Advisory Council and the Implementation Steering Committee were created. Both groups held their first set of meetings this year.
A number of Sustainability Action Plans that tailor Yale's sustainability vision to specific disciplines and foci were developed by professional schools and operational units. Twelve of these groups shared goals from their action planning efforts at a poster session during Celebrate Sustainability. 
An update to Yale's campus-wide Water Management Plan was developed that provides progress on Yale's potable water use since 2013, and describes strategies toward water conservation and stewardship goals.
Leadership
Yale was recognized for its sustainability efforts through various awards. Yale received the Gold-level Bicycle Friendly University award from the League of American Bicyclists, one of only 20 universities in the country to receive gold-level designation. During the COP23 climate conference in Bonn, Germany, Data-Driven Yale was awarded the inaugural prize in the United Nations Data for Climate Action Challenge for linking climate change to the Sustainable Development Goals.
Yale hosted multiple conferences that focused on pressing sustainability issues. The annual Hixon Conference, convened by the Hixon Center for Urban Ecology, the Yale Office of Sustainability, and the City of New Haven, brought together 12 university-city partnerships from across the United States and Canada to share examples of successful town-gown collaboration around urban sustainability.
The Kerry Initiative, overseen by former Secretary of State John Kerry '66, organized the Yale Climate Conference, which brought together key business, political, and diplomatic leaders around various issues connected to climate change. A team of Yale alumni organized the 2nd Yale Environmental Sustainability Summit around catalyzing, cultivating, and connecting sustainability-driven change makers.
Climate Action
Yale made strides in its operations to address climate change and work toward achieving carbon neutrality by or before 2050. Yale Facilities Energy Management implemented more than 30 individual energy conservation measures that will reduce Yale's emissions by approximately 2,500 metric tons of carbon dioxide equivalent annually.
Yale implemented the Carbon Charge program on more than 250 Yale buildings, which makes up nearly 70 percent of carbon dioxide emissions on campus. Yale is the first university to experiment with a carbon fee and the first to implement a financially impactful fee on carbon emissions.
Yale Landscape and Grounds Management began an initiative to replace its gas and diesel-fueled equipment with electric alternatives. At the end of this calendar year, half of their grounds inventory handheld blowers, chainsaws, push mowers, hedge trimmers, and string trimmers will be replaced, reducing noise and air pollution.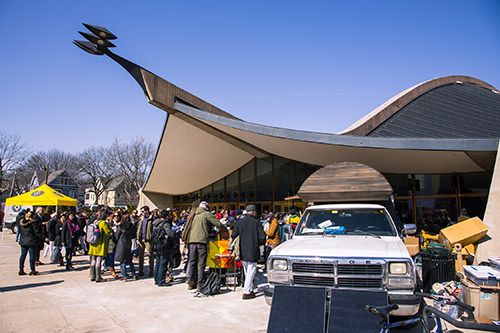 Materials
Yale Housing piloted a furniture adoption program during move-out that kept 20 large furniture items such as chairs, tables and desks out of the waste stream. The initiative amplified the efforts of Yale's annual Spring Salvage program, which diverted over 50,000 pounds of materials during undergraduate move-out this year.
In the spring, Yale hosted the Patagonia Worn Wear tour that promoted extending the life of products rather than buying new. The tour brought a Worn Wear repair team to campus who fixed garments free of charge. It also included a Repair, Reuse, Repurpose Fair where Yale groups hosted additional hands-on activities.
In the fall, Yale's two new residential colleges, Pauli Murray and Benjamin Franklin, opened and were designed and constructed to achieve LEED Gold certification. All the rooms are furnished, including the suite common rooms, an effort that will reduce student expenses during move-in and waste during move-out.
One of Yale's other residential colleges, Silliman College, opened The Acorn, a student-run sustainable café. The café team used donations from undergraduate move-out for furniture, textbooks, and artwork, rather than buying new. The team also promotes waste reduction by providing reusable mugs through their "mug club" program.
Looking Forward
Thank you for all that you do to further sustainability at Yale and beyond. We look forward to working with you in the year ahead, and seeing what we can accomplish together in 2018.
Yale is committed to building a more sustainable world. By doing what we do best—integrating science, the humanities, and our community—Yale creates, tests and adopts innovative solutions to the environmental and social challenges we all face.