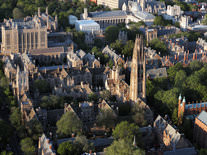 Sustainability is a priority across the Yale community, and is embedded into both the operations and the academics of the institution. The Yale Sustainability Plan 2025 lays out a vision for a more sustainable future and outlines nine major ambitions to focus our efforts.  
The 2017 Progress Report reflects progress from the first year of implementing the Sustainability Plan 2025 and indicates how far along we are in reaching our goals. You can view the Report via an interactive PDF: click into an ambition of interest from the home screen, then navigate through objectives and goals by clicking on the relevant circles. If at any time you'd like to return to a previous screen, you can click the text at the header of the page. If you'd like to refer to a Table of Contents and read the Report sequentially, please select this PDF. If you'd like to see a summary overview of the Report, please take a look at this brochure.
Progress Reports are released annually to measure progress toward our goals. Our annual Greenhouse Gas Emissions reports provide more in-depth baseline data and progress toward our emissions reductions.