This past summer, Yale Housing launched a pilot Spring Salvage program for their residents to reduce the number of items entering the waste stream during moveout.
Aligning with the waste diversion efforts of Spring Salvage in Yale College, which collects unwanted items from undergraduates during moveout each year, the program provides a tailored process for graduate housing residents to donate or adopt unwanted large furniture items from their moveout process. It also supports the Yale Sustainability Plan 2025 by cultivating sustainable purchasing and disposal decisions.
The program was spearheaded by Wendy Schmidt, Special Projects Coordinator for the Graduate Housing Swap Room. The Swap Room, located in Whitehall Apartments, is where graduate housing residents can bring clothing and household items or take items free of charge. Anything that remains is donated to Easter Seals Goodwill.
While the Swap Room has been keeping smaller items out of the waste stream for years, Schmidt was looking for ways to include larger furniture. Staff from Yale Housing, the Eli Surplus Exchange Program, and Transport, Receiving, & Storage at Yale helped to make it happen. This included website work, marketing, a few meetings, and purchasing a pod to house the furniture and other large items.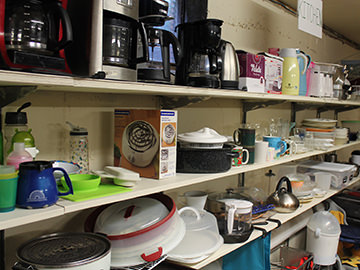 After an annual yard sale held in May, residents were encouraged to post unwanted large furniture items on a new dedicated website. Posted items could be adopted free of charge on a first come, first served basis by current or incoming residents. Current residents that requested an item could pick up the item directly. Items that were adopted by incoming residents were left in the current owners' rooms, moved to a specified storage location during the summer, and transferred to the incoming residents' new rooms before they moved in during August.
Participants reacted positively to the program. "We got a crib for our new baby from one of the departing residents who left one behind," says Oren Sarig, a Whitehall Apartments resident. "You need so much new stuff when a baby comes, and finding a great crib like this was so useful."
According to Schmidt, there was high interest in the program, and all posted items were adopted. "On average, none of the items stayed on the website for more than 24 hours," she says. "The site sometimes seemed empty because items were claimed right away."
Overall, the program kept 20 pieces of large furniture out of the waste stream including four bookshelves, four bedframes, 11 tables and desks, and one office chair.
The pilot focused on graduate housing apartments, which tend to come unfurnished, rather than the dormitories, where furniture is provided. Additionally, the apartments, apart from York-Crown, are all in close proximity to each other, located on Upper Prospect, helping to make furniture transfer more feasible. Residents of York-Crown, Whitehall, Esplanade, and Mansfield Apartments were invited to participate. Schmidt hopes to see the program continue and grow next year.
Yale is committed to building a more sustainable world. By doing what we do best—integrating science, the humanities, and our community—Yale creates, tests, and adopts innovative solutions to the environmental and social challenges we all face.