Last Thursday, The Acorn, Silliman College's new student-run café, opened on the fourth floor of Byers Hall. The café is platinum-level certified through Yale's green certification process for its sustainable attributes.
The idea for the café arose during a fireside chat hosted by Laurie Santos, head of Silliman College, last semester. She asked Silliman students for input on repurposing a room in the college that had previously been a fellow's lounge, but was currently underutilized. One student proposed a coffee shop, and the idea stuck.
A team of three Silliman students, David Glaess '19, Gabi Limón '20, and Michael Borger '20, jumped on board, and worked with Santos and Sergio Gonzalez, the operations manager in Silliman College, to implement the project.
Sustainability was a core value from the onset, beginning with reuse. All the art decoration and furniture, except for the coffee counter, were either unused items already in the college or items donated by Silliman students during moveout last spring. Colorful placards throughout the café acknowledge the students who donated items, creating a communal space where students are reminded of their friends or recognize one of their own donations.
The café also houses a library filled with textbooks donated by Silliman students. The library was started by Kushal Dev, a sophomore in Silliman, to reduce the economic burden that students may face when buying textbooks for classes.
"It's like it's everyone's coffee shop," says Santos. "The students who donated all feel like this is their space, too."
The coffee is also sustainable. The team partnered with Eleva Coffee, a non-profit coffee company based in Brooklyn that supplies fair trade, single-origin coffee beans directly from farmers in Guatemala, Ethiopia, and Nicaragua. The company reduces its environmental footprint by using compostable coffee bags and delivering coffee orders in New York City on bicycle. Santos hopes to give the students involved in the café the opportunity to visit the farmers and their communities over winter break.
Looking for ways to make sustainability more integral to their operations, the team referred to Yale's Green Certifications, which offer the Yale community guidance on adopting sustainable practices throughout various areas on campus. Since none of the existing certifications addressed the specific needs of the café, the team worked with the Yale Office of Sustainability to create a certification process that aligned with the rating system of the other green certifications while addressing the operations of a café.
This led to the creation of the Residential College Coffee Shop Green Certification. The Acorn was certified Platinum, the highest rating level, for demonstrating a strong commitment to sustainability in their operations.
Additional sustainable actions include adding water and energy saving techniques in the employee manual, using non-toxic and biodegradable cleaning products, having clearly labeled bins for recycling, composting, and trash, providing vegan options such as soy and almond milk, serving organic products, providing reusable dishware, and promoting "Bring Your Own."
For Limón, the café is an opportunity to apply theory she is learning in courses to an actual project. "It was great to just try to practice systems thinking around a coffee shop," she says. "What is our impact? Who are all the people we touch? How do we not just make our institution run sustainability, but how can we encourage sustainable practices and behaviors in customers?"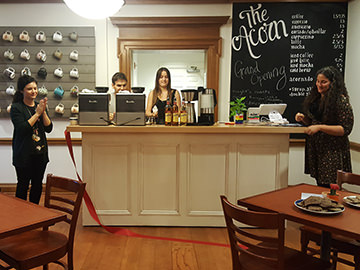 The mug club is one example. Once customers order a specific number of drinks, they gain access to a personal mug that they can use whenever they visit the café. The mug is cleaned by Acorn staff and stored on a reclaimed wood mug board that hangs right behind the counter. Unlike their other mugs, personal mugs can be taken out of the café, and brought back later. If students order a drink, but want to take it elsewhere in Silliman, they can opt for their personal mug, rather than having to get a disposable to-go cup.
The Acorn is open to the Yale community weekdays 8 a.m.­-noon and 4 p.m.-7 p.m.
Yale is committed to building a more sustainable world. By doing what we do best—integrating science, the humanities, and our community—Yale creates, tests, and adopts innovative solutions to the environmental and social challenges we all face.