The Yale Sustainability Plan 2025 demonstrates our commitment to building a more sustainable world. It reflects the priorities of the institution, resulting from eighteen months of input and dialogue across the university community. It is organized into nine ambitions, and creates entry points across disciplines and departments for broad engagement.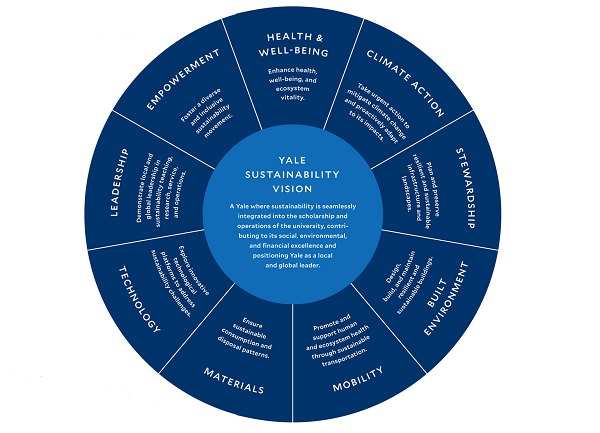 A defining aspect of this plan is the number of increasing opportunities to connect research and teaching across disciplines around sustainability topics. In addition, the plan calls for growth of the fruitful connections of academic excellence with the many real-world challenges of our day. The creation of a sustainability network will leverage our expertise in humanities and the sciences to ensure our activities inside and outside the classroom lead to innovative solutions, technologies and best practices. 
The reach of sustainability at Yale extends far beyond our campus. What we do at Yale impacts our local community and has global implications, from our research to our alumni influence. 
We hope this plan will encourage you to get involved and contribute to Yale's efforts to inspire the minds that lead the world. Read more about our progress. 
Governance
The Sustainability Advisory Council is a group of institutional leaders and alumni tasked with offering guidance and inspiration on Yale's Sustainability Plan. This group meets annually and receives quarterly updates from the Office of Sustainability. 
The Implementation Steering Committee is a rotating selection of faculty and staff that support the execution of the Yale Sustainability Plan, particularly its integration into the scholarship at Yale. This group meets three times per year.