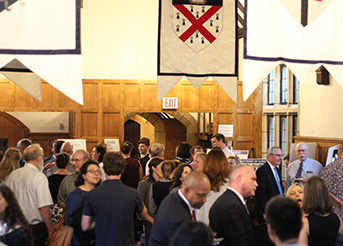 As the year ends, the University reflects on a busy and productive year. We are proud of the efforts and accomplishments of faculty, staff, students, and alumni in advancing Yale's sustainability goals, making impacts locally and globally, and connecting across disciplines and departments on creative and innovative solutions to today's complex challenges. Here are some of the highlights:
Leadership
In April, Jodi Sherman, MD, from Yale, and Cassandra Thiel, PhD, from New York University, organized a three-day workshop to address issues of environmental sustainability in clinical care. The workshop convened experts from across the world in medicine, engineering, sustainability, and clinical care services to consider the unique challenges and opportunities for more sustainable healthcare services.
In June, the Yale Office of Sustainability participated in the 12th annual International Sustainable Campus Network (ISCN) Conference in Stockholm, Sweden. The theme of this year's conference was "Sustainable Development: Acting with Purpose."
Yale published a report about the connection between scholarship at Yale and the United Nation's Sustainable Development Goals (SDGs). The report showed that Yale researchers cover all 17 of the SDGs but that there is particularly strong coverage for SDG 3 (Good Health and Well-Being), SDG 4 (Quality Education), SDG 10 (Reduce Inequality), and SDG 16 (Peace and Justice).
Empowerment
In support of the Yale Sustainability Plan 2025, the University is on track to create Sustainability Action Plans for academic, administrative, and cultural units to empower the Yale community to address issues of sustainability. As of spring 2018, ten Sustainability Action Plans were completed and implemented.
Climate Action
The 2018 Nobel Prize in Economic Sciences was awarded to Yale's Sterling Professor of Economics, William Nordhaus, '63 B.A., '72 M.A for his commitment to research on the economic implications of climate change.
Tony Leiseowitz, Ph.D., Senior Research Scientist at the Yale School of Forestry and Environmental Studies and Director of Yale's Program on Climate Change Communication, was named a "climate trailblazer" ahead of the Global Climate Action Summit in September.
Materials
The university updated its goal for waste diversion (percentage of waste recycled or reused instead of being disposed of as municipal solid waste). The new goal is to "achieve a diversion rate of 60% by 2024 to align with the State of Connecticut and maintain or reduce overall amount of waste produced annually since 2017."
At the Yale School of Architecture, students teamed up with the Office of Sustainability and the Office of New Haven and State Affairs to find a creative waste diversion solution for unused architecture model materials at the end of the spring semester. In collaboration with the Bishop Woods Architecture and Design Magnet School, excess materials were donated to be used by students in a creative maker-space at the school.
Health and Well-being
For one week in October, students, faculty, and staff from all corners of Yale participated in Celebrate Sustainability under the theme "Healthy Yale, Healthy Planet." More than twenty events were hosted across campus, ranging from lectures to guided walks and meditation sessions. The Office of Sustainability also hosted a reception and poster session to connect leaders and highlight critical work from around the university.
There is a growing movement within healthcare to focus on sustainability. At the Yale School of Medicine and the Yale-New Haven Hospital, the perioperative team and the surgical team have moved towards more sustainable practices in healthcare, both in clinical and administrative spaces. 
Technology
Pauli Murray and Benjamin Franklin colleges have begun using Orbio technology for regular cleaning. The technology uses water, salt, and electricity to create cleaning and disinfectant solutions. Not only are these cleaning solutions more environmentally-friendly, but they simplify the custodial workflows.  
Built Environment
The Yale School of Architecture, in conjunction with UN Environment and UN Habitat created an "Ecological Living Module," which was on display at the United Nations Plaza in New York City in July. The 22-square foot module is built with local materials and operates using renewable energy; the module is an example of how housing can be both sustainable and affordable.
Stewardship
In April, Yale released an update to the Sustainable Stormwater Management Plan, which builds upon the goals outlined by the original plan in 2013. Some key goals include: reducing impervious surface on campus by 45,000 square feet by 2020, creating an index of flooding and stormwater management practices, and creating updated design standards.
The Advancing Green Infrastructure Program, which is a partnership between Yale's Urban Resources Initiative and the City of New Haven, has been building "bioswales" across the city to limit stormwater runoff. This summer, the program won the 2018 Roy Family Award for Environmental Partnership from Harvard's John F. Kennedy School of Government.
Mobility
On Earth Day, April 22, 2018, Yale launched a bikeshare program to facilitate healthy, sustainable, and efficient movement around campus. Fifty bicycles are distributed across campus and the Noa Rider app can be used to locate and borrow a bicycle. Daily, monthly, six-month, and annual memberships are available.
We look forward to continued success and collaboration with partners from all corners of campus in the new year. Stay up to date online or via Facebook, Twitter, and Instagram.
Yale is committed to building a more sustainable world. By doing what we do best—integrating science, the humanities, and our community—Yale creates, tests and adopts innovative solutions to the environmental and social challenges we all face.