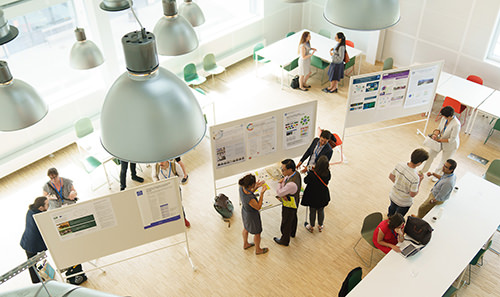 Several representatives from the Yale Office of Sustainability attended the 12th annual International Sustainable Campus Network (ISCN) conference in Stockholm, Sweden, where they helped lead a program on the role of academia in advancing sustainable development goals. Yale's delegation included the Director of the Office of Sustainability Virginia Chapman, Associate Director Melissa Goodall, and research assistant Elsie Moore (YSPH '18).
This year's conference theme was Sustainable Development: Acting with Purpose. The International Alliance of Research Universities (IARU), a network of eleven research-intensive universities of which Yale is also a member, led a special half-day program called Global Priorities, Educated Solutions: the role of academia in advancing the Sustainable Development Goals. The program was organized into parallel tracks to allow deep discussion on teaching and research, student innovation, integrating the Goals into campus planning, and the service role of higher education initiatives. Goodall, who is also chair of the Sustainable Campus Initiative for IARU, planned and led the event with a team of IARU collaborators.
"Achieving the Sustainable Development Goals will require innovation, collaboration, and leadership – both now and in the future. Universities are the knowledge sector, and it was great to have IARU and ISCN team up to advance the dialogue," said Goodall of the experience.
In addition to presentations from global university representatives, student representatives from IARU participated in breakout sessions. Elsie Moore (YSPH '18) represented Yale, along with Whitney Pailman (University of Cape Town), Mikayla Tran (University of California, Berkley), and Rupert Stuart-Smith (University of Oxford). The students are collaborating to develop a report that will highlight what different universities are doing to advance the SDGs and identify opportunities for future collaboration. The report will be published later this year on the IARU website and circulated through ISCN.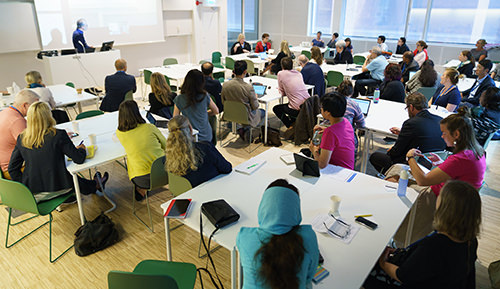 The conference session built off work the Yale Office of Sustainability has already been conducting. Several research assistants, including Moore, took part in a project that involved inventorying the connection of Yale's teaching and research efforts to each of the SDGs. This work directly supports the objectives of the Yale Sustainability Plan 2025, to enrich and enhance teaching, research, learning, and service that explore and contribute to sustainability solutions.
If you are interested, you can view the complete conference program or the plenary presentation online.
Yale is committed to building a more sustainable world. By doing what we do best—integrating science, the humanities, and our community—Yale creates, tests, and adopts innovative solutions to the environmental and social challenges we all face.