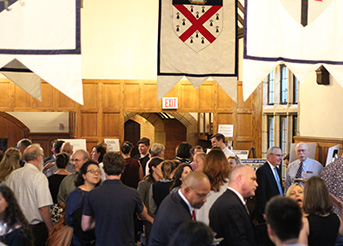 Last week, the Yale community participated in numerous events themed "Healthy Yale, Healthy Planet" as part of Celebrate Sustainability 2018. The week-long series of events aimed to empower students, staff, and faculty to engage with issues of sustainability and wellness.
The calendar included more than 25 events, including walks, tours, lectures, exhibits, meditation sessions, a book swap, and more. Some events were open to the public or entire Yale community, while others were targeted ton particular interest groups or student groups. The wide array of options meant that everybody could find something to suit their interests and expand their engagement with sustainability efforts.
A few events from the calendar:
FitStyle walk and learn about sustainability
Clothing Swap at YSPH
Book Swap at Yale Libraries
Lecture on healthy and sustainable eating at the Yale School of Medicine
Workdays at the Yale Farm and Yale Landscape Lab
In addition to the week's events, the Office of Sustainability hosted a reception at the Great Hall of Rose Alumni House.  Distinguished Professor of Psychology and Head of Silliman College, Laurie Santos, spoke briefly about her work in wellness and mental health, including a few student-oriented projects on campus that support sustainable initiatives while improving health. About 50 university leaders and sustainability champions attended the event.  
At the reception, students and staff highlighted their own work at a poster session.  A total of 19 posters showed the variety of inspiring work happening across campus.  From sustainable gardening practices to green benefits for employees, the poster session was an excellent opportunity for people to share and develop cross-disciplinary contacts.
"I had lots of wonderful conversations and enjoyed the time to network around the topic of sustainability with such a wide array of colleagues," said one participant of the poster session.
The next Celebrate Sustainability will take place in October, 2019. In the meantime, the Office of Sustainability hopes important conversations around sustainability will continue, invigorating work on campus and beyond.
Yale is committed to building a more sustainable world. By doing what we do best—integrating science, the humanities, and our community—Yale creates, tests and adopts innovative solutions to the environmental and social challenges we all face.