Loria Center + Rudolph Hall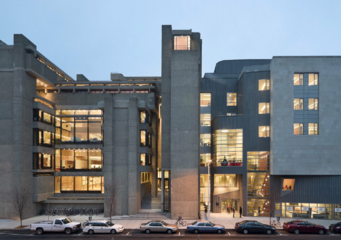 Location: 180-190 York St, New Haven, CT 06511
Description: Buildings that house the Yale School of Architecture
Did you know? These buildings received a LEED Gold certification. The buildings feature: 
Low-flow bathroom and kitchen fixtures, dual flush toilets, waterless urinals, a greywater capture and reuse system
Large windows and skylights for natural light
Certified sustainability-sourced wood, use of low volatile organic compounds building and finishing materials. 92% of the construction debris was diverted from the waste stream
Get involved: The Yale School of Architecture is developing a Sustainability Action Plan and features course work on sustainability in the built environment.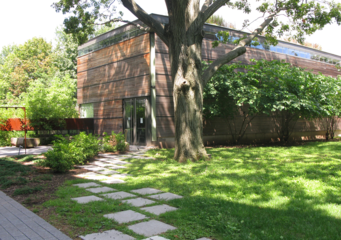 Location: 32 Edgewood Avenue, New Haven, CT 06511, 203-432-2600
Description: Houses offices, studios, classrooms, and machine shops for undergraduate and graduate sculpture programs for the School of Art
Did you know? The sculpture building is the first in CT to receive a LEED Platinum certification. 
The building is energy efficient. It is sited to maximize the amount of natural light available, reducing need for artificial illumination. Indoor lights automatically dim when natural light levels are sufficient. Large windows are featured through the studio spaces. South and east facades have external shading to control solar load of the building.
Stormwater reuse system recycles water for toilet flushing and landscape irrigation, operable windows and air monitoring system that tests for VOCs, monoxide, carbon dioxide, humidity and particulates.
Get involved: The Yale School of Art is developing a Sustainability Action Plan and paying close attention to its use of materials to reduce waste.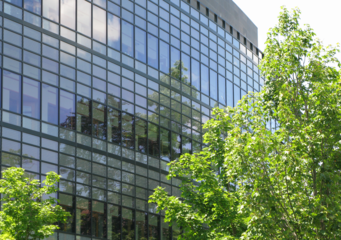 Location: 55 Prospect St, New Haven, CT 06511
Description: Houses laboratories and offices equipped for cutting-edge research
Did you know? The Malone Center is LEED Gold certified
The building's position and window placement optimize exposure to natural daylight. Occupancy and ambient light sensors regulate artificial light, temperature control and ventilation.
Lab waste water is filtered and used to flush toilets, low flow bathroom fixtures reduce water use by 85%. Native plants reduce need for irrigation, provide critical wildlife habitat, and reduce storm water runoff.
75% of the building's woodwork comes from sustainably managed forests, and all paints, carpets, and interior finishes chosen for low emission of air contaminants. 90% of building project's construction debris was recycled.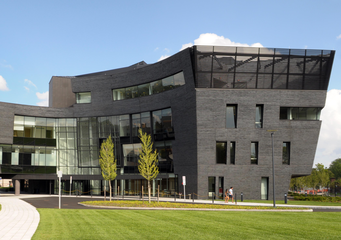 Location: 55 Lock St, New Haven, CT 06511
Description: Yale Health promotes the health and well-being of every member of the Yale community, so that each individual can achieve his or her highest goals and aspirations. Providing consistently outstanding care, compassionate, patient-centered service and innovative practices is our promise to our members and Yale University. Yale Health serves 36,000 students, faculty, staff, retirees, and their dependents.
Did you know? The Yale Health Center is LEED Gold certified and one of first in CT to receive the Green Guide for Health Care
It has a large atrium that provides ample natural light, rooftop gardens, sustainably sourced materials, and low VOC finishes
Ventilation rates, temperature controls, lighting, and ample views designed to achieve optimal indoor environmental quality and promote occupant well-being
7 trees planted outside in 2017 with tags hanging from them: Yale has a program where employees celebrating milestone anniversaries can choose to have a tree planted as a gift
Get involved: A sustainability committee at Yale Health promotes sustainability in its outreach to staff and members, and is focused on reducing waste throughout the building.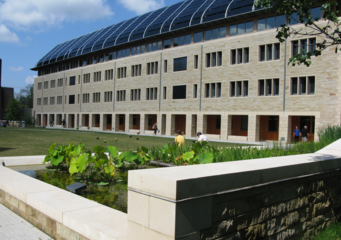 Location: 195 Prospect St, New Haven, CT 06511
Description: Kroon Hall houses Yale School of Forestry & Environmental Studies
Did you know: Kroon Hall is LEED Platinum certified
100 kilowatt solar array, solar water heating system, and abundance of natural light reduce carbon emissions
Its shape reduces interior temperature fluctuations, and geothermal ventilation system circulates conditioned air through perforations in the floor
Graywater system capture rainwater, and uses it to flush toilets and irrigate the landscaping
15,000 board feet of wood (15%) harvested from Yale-owned, sustainability managed forests; structural concrete was made from recycled blast-furnace slag, preventing 4000+ tons of carbon from being emitted
Get involved:
 Learn how you can help improve your buildings performance with the 
Yale Carbon Charge
. 
Class of 1954 Chemistry Research Building
Location: 275 Prospect St, New Haven, CT 06511
Description: The Class of 1954 Chemistry Research Building (CRB) houses the Yale Department of Chemistry 
Did you know? CRB was the first LEED certified laboratory in the world, and opened in 2005 as Yale's pilot LEED project. 
It consumes 25% less energy than a standard high-intensity laboratory building of its size. 
To conserve potable water, the condensate from the air conditioning system is stored and used to irrigate the landscape. 
The by-product of a reverse osmosis/deionized water system needed for research processes is used for toilet flush water. 
75% of the wood used in the project was certified by the Forest Stewardship Council.
Greenberg Conference Center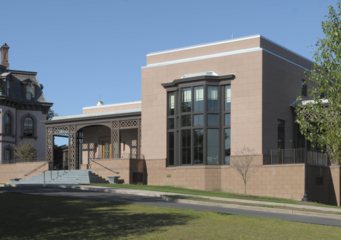 Location: 391 Prospect St, New Haven, CT 06511
Description: Greenberg Conference Center hosts international leadership programs and consists of an amphitheater, a dining room, seminar rooms, classrooms, office spaces, and a catering kitchen.
Did you know: The Greenberg Conference Center is LEED Gold Certified
 More than 40% of materials were from regional locations, 50% of wood used is FSC certified, 86% of total construction waste diverted from the waste stream
29% less energy consumption than the average building by using ground source heat pumps and other energy saving techniques
Location: 165 Whitney Avenue, New Haven, CT 06511
Description: Home of the Yale School of Management
Did you know? Evans Hall is LEED Gold Certified
Features green cleaning through a machine that uses electrolysis to turn water, salt, and electricity into a cleaning agent that disinfects and sanitizes, while reducing the amount and types of chemicals used
Student access to a covered parking for 104 bicycles in the underground garage and 4 shower/changing rooms adjacent to the locker room
25,000 gallon rainwater collection tanks and advanced low-flow irrigation system that includes moisture and rain sensors, cut water use by 50%
High performance windows, interior and exterior solar shading and a reflective white roof along with other expected to reduce annual energy consumption by 11%+
Benjamin Franklin / Pauli Murray Colleges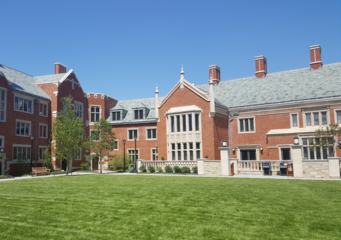 Location: 90 Prospect St / 130 Prospect St
Description: Two new residential colleges for undergraduates added to former 12, welcomed 325 student each (75% of their capacity) during first year of opening
Did you know? The colleges were designed and constructed to achieve LEED Gold certification
99% of wood was FSC certified; 100% of stone taken from within 500 miles of Yale, 94% of construction waste recycled
48 underground source heat pumps exchange heat with the ground in a closed loop system to help regulate temperature, windows have inert gas for insulation, and southern walls are lower than others to let in natural light
 Furniture is provided in common rooms so students don't have to buy their own. 
There is a bike repair shop
All events hosted in the colleges must be green event certified through office of sustainability certification process
Location: 260 Whitney Ave, New Haven, CT 06511
Description: Innovative and collaborative research and teaching space for scientists from various departments at Yale including physics, chemistry, mathematics, engineering, and biology. Expected to open in late 2019
Did you know? The Yale Science Building was designed with an energy use intensity target of 200 KBTU, half of what comparable lab spaces on campus consume
High performance air distribution, heat recovery, and lighting systems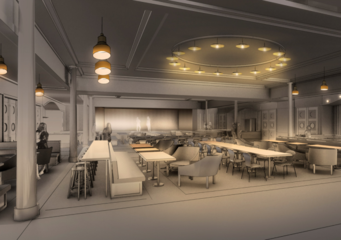 Location: 168 Grove St, New Haven, CT 06511
Description: A center dedicated to cultural programming and student life at the center of the university; will be completed in 2020
Did you know? Schwarzman Center is being designed to achieve LEED Gold certification. 
The center advances Yale vision of a more unified, accessible, and innovative university
Yale University Art Gallery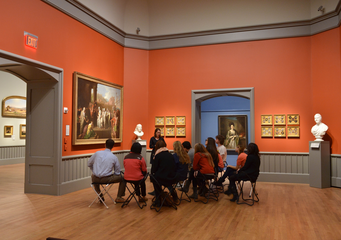 Location: 1111 Chapel St, New Haven, CT 06511
Description: Organizes exhibitions and educational programs around art collections. It is made up of 3 buildings – Louis Kahn building, Old Yale Art Gallery building, and Street Hall.
Did you know? The Art Gallery recommissioned two of the buildings to make more energy efficient in 2012
Reprogrammed mechanical system, shade controls, new lighting that result in 300 tons of carbon emissions reduced per year
Incandescent wall lights were replaced with efficient LED bulbs
Designed reusable crates for shipping artwork to replace custom-made crates, reducing waste and expenses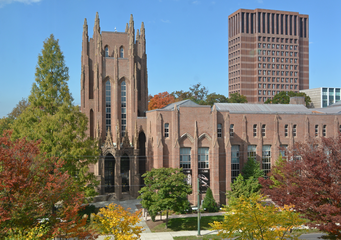 Location: 170 Whitney Ave, New Haven, CT 06511
Description: Houses 13 million specimens in its collection that tell the story of 2 billion years of life on Earth. Composed of 3 buildings: the Peabody Museum, the attached Kline Geology Laboratory, and the Class of 1954 Environmental Sciences Center
Did you know? 
Digitizing collections increases the ability to bring valuable items to a classroom without concern
Resuable cases and panels are utilized when designing new exhibitions; use reusable totes and careful handling stickers instead of cardboard boxes and packing materials for supply shipments
Switched out incandescent bulbs with LEDs in the gift shop and some gallery spaces
Their collections provide the baseline for research on climate and biodiversity, and host over 300 research visits, send out over 150 loans, and give tours to over 3000 individuals annually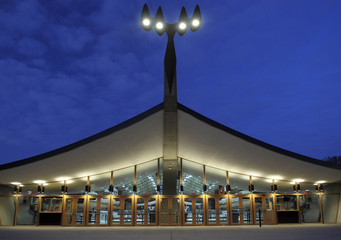 Location: 73 Sachem St, New Haven, CT 06511
Description: Hockey arena
In 2016, all of the bulbs were switched to LEDs reducing energy consumption by 11%
Yale has a student led Athletics/Sustainability partnership, Bulldog Sustainability. They do green team certification and work on the zero waste game days initiative.