Yale's galleries and museums provide researchers, students, and the wider community with access to millions of objects, resources, and programs that can't be found anywhere else in the world. Tasked with maintaining and sharing these valuable collections, Yale's cultural properties play an important role in shaping sustainability at the University and leading by example for other cultural heritage organizations.
Guided by individual sustainability action plans, the Yale Peabody Museum of Natural History (YPM) and the Yale University Art Gallery (YUAG) have implemented numerous sustainability measures.
"Museum collections are not just objects; they're information," emphasizes Susan Butts, Senior Collections Manager at YPM. "These collections provide the baseline for research on climate and biodiversity, and in the past year, we had over 300 research visits, sent out 158 loans, and gave tours to over 3000 individuals."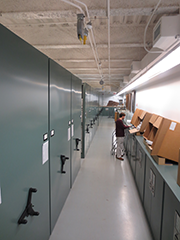 Directly researching climate change, the museum's faculty and staff are aware of the importance of sustainability and preserving the value held in the museum's collection.
Sean Dunn, Director of Facilities at YUAG, feels a similar commitment to sustainability. "The art community cares deeply about environmental issues. During meetings with regional and international galleries, we learn from each other about new sustainable solutions."
Galleries and museums can connect people to environmental concerns emotionally and intellectually, they can help those in need by providing tools of empowerment, and they can lead by example, demonstrating various ways to reduce environmental and financial impacts while increasing social benefits.
Both Butts and Dunn are members of their units' Green Teams, which focus on expanding the goals listed in their sustainability action plans like reducing energy consumption, reducing material waste production, and increasing environmental awareness.
Energy Reduction
High energy demands of Yale's cultural properties stem from building age, lighting needs, and strict climate control standards set to preserve collections.
In 2012, YUAG re-commissioned two of its three buildings to make them more energy efficient by reprogramming the mechanical system, adding shade controls, and providing new lighting. The improvements have resulted in about 300 tons of greenhouse gas emissions reduced per year, equivalent to taking 65 passenger cars off the road per year.
YPM has also been consistently improving its energy efficiency. Some projects include fume hood modifications, new doors and windows, and replacements of the air handling systems.
Another energy efficiency gain stems from lighting replacements. Both cultural properties have invested in sensor lighting. Additionally, YPM has switched out its incandescent lights in the gift shop and some gallery spaces with LEDs. YUAG has taken similar steps.
"We have replaced a portion of the incandescent wall wash lights, that reduce halos by illuminating the walls and floor around the artwork, with LEDs," explains Dunn. "Currently, LEDs do not fully meet the color requirements for spot lights to correctly illuminate the artwork, but once they do, we plan to replace more incandescent lights with LEDs."
Dunn also plans to replace the lighting in the YUAG auditorium with LEDs which will help illuminate the space better for classes and filming presentations, while reducing at least 50 tons of greenhouse gas emissions per year.
The Yale Institute for the Preservation of Cultural Heritage (IPCH) at West Campus has played a significant role in improving the energy efficiency of the cultural properties on campus.
Lukasz Bratasz, Head of the IPCH Sustainable Conservation Laboratory, has been working on a team that is analyzing ways to make the climate control requirements for proper preservation more energy efficient.
"The air conditioning system maintains an adequate temperature and humidity to protect the collections from biological attack, chemical degradation, and mechanical damage," says Bratasz. "However, current climate variations to preserve collections are historically and unrealistically strict."
Their research "proved that objects, which were preserved for centuries in historic buildings without any climate control, do not need an extremely stable environment." These findings can "save energy while maintaining high standards for collection care" by "opening doors for designing more sustainable climate control in museums, libraries, and archives," at Yale and beyond.
Waste Reduction
Cultural properties share their collections with other similar organizations, which can result in an accumulation of waste from the materials needed to protect the items during shipping.
YPM worked with one of Yale's green office supply vendors, WB Mason, to replace cardboard boxes with reusable totes and replace packing materials with careful handling stickers. Any cardboard boxes that accrue are reused and repurposed for future shipments by WB Mason. In addition, the museum does thousands of electronic loans, sending high resolution images and data rather than shipping specimens.
To ship artwork, YUAG must buy expensive crates that are custom-made for the specific pieces being shipped. While the galleries can recycle or repurpose some of the material, they need to buy and create new crates for each piece that is transported. To address this issue and reduce waste, YUAG has designed new crates that are adjustable and reusable and provide adequate protection for the artwork.
Other successes include paper reduction and sustainable construction design. YPM reuses cases and panels when designing new exhibitions. YUAG's new wood floors use natural finishes that are free of harmful chemical treatments and require less frequent cleaning.
The Yale Center for British Art has also reduced its materials footprint, converting over 85 percent of all its disposable paper products and cleaning products to eco-friendly alternatives.
While these initiatives have benefits whether financial or environmental, the Green Teams working on them are doing it out of their own will.
"We do it because we care. This team is made up of people who want to do the extra work to make sustainable changes because we know how important it is," says Butts.
Environmental Awareness
YUAG and YPM promote sustainability outside of their building operations. Internally, they encourage employees to be more sustainable by suggesting practices like reusing mugs and utilizing green transportation options. Hosted events also promote sustainability. At YPM, the David Friend Hall Opening was green certified with a platinum rating by the Office of Sustainability.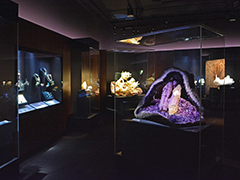 YPM has been digitizing its collections, an effort that increases the museum's main audience's awareness to big research questions that are studied at the museum. A digitized collection enables staff and faculty to bring valuable items to a classroom without concern for damage.
Butts is enthusiastic about the social and environmental benefits that digitization creates. "We can bring 85 examples of one species to a classroom, rather than just one, giving the students a better understanding of that species."
YUAG staff give tours of the gallery detailing the sustainability measures that have taken place. YPM has various programs such as Citizen Science that get the community involved in their sustainability practices.
YUAG and YPM also represent Yale internationally in regular meetings that occur between other similar organizations. In June 2016, Butts and Bratasz attended a Green Museums themed meeting of the Society for the Preservation of Natural History Collections (international academic organization) in Berlin, Germany with other natural history museums. They presented on the IPCH analysis of various climate control scenarios, the YPM Sustainability Strategic Plan, and the impacts of the Green Team.
"In terms of sustainability, what we do here is important, but it is even more important that we can serve as a model organization for other institutions," says Bratasz.
With the recent launch of the Yale Sustainability Plan 2025, the cultural properties are expanding on the work from their previous sustainability action plans and crafting new goals.