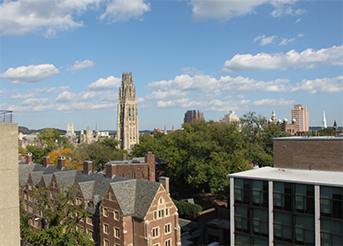 As Celebrate Sustainability begins this week, Yale also releases the second annual progress report for the Yale Sustainability 2025 Plan. The Plan provides opportunity for both scholarly engagement and operational excellence, capitalizing on the unique position of an academic institution being a catalyst for environmental stewardship and positive change.
With the recent launch of the Office of Sustainability's new website, progress is now organized within the nine ambitions of the 2025 Plan: Leadership, Empowerment, Health & Well-Being, Climate Action, Stewardship, Built Environment, Mobility, Materials, and Technology.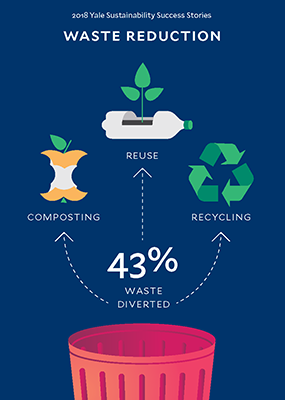 Within each ambition page on the website, progress circles depict the status of each goal, and a description of accomplishments over the past year. Since the Plan spans a nine-year timeframe, the completion times of the goals vary, as does the progress within each goal. To date, Yale has made measurable progress within each of its nine ambitions.
Some notable highlights:
As part of our efforts to design, build, and maintain resilient and sustainable buildings, a set of High-Performance Building Design Standards were developed that achieve emission reductions, optimal performance, and positive health and ecosystem outcomes. These building design standards guide renovation and construction projects on Yale's campus to make spaces more efficient and healthier for the Yale community and the surrounding environment.
Despite an 18.5% increase in campus size and partly owing to energy conservation measures implemented across campus, Yale has decreased greenhouse gas emissions by 23% since 2005. These measures will lead to a reduction of 3,600 metric tons of carbon dioxide equivalent each year. This progress, together with other initiatives, puts us on track to reduce greenhouse gas emissions by 43% below 2005 levels by the year 2020.
A comprehensive assessment of scope 3 categories was completed this year, which involved collecting and analyzing emissions data associated with employee commuting, air travel, purchased goods and services, capital goods, waste, and downstream assets. Scope 3 greenhouse gas emissions are those not generated on campus or through purchased electricity. For example, a box of paperclips ordered online and delivered to an office would have greenhouse gas emissions associated with production and delivery of the product; those emissions would be considered "scope 3."
The first cohort of Sustainability Action Plans was completed in spring 2018. Based on the successes and lessons learned, a second cohort will be launched, targeting the undergraduate residential colleges. These action plans will be based on the Yale Sustainability Plan 2025 but will be specific to the needs and priorities of each residential college, with consideration for the main audience of undergraduate students.
In keeping with the goal of piloting and assessing a Pay As You Throw (PAYT) system by 2022, the PAYT Task Force has developed initial recommendations for a pilot program at Yale. Two research projects were completed in spring 2018 to support this pilot. Instead of a base rate for municipal solid waste (trash) disposal, PAYT programs typically charge based on the amount of waste produced. This encourages people to use materials wisely and produce less waste.
Yale has updated its waste diversion goal to achieve a diversion rate of 60% by 2024 to align with the State of Connecticut to maintain or reduce overall amount of waste produced annually since 2017. Yale's diversion rate refers to any waste materials that are not disposed of as municipal solid waste and are instead recycled or composted, but is exclusive of construction and demolition materials, which are tracked separately. This goal is supported by ongoing development of innovative efforts to identify areas of improved diversion.
According to Ginger Chapman, Director of the Yale Office of Sustainability, "We are pleased with the progress made toward our sustainability goals to date. The contributions of faculty, staff, and students from across the University demonstrate the wealth of knowledge on our campus and the level of commitment that keep us a leader in campus sustainability."
Read more about progress toward our goals and ways to take action on sustainability at Yale.
Yale is committed to building a more sustainable world. By doing what we do best—integrating science, the humanities, and our community—Yale creates, tests and adopts innovative solutions to the environmental and social challenges we all face.