Celebrate Sustainability is a week-long series of events hosted by individuals, departments, and groups across Yale to raise awareness and deepen campus engagement around sustainability. 
The theme of Celebrate Sustainability 2018 was "Healthy Yale, Healthy Planet." Student groups, departments, schools, and units hosted Celebrate Sustainability events to broaden the discussion and exemplify the connection between health and sustainability.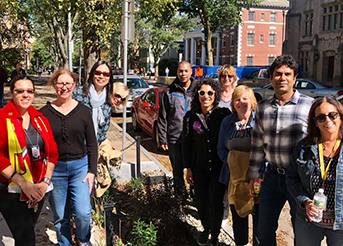 A sampling of events from this year's calendar:
Walking tour: "FitStyle Walk and Learn about Sustainability" with Shana Schneider
Book swap at Yale Libraries
Lecture: "Good Nutrition and Food Sustainability" at Yale School of Medicine
Nature Immersion Morning Meditation hosted by Being Well at Yale
Chewing the Fat Lecture Series: "Conversation with Wanquing Zhou on China's Food System"
Workdays at Yale Farm and Yale Landscape Lab
Lecture: "Energy Democracy"
Edgerton Park Clean Up hosted by McDougal Graduate Student Life at Yale
In addition to the calendar of events, the Office of Sustainability hosted a reception for leaders of the university at the AYA Rose Alumni House.  At the reception, a poster session showcased the work of groups across campus.
View the PDF versions of the posters. Contact sustainability@yale.edu for more information about any of the posters below: