Happy holidays from the Yale Office of Sustainability! As we look ahead to a new year it is inspiring to reflect on our sustainable actions and successes this past year.
In October, Yale launched its most ambitious sustainability plan to date. With an extended timeline, the new Yale Sustainability Plan 2025 paves the way for a Yale where sustainability is seamlessly integrated into the scholarship and operations of the University. Organized into nine Ambitions: Leadership, Empowerment, Climate Action, Materials, Health & Well-Being, Technology, Built Environment, Stewardship, and Mobility, the plan invites the broader Yale community to take action toward a more sustainable world.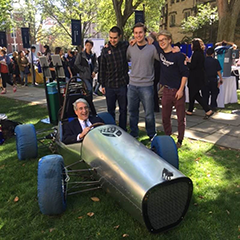 In celebrating the launch of the plan, the Office of Sustainability held a Founders Day Sustainability Fair that demonstrated the sustainable actions of various departments at Yale. Over 35 Yale departments participated and shared their efforts with the wider community.
Energy & GHG Reductions
Yale saw a substantial reduction in greenhouse gas (GHG) emissions this past year contributing to a 24 percent total reduction below 2005 levels. Numerous energy conservation projects implemented in fiscal year 2015 coupled with typical winter conditions and diminished demand from large buildings currently under construction contributed to this reduction. Yale is well on its way to achieving its goal of a 43 percent reduction in GHG emissions below 2005 levels by 2020.
The Yale Fleet won two sustainability awards and was given the Rising Star status by the Northeastern Clean Cities Coalitions for its green initiatives. Achievements include upfitting buses with hybrid motors, downsizing the fleet by 30 vehicles, and reducing GHG emissions.
The new Yale Science Building was designed to demand only half the energy that comparable laboratory buildings at Yale consume. Key energy saving strategies include high performance air distribution, heat recovery, and sustainable lighting systems. The project is expected to be complete by the end of 2019.
Responsible Materials Management
Being Well at Yale, Student Wellness at Yale Health, and the Yale Office of Sustainability ran a successful Destress Declutter Donate campaign in March. Encouraging Yale students to declutter and donate what they did not need, the campaign helped reduce stress and resulted in 896 pounds of donations to Easter Seals Goodwill.
Yale launched the first phase of a three-year project to provide furniture in all dormitory common rooms on Old Campus. Yale Facilities furnished Lanman-Wright and Bingham Hall with a combination of a sofa, chair, coffee table, and/or computer table. This effort aims to save students money and reduce the amount of furniture that is discarded each spring during student move-out.
The Yale University Library launched a Sustainability Action Plan that focuses on paper and energy reduction, and sustainability education and outreach. Key initiatives outlined in the plan include creating a Sustainability LibGuide to raise staff awareness of sustainability and researching energy efficient equipment.
Yale played an integral role in the construction of Connecticut's first food-waste-to-energy facility in Southington, CT. The facility is closer to campus and can process contamination better than Yale's previous composting site. Yale will begin sending its food waste to the Southington facility this January, helping to increase the capacity of the University's composting program.
Scholarship Meets Operations
This past year, Yale completed a report on the first pilot for a campus "carbon charge," a potential tool for reducing campus greenhouse gas emissions. This applied research has implications for energy policy, climate change mitigation, and environmental economics.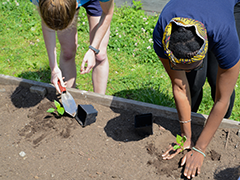 The Yale Climate Change and Health Initiative awarded its first pilot research grant for a project on water-borne intestinal diseases. The Initiative, which was started in 2015, makes use of Yale's multidisciplinary expertise and global reach to address climate change as one of the greatest public health challenges of the 21st century.
Students also made great contributions to local sustainability efforts. During the spring semester, students helped New Haven plan for future impacts of climate change through the course "Cities in Hot Water: Urban Climate Mitigation and Adaptation." They provided policy recommendations that were incorporated in the City's new Hazard Mitigation Plan.
Building on a strong partnership at Yale's West Campus, students at the Yale School of Nursing partnered with the Yale Landscape Lab for a series of workshops focused on the importance of creating meaningful connections with their patients as they work with them to learn to access and eat healthy foods.
It's been a busy and productive year. Thank you for all you do, and we look forward to working with you next year as we continue to build a more sustainable world. Imagine what we can accomplish together in 2017 and beyond!
Photo Credits: Heather Calabrese, Jon Atherton