The Yale University Library is the hub of teaching, research, and learning at Yale, with knowledgeable staff, myriad collections, and numerous spaces throughout campus. These collections and spaces require responsible stewards—as a result, the Library recently launched a Sustainability Action Plan that outlines opportunities for energy reduction, paper reduction, and sustainability education and outreach. These opportunities connect directly to the University's Sustainability Strategic Plan 2013–2016, which includes Energy & GHG Emissions, Materials Management, and Leadership & Capacity Building as three of its five categories.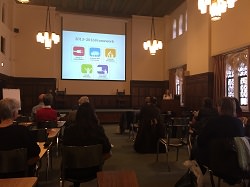 The Library is no stranger to sustainability planning, having completed a "Roadmap to Sustainability" planning project in 2012. A few highlights that resulted from the "Roadmap" were the installation of light sensors, smart strips, and Dyson Air Blades.  Subsequently, additional sustainability successes took place throughout various Library units: staff at the Library Shelving Facility no longer print reports that can be archived electronically; the Lewis Walpole Library uses organic products in its grounds-keeping activities and maintains a composting program; and the majority of library units use shared printers instead of deskside printers.
In an effort to formalize some of these efforts, and to explore which areas of focus would make the most sense for an Action Plan, the Library convened a Sustainability Task Force in November 2015. Chaired by Preservation Services Librarian, Tara Kennedy, the Task Force also includes Kayleigh Bohemier, Science Research Support Librarian at CSSSI; John Clegg, Director of Building Operations and Security, YUL; Mike DiMassa, Director of Library Collection Services; and Chris Killheffer, Assistant Department Head of Operations and Access Services at SML/Bass. The Task Force organized and distributed a survey to the various Library units to get a broad sense of existing sustainability successes and potential challenges. Key findings from this survey included the fact that the Library has its own supply exchange program in place to encourage material reuse, but is lacking awareness on existing sustainability resources.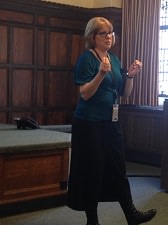 In March 2016, as a follow-up to the survey, the Task Force organized a Sustainability Action Plan Forum. The Forum acted as a stakeholder engagement session to encourage buy-in during the planning process. The Library community was presented with details on the University's sustainability planning-to-date; survey results; and proposed goals for the Action Plan. All attendees were invited to provide feedback, which was then taken into account for the final draft of the Plan. 
Susan Gibbons, University Librarian and Deputy Provost, Libraries & Scholarly Communication, said, "the Library is excited to demonstrate leadership in this area, and to show our students that we can be stewards in sustainability."
Now that the Plan has been launched, the Task Force will focus its attention on strategies for implementation by conferring a Sustainability Advisory Group. Among other things, the Group will oversee the following initiatives:
Creation and dissemination of a Sustainability

LibGuide

, to increase staff awareness surrounding sustainability;

Research of energy efficient equipment;

Review of Building Occupancy Training; and

Analysis of paper use in routine workflows.
Kennedy noted, "Working on the Action Plan with the Office of Sustainability has been a positive experience, and we are eager to continue working with the Office on educating Library units about sustainability."