Expected to open in late 2019, the Yale Science Building will provide an innovative and collaborative research and teaching space for scientists from various departments at Yale, all while keeping energy conservation and sustainability a top priority.
Laboratories tend to be the biggest energy consumers on university campuses. At Yale, laboratory buildings across the three campuses amount to 50% of Yale's total energy use and energy costs. As Yale aims to reduce energy and greenhouse gas emissions, eventually attaining carbon neutrality by 2050, adding new laboratory spaces may seem contradictory.
However, thanks to careful planning and design, the new building is targeted to demand only half the energy that comparable laboratory buildings at Yale consume per square foot.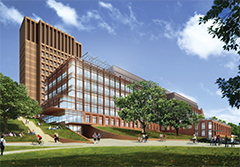 A reduction in energy output does not equate to a reduction in quality. The building will provide cutting-edge technology and provide more space than its predecessor, J.W. Gibbs Laboratory, expanding to over twice its size. It will maintain exceptional indoor air quality, comfortable and safe conditions for the occupants, and appropriate conditions for critical research. The energy savings come from efficiency in the form of sophisticated architectural and engineering systems.
Even before taking it to the designers, Yale Facilities conducted a detailed analysis of the projected energy needs of the new building. By benchmarking comparable buildings, measuring energy demand of lab spaces currently in use, and modelling potential systems, Yale was able to define an energy use intensity target that would drive the future design decisions of the future building.
Tom Downing, Senior Energy Engineer, elaborates, "We were able to directly meter the electricity use of some lab spaces in use that will likely be moved to the new building rather than relying on estimates. This data allowed us to more reliably predict energy use for a design target, and ultimately, to size mechanical and electrical systems."
Once the analysis was complete, Yale took the project to designers. With an energy use intensity target of 200 KBTU per square foot, the Yale Science Building is expected to be the most energy efficient critical research laboratory on campus.
Key energy saving strategies include high performance air distribution, heat recovery, and lighting systems. Essentially, the Yale Science Building will provide all the safety and comfort of other laboratories, but do it with a smaller carbon footprint.
The sustainable efforts go further than energy conservation. According to the project team, the project aims to have 95% of the demolition and construction waste diverted from landfills, at least 50% of wood certified by the Forest Stewardship Council, and 20% of applicable materials containing recycled content and manufactured locally. All materials will comply with VOC limits set by the South Coast Air Quality Management District, limiting harmful chemical off gassing which pollutes indoor air. The building's design will benefit both occupants and the environment.
The Yale Science Building is not the only university project with a key focus on energy conservation. Already, the Yale Schwartzman Center and the Hall of Graduate Studies have energy use intensity targets for their anticipated construction.
More information about the Yale Science Building can be found here.