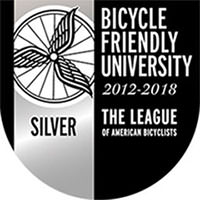 As interest in carbon neutral transportation in cities grows, Yale is working to become a more bicycle-friendly campus. The University's recent efforts, which range from a new bike-share program to increased bike storage, were recognized by the League of American Bicyclists on October 22, 2014 when Yale received a Silver-level Bicycle Friendly University award.
"Elevating Yale's Bicycle Friendly University status from bronze to silver was a strategy within our 2013-2016 Sustainability Strategic Plan," said Holly Parker, Director of Sustainable Transportation Systems. "We felt that we had improved our offerings for cyclists by—among many other things—bringing a 50-bicycle Bikeshare to our campus, and increasing bicycle parking capacity."
The award aligns with many of Yale's recent sustainability efforts, including President Salovey's announcement of new sustainability initiatives at Yale, Celebrate Sustainability week, the installation of a rain garden at Sage Hall, and the International Alliance of Research Universities' release of the Green Guide for Universities.
Although much has been done, there is still room for significant improvement in creating a safer, more robust bicycling culture on campus. Yale is currently working with the City of New Haven and Yale Police and Security staff to improve the five areas set by the League of American Bicyclists: engineering, education, encouragement, enforcement, and evaluation and planning.
"In New Haven, we are extremely fortunate to have a staff in city government dedicated to improving the city's roadways and bike parking options to make cycling a safer and friendlier mode of transportation for university affiliates and local residents alike," said Holly Parker.
To learn more about the award, visit the League of American Bicyclists' website.