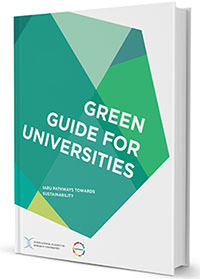 Universities across the globe now have a blueprint to support their sustainability efforts, thanks to the release of the Green Guide for Universities, a new publication developed by the International Alliance of Research Universities' (IARU) and the international think-tank Sustainia.
Released at the international conference Making Universities Sustainable taking place in Copenhagen, the Green Guide provides 23 case studies of environmental, financial, and social successes at IARU member institutions, including Yale, to show universities how to become more sustainable.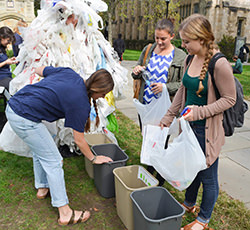 Yale's featured efforts include case studies of Department-Level Planning, which established Sustainability Action Plans for the University's Professional Schools and Cultural Spaces, and the Sustainability Service Corps, an undergraduate group that promotes waste reduction, energy efficiency, and sustainability outreach among Yale College students.
IARU expects the Green Guide to support universities' efforts to build more sustainable campuses by equipping them with valuable lessons learned at IARU Universities.  
"From New Haven to Copenhagen, universities are addressing the challenges and opportunities of campus sustainability through education, research, and action," said Virginia Chapman, Director of Yale's Office of Sustainability. "The Green Guide provides a useful framework not only for universities with sustainability plans to further develop their current efforts, but also for ones looking to get started."