On Earth Day, the Yale Office of Sustainability recognized 14 individuals for making outstanding contributions to sustainability at the university. Among this year's awardees are a faculty member working to make Yale buildings safer for birds, a staff member who helped eliminate chemicals of concern from university-purchased furniture, and a nine-member group responsible for recommending high-quality carbon offsets in support of the university's ambitious climate goals.
The annual State of Sustainability Awards event, held virtually on April 22, also featured a keynote presentation by Anthony Kosior, Interim Leader of Facilities and Campus Development, about Yale's path to reaching net zero emissions and, ultimately, zero actual carbon emissions.
 
'It is not too late'
Ginger Chapman, Director of the Office of Sustainability, provided a welcome and presented a high-level view of the climate crisis, and ways that Yale is working to meet the challenge.
First came the sobering news:
the most recent report from the Intergovernmental Panel on Climate Change (IPCC)
concluded the world now has just 30 months to reduce global greenhouse gas emissions to avert the worst consequences of climate change. Chapman noted that here in Connecticut, the climate crisis has already arrived in the form of more intense coastal storms, oppressive heat waves, and damaging wind- and rainstorms. Vulnerable, lower-income communities will endure the brunt of these impacts, she noted.
The good news, Chapman said, is that we have the tools and technology to move away from fossil fuels and slow the rate of warming, and that the cost of renewable energy is plunging. Chapman indicated that last summer—in response to advocacy from faculty, students, alumni, and staff—Yale announced a new plan to answer the urgency of the climate crisis. The three-part plan aims to invest in campus infrastructure and emerging technologies to reduce environmental impact; adopt fossil fuel investment principles to shift toward a decarbonized energy future; and expand Yale's teaching and learning opportunities to address the complexity and scale of global climate challenges.
"Rather than seeing the climate challenge as overwhelming or hopeless we must treat it as a call to action because it is not too late," Chapman said.
Kosior, Yale's interim Facilities leader, began his keynote presentation with a photograph of planet Earth taken from space, overlaid with a quotation by Apollo 11 astronaut Michael Collins. "The thing that really surprised me was that [Earth] projected an air of fragility," the astronaut's quotation reads. "It's tiny, it's beautiful, it's home, and it's fragile."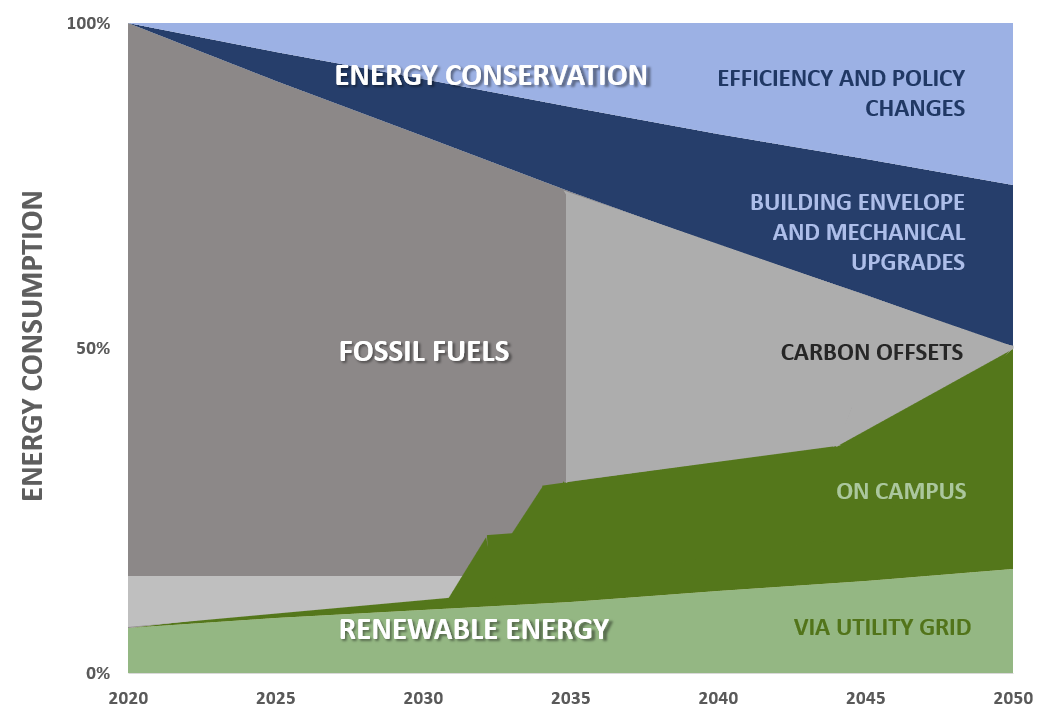 Kosior outlined Yale's
climate action strategy
, which calls for achieving net zero emissions on campus by 2035 primarily by reducing campus emissions 65% below 2015 levels and, as needed, retiring high-quality, verifiable carbon offsets. Zero actual carbon emissions will be achieved by 2050 by fully minimizing campus emissions and deploying clean energy technology. Key to meeting these goals, Kosior said, will be all parts of the Yale community embracing a role as environmental stewards in their day-to-day lives.
"Some of this path is a bit unknown and we will need to rely on innovation, become early adopters of technological advancements, form key academic partnerships, and work together as a community to achieve ultimate success," Kosior stated.
Success will ultimately hinge on overcoming a host of challenges, Kosior said. Among them are the expense and disruption associated with modernizing infrastructure and buildings to improve energy efficiency; keeping emissions in check even as the university grows; and the sheer scale of a campus that spans more than 400 buildings and 20 million gross square feet. 
To illustrate the university's progress, Kosior highlighted a successful collaboration between Yale's engineering and operations teams, in which Yale is using data analytics to improve energy usage in buildings. Currently, Yale is monitoring more than 550 pieces of equipment across 60 buildings through automation and the campus IT network. The technology features "automated fault diagnostics" that prioritize repairs based on energy costs and prevent "energy creep" that can occur in buildings that do not have monitoring systems.
"It isn't as flashy as a nice new LEED Platinum building that abounds with visual innovation," Kosior said. "It's behind-the-scenes, hard detailed work that requires persistence, and it's imperative to the success of what we do long term."
Sustainability Awards
To close the meeting, Chapman presented 14 community members, including students, staff, faculty, and alumni, with awards for outstanding contributions to Yale sustainability.
Student category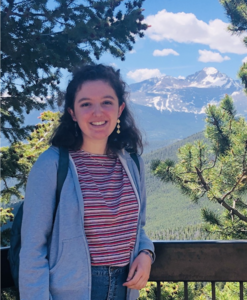 Katie Schlick '22
is a senior environmental studies major at Yale College and is a Sustainability Liaison at Silliman. During her time at Yale, Katie has been the nucleus of the Silliman sustainability program. Under Katie's watch, Silliman has incorporated pivotal change in the way they operate, from shareware collaborations to composting education and advocacy, to repurposing textiles and furniture for college spaces and student dorm rooms. Katie's fearless approach to innovation and warm willingness to dive into an idea makes driving change in a team setting easy and attainable. Even with a busy schedule involving numerous leadership commitments, Katie has prioritized this work and led a team of First-Year students, effectively passing the sustainability torch to new members of the community.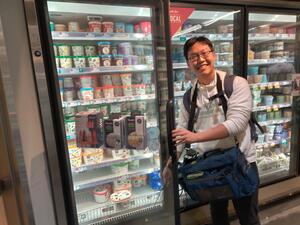 Tilden Chao '23
is a junior at Yale College studying economics working toward a certificate in the Energy Studies Multidisciplinary Academic Program. In 2020, Tilden founded the
Yale Refrigerants Initiative
with a $25,000 grant from the Office of Facilities Energy Management.  
The project is aimed at developing refrigerant management solutions for university campuses. As Yale electrifies buildings on campus, using more refrigerant-based systems, it is anticipated that the proportion of refrigerants in our greenhouse gas inventory will rise significantly. As such, this work is essential so that Yale can account for and plan to mitigate refrigerant emissions on campus. This project is the first of its scale in the country. 
Read more about Tilden's refrigerant research at Yale.
Faculty category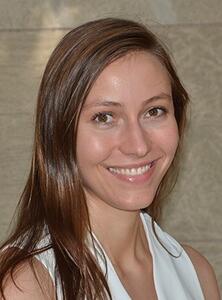 Viveca Morris
is an Associate Research Scholar and Executive Director of the
Law, Ethics, and Animals Program at Yale Law School
. Viveca has been a dedicated and strong advocate in support of biodiversity on Yale's campus, seeking ways to align wildlife protection and Yale operations. With Yale colleagues, she recently was awarded a Planetary Solutions Project seed grant to research bird-safe building design for Yale's campus and beyond, which will inform design practices on campus and (hopefully) lead to fewer bird collisions with our buildings.
Staff category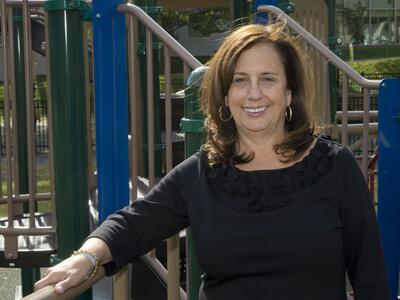 Susan Abramson
is Manager of the
Work Life Program & Child Care Office
. Susan has been a partner to the Office of Sustainability for many years, demonstrating a strong commitment to the social aspects of sustainability. From supporting flexible work arrangements, to helping reduce emissions from single-occupancy vehicles, to promoting Earth Day and Celebrate Sustainability activities, Susan has been pivotal in helping to engage staff members in creative ways. Over the past several years Susan has served on the Health and Well-being Subcommittee, a group that is advancing "collective well-being" as a holistic way to better understand the overall health of a community and how its members can thrive.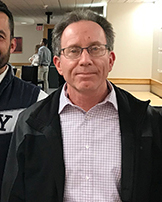 Joseph Mastracchio
is the Senior Strategic Sourcing Manager in
Procurement
. Joe has been a champion and supporter of sustainability at Yale for many years, providing expertise and demonstrating commitment to sustainable procurement practices. Most recently, Joe was involved in the Healthy Furniture Initiative, helping to phase chemicals of concern out of university purchased furniture. He also co-chaired the Plastics Subcommittee and helped facilitate a vendor engagement initiative.
Group category
Yale's Carbon Offsets Working Group
—comprised of faculty, staff, alumni, and students—took on the task of researching, selecting, and purchasing high-quality verified carbon offsets for the university. Working in partnership with the Office of Sustainability, the Working Group developed a rigorous set of standards and a robust process for determining which offsets to select to help Yale reach its greenhouse emissions reduction targets. 
The group demonstrated its commitment to sustainability by researching a controversial topic, working within a variety of constraints, and making recommendations to university administration on ways to advance the social, ecological, and environmental leadership of the university. This effort has created a model to be referenced by peers and industry leaders. For many of the members, this work was outside the scope of their daily workstreams, and required significant time, effort, and learning. 
The Group's members are: Lauren Caplan, Associate General Counsel in the Office of the General Counsel; Brad Gentry, Frederick K. Weyerhaeuser Professor in the Practice of Forest Resources Management and Policy and Senior Associate Dean of Professional Practice at Yale School of the Environment; Emma Levin '23; Anastasia O'Rourke, Managing Director at the Carbon Containment Lab; Julie Paquette, Director of Engineering & Energy Management with the Office of Facilities; Casey Pickett, Planetary Solutions Project Director; Catherine Smith SOM '83, Research Affiliate at Yale School of the Environment; Dean Takahashi, Executive Director of the Yale Carbon Containment Lab; Jude Wu Abel YSE '09, Consultant with Yale School of the Environment; and the many students who support this effort.