Student Employees
Research Assistants
Abigail Fields
Materials Management Research Assistant
Abigail Fields is a third-year doctoral student in the Department of French. In her research, she is interested in representations of science, industry, and agriculture in French literature of the nineteenth century. Before coming to Yale, she received a BA in French and a BS in Ecology & Evolutionary Biology from the University of Kansas. She completed a Fulbright grant in Marseille, France, where she worked with high school students and urban farms to think about sustainable and equitable urban food systems. She has always been very interested in the intersections of environmental thought (included nature writing and environmental ethics) and sustainability practices. She is excited to be learning about sustainable solutions on university campuses with the Office of Sustainability! 
Shay Liu
Transportation Demand Management Research Assistant
Shay is a 1st year MBA student at the Yale School of Management. Before business school, she was a City Planner for the City of Toronto having studied Urban Planning at the University of Waterloo. Her work involved planning the future of Cities by guiding the development of new building proposals, typically towards a more sustainable direction. She is a strong proponent of sustainable transportation options.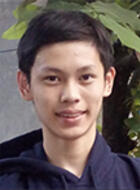 Sena Sugiono
Energy Liaison
Vijjasena Sugiono is a first-year at Benjamin Franklin College potentially majoring in Environmental Studies focused on Energy and the Environment. He is very passionate about energy, particularly focusing on global access to electricity and a just transition to renewable energy. This year, Sena is the president of the Yale Student Energy Association, Yale's premier energy club, and leads the Yale Solar Decathlon team. Beyond Yale, he also serves as the Chair for the US national Student Energy Consortium. Sena is excited to join the team and is looking forward to helping students navigate the energy community at Yale and connecting them with the wonderful opportunities at Yale.
Emma Zehner
Resilience Campus Research Assistant
Emma Zehner is a first-year Master of Environmental Management candidate at the Yale School of the Environment with interests in planning, policies, and practices that support equitable climate change adaptation in cities. Prior to Yale, she worked on the communications and publications team at the Lincoln Institute of Land Policy in Cambridge, MA. She has also held positions at Vera Solutions, DataHaven, and Slate.
Bulldog Sustainability
Camilla Emsbo
Bulldog Sustainability Project Coordinator
Camilla Emsbo is a junior in Morse College majoring in Ecology and Evolutionary Biology. She grew up in Colorado and loves spending time in the mountains skiing, camping, and hiking. When she is not playing basketball at Yale, you can find her outdoors soaking up the little sunshine that New Haven has to offer.
Marcus Mauney
Bulldog Sustainability Project Coordinator
Marcus Mauney is a junior on the varsity football team. He is in Saybrook college, double majoring in Environmental studies and African American studies. He watches a lot of sports and anime.
Tiffany Pederson-Henry
Bulldog Sustainability Project Coordinator
Tiffany is a Junior in Berkeley College majoring in Political Science with a concentration in the Politics of Race and Identity. She is also a member of the Yale Women's Volleyball Team. Tiffany is passionate about environmental justice and climate advocacy, and she hopes to make sustainable resources and information more accessible. She is from San Diego and enjoys spending time in nature, at the beach, hiking, and painting. She is excited about sustainability at Yale and looking forward to continuing to advocate for positive change as a member of the Bulldog Sustainability Team.
Sustainability Liaisons
Parker Chang
College Sustainability Liaison
Parker Chang is a first-year student in Trumbull College from Maunalua, Hawaiʻi. He is planning on majoring in either Environmental Studies or Molecular Biophysics and Biochemistry and is interested in the intersection between sustainability and global health. As the Sustainability Liaison for Trumbull, Parker hopes to promote healthy human-environment relationships and bring the Trumbull community together through sustainability events and projects. Outside of academics, Parker is in the Yale Precision Marching Band and is always excited to meet new people and talk about anything, so feel free to say hello!
Chase Daneker
College Sustainability Liaison
Chase Daneker is a sophomore in Jonathan Edwards College from Bethesda, Maryland studying Global Affairs. Academically, Chase is interested in the role finance and policy play in climate change solutions and in Latin American history, particularly US intervention in the mid-to-late twentieth century. As Sustainability Liaison he hopes to promote a culture of environmental action and learning in JE! Outside of school, he enjoys cooking (ask him about his favorite recipes!) and is captain of the Yale Club Baseball Team. Chase aspires to be a quiet, diligent leader and empathetic friend.
Anna de Hostos Barth
College Sustainability Liaison
Anna de Hostos is a sophomore (originally class of 2023) in Berkeley College. She is from San Francisco, California and her passion for sustainability comes from her love for the ocean! She is majoring in Environmental Science and hopes to pursue environmental health and marine sciences. She strongly believes everyone has the ability to contribute to sustainability and hopes to promote the ocean as a key to environmental health wherever she can. In her spare time, Anna loves to give swimming lessons through SNUGS (Special Needs Undergraduate Swim Lessons) and going on adventures to explore Connecticut and the rest of beautiful New England.
Peyton Meyer
College Sustainability Liaison
Peyton Meyer is a sophomore in Timothy Dwight College and is from a small town near Madison, Wisconsin. He is considering majoring in ecology and evolutionary biology (EEB) on the environment track. Peyton does remote social science research into the benefits of nature on mental well-being, and he is involved in mental health advocacy through the Yale Student Mental Health Association. In his free time, Peyton enjoys cross country skiing and hiking.
Lydia Monk
College Sustainability Liaison
Lydia Monk is a sophomore in Pierson College from Eau Claire, Wisconsin. She plans on majoring in Cognitive Science. She is the Sustainability Liaison for Pierson and is passionate about sustainable food systems. Lydia became interested in sustainability after her time at farmer's union camp and is excited to find new ways to reduce waste and overconsumption in daily college life. She is also involved with GREEN at Yale, FOOT, and the student radio. 
Lisa Younes
College Sustainability Liaison
Lisa Younes is a sophomore in Morse College. She plans on double majoring in Environmental Studies and Political Science. Lisa is the Sustainability Liaison for Morse and is really excited to help integrate sustainability into student life at Morse. She is very passionate about Environmental Justice and sustainable food systems, as well as consumer responsibility. In her free time she loves to play sports, go to the gym, and enjoy nature! 
Professional School Coordinators
Ben Derlan
Professional School Sustainability Action Plan Research Assistant
Benjamin Derlan is an M.Arch I candidate at the Yale School of Architecture. He previously worked with the Neighborhood Design Center and The 6th Branch in Baltimore, MD to increase access to healthy public space through the greening and revitalization of vacant lots. As the manager of the Oliver Community Farm last year, he further developed his passion for reimagining the ecology of the city. While pursuing his undergraduate degrees in studio art and environmental studies at St. Mary's College of Maryland, he worked with the school's Office of Sustainability on outreach and education and the operation of a compost collection program. In his studies, he aims to explore new models for collective ownership, local agriculture and shared resources in the built environment.