Student Employees
Research Assistants
Brice Bai
Design Assistant
Brice is a junior Computing and the Arts major in Saybrook College. She is interested in digital product design and UI/UX, aiming to create impactful, effective designs for the Office of Sustainability. On campus, she can be found dancing, coding, teaching students about the UX field in UXSociety at Yale, and skateboarding down the street.
Abigail Fields
Materials Management Research Assistant
Abigail Fields is a third-year doctoral student in the Department of French. In her research, she is interested in representations of science, industry, and agriculture in French literature of the nineteenth century. Before coming to Yale, she received a BA in French and a BS in Ecology & Evolutionary Biology from the University of Kansas. She completed a Fulbright grant in Marseille, France, where she worked with high school students and urban farms to think about sustainable and equitable urban food systems. She has always been very interested in the intersections of environmental thought (included nature writing and environmental ethics) and sustainability practices. She is excited to be learning about sustainable solutions on university campuses with the Office of Sustainability! 
Lauren Gatta
Research Assistant, Graphic Design
Lauren is a senior in Grace Hopper College from New York City. She is a prospective art major, and has a passion for both graphic design and illustration. With the Office of Sustainability, she hopes to promote educational content relating to environmental initiatives at Yale, and design helpful infographics. She illustrates for Accent Magazine and the Yale Daily News, and is also involved in the Student Film Festival and the Yale International Relations Association. In her free time, she likes to journal, draw, and try new kinds of food.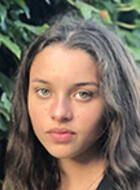 Ada Griffin
Design and Social Media Assistant
Ada (she/her) is a History of Art major at Yale College. She is an artist who typically works in print and digital media, as well as photography. On campus, Ada is a member of the Yale Rugby team, Engender, and the Yale Community Kitchen. She is interested in pursuing a career in journalism after graduation.
Leila Halley-Wright
Sustainable Development Goal Program
Leila is a current senior in Yale College studying Economics and Political Science with a concentration in Sustainability. She is also a part of Yale's Energy Studies program. Leila is really interested in the intersection between sustainable finance and policy, and after graduation plans to pursue a career in ESG investing. 
Sam Horowitz
Resilience Campus Research Assistant
Sam Horowitz is a first year Master of Environmental Management candidate at the Yale School of the Environment, where he is studying environmental policy analysis. Sam's interests lie in climate adaptation and resilience and climate-related political work. Most recently, he has served as a platform committee advisor to the DNC Council on the Environment and Climate Crisis. Prior to Yale, he was the NY State Field Advisor for Our Climate, a youth-led climate advocacy group, where he helped enact landmark state climate policy. He also has experience at the Center for Climate and Energy Solutions, supporting first-of-its-kind research on the impacts of climate change on city economic competitiveness, and at the NYC Mayor's Office of Resiliency. In his free time, Sam enjoys cooking and soccer. 
Jordan Pilant
Communication Assistant
Jordan is a senior Intensive Political Science major from Florida. She attended United World College of the Atlantic in the U.K. for completion of her International Baccalaureate prior to matriculating at Yale. Jordan is very interested in law, social policy, sustainability, and journalism and has enjoyed a wide variety of extracurricular activities at Yale including the Yale Undergraduate Prison Project, mock trial, and producing plays with the Yale Dramat. This past summer, Jordan worked as The National Whistleblower Center's policy intern and as a Free Expression Intern with PEN America.    
Celia Ristow
Materials Management Research Assistant
Celia is a masters student at the Yale School of Forestry & Environmental Studies studying waste and circular economy. Prior to beginning at Yale, she worked as a zero-waste organizer and educator in the Midwest, where she founded a website and co-founded a grassroots environmental nonprofit, each offering free zero-waste education and resource mapping.
Marie Sanford
Communication Assistant
Marie Sanford is a sophomore Saybrugian from Atlanta, GA. As a communications assistant in the office, she brings her prior journalism and publications experience to the Office of Sustainability's digital outreach program. Marie is excited about using social media to help expand and make accessible sustainability efforts throughout the Yale community at large.
James Sun

James is majoring in Global Affairs and Statistics & Data Science. Outside of the Office of Sustainability, James has done extensive environmental data analysis with the World Wildlife Fund-Australia and Data Driven EnviroLab. He has also been involved in political affairs while writing for the Angel Island Immigration Station Foundation, interning at the city of Detroit Mayor's Office, and managing finances for the Yale Taiwanese-American Society. James is interested in food systems, Smart Cities, environmental sustainability, data analysis, national and international politics, and environmental justice and loves food very, very dearly.
Chris West
Life Cycle Assistant
Chris is a senior Physics major in Saybrook College. He is interested in urban sustainability, renewable energy, and sustainable design. On campus, Chris has been involved in the Yale Daily News and theater. In his free time, he enjoys going for long runs, exploring new green spaces, and hanging out in coffee shops.
Ella Witts
Campus Green Spaces and Health Research Assistant
Ella is a second year Master of Environmental Management student at the school of Forestry and Environmental Studies. She is from Hampshire in the UK, but also lived in Hong Kong and Chicago while growing up. As a keen runner, Ella loves exploring the green spaces wherever she is living and enjoys the services they provide. During her undergraduate degree in Geography at Cambridge, Ella combined this interest with her geographical knowledge to write her dissertation on how to harness the cooling effects of street trees more effectively. In previous years, she has interned with the environmental science team at BP and with the Mountain Trust in Nepal, as well as working at a lavender field near her home in the UK. With the Office of Sustainability, Ella is excited to use her experiences to encourage others to realie and experience the value of green spaces. 
Bulldog Sustainability
Mina Cezairli
Bulldog Sustainability Project Coordinator
Mina is a senior in Benjamin Franklin and is an international student from Istanbul, Turkey. She is a Mechanical Engineering major and is particularly interested in projects and research at the intersection of climate science and space technology. She is a member of the sailing team where she also serves the roles of sustainability chair and alumni coordinator. Outside of classes and sailing, Mina is involved in the international student community as a member of the Turkish Student Association where she can share her passion of Turkish food (and the amazing Turkish restaurants in New Haven!) and dancing to Turkish pop (also highly recommended). Mina is looking forward to working with Yale athletics in its sustainable practices. Go Bulldogs!!
Jessie Gong
Bulldog Sustainability Project Coordinator
Jessie is a junior in Pauli Murray College and is majoring in Molecular, Cellular, Developmental Biology. After undergraduate education, she hopes to attend medical school. She is also a member of the Varsity Women's Tennis Team and was an All-American last season. Growing up in Vancouver, Canada she spent a lot of her childhood outdoors, whether it be camping, kayaking, or playing sports. In the past few years, Jessie has traveled and seen many glaciers at national parks, noting the alarming speed at which they are receding. This motivated her to raise awareness about the importance of being eco-friendly. She is excited to join the Bulldog Sustainability Team and continue these efforts!
Enzo Okpoye
Bulldog Sustainability Project Coordinator
Enzo is a Junior in Benjamin Franklin College and a member of the Varsity Men's Soccer team. He is a Political Science major from Asaba, Nigeria. His interests include natural resource preservation, politics, security, and law ––more recently environmental protection law and human rights law. He hopes to bring his passion for the preservation of the planet to the Bulldog Sustainability team.
Aimee Titche
Bulldog Sustainability Project Coordinator
Aimee is a sophomore in Grace Hopper College. She is from a small, rural town called Elgin, about an hour southeast of Tucson, Arizona. Aimee is a member of the Yale Gymnastics Team and is currently working as one of the team's Bulldog Sustainability representatives. Her intended major is Environmental Engineering, and her goal for the future is to work in the field of either climatology or green/renewable energy. Living a sustainable life and helping others do so as well by promoting sustainable products, practices, and lifestyles has always been a passion of hers.
Sustainability Liaisons
Sofia Bliek
College Sustainability Liaison
Sofia is a senior in Ezra Stiles College and hails from the small suburb of Vernon, CT.  She is a psychology major who enjoys learning about "nudges" as a way to change peoples' behavior, including to support more environmentally friendly practices. Last summer, Sofia participated in East Africa Field School where she became particularly interested in sustainability as she learned about stark differences in countries' ecological footprints and the problem of global garbage. In her role as a Sustainability Liaison, she hopes to find ways to reduce waste in the dining halls and to best mitigate the increased presence of single-use plastics that has accompanied the pandemic. In her free time she can be found mentoring first-year students as a FroCo, playing rugby, and working in Yale's Comparative Cognition Laboratory.
Diego Meucci
College Sustainability Liaison
Diego Meucci is a junior Environmental Studies major concentrating in Energy and Climate from Haddonfield, New Jersey. In addition to environmental studies, Diego is a part of the Yale Energy Studies certificate program, as well as Yale Project Bright, the Yale Student Environmental Coalition, and the Sigma Chi fraternity. Besides his work as a Sustainability Liaison, Diego's other interests involve photography, filmography, and energy politics.
Annabel Remudo
College Sustainability Liaison
Annabel Remudo is a junior in Pauli Murray studying political science. She is from South Florida, and enjoys spending time in the sun. She loves animals, and is especially interested in studying the ways in which our diet affects climate change. On campus, she is involved with the Yale Student Environmental Coalition and the Yale Animal Welfare Alliance. She is so excited to be a part of such an amazing team this year, and can't wait to see what this year will bring!
Lisa Younes
College Sustainability Liaison
Lisa Younes is a sophomore in Morse College. She plans on double majoring in Environmental Studies and Political Science. Lisa is the Sustainability Liaison for Morse and is really excited to help integrate sustainability into student life at Morse. She is very passionate about Environmental Justice and sustainable food systems, as well as consumer responsibility. In her free time she loves to play sports, go to the gym, and enjoy nature! 
Professional School Coordinators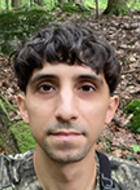 Miguel Gaydosh
Professional School Sustainability Action Plan Research Assistant
Miguel Gaydosh is a first-year MFA candidate at the Yale School of Art with a focus in Graphic Design. He previously worked as a designer independently and with Formation in Houston, MTWTF and Visionaire in New York, and the National Park Service in Boston. Miguel is interested in exploring holistic approaches to design centering an awareness of sustainable intersectional environmentalism, urban systems and symbiotic relationships, native plants and personal histories, and researching methodologies from disciplines like landscape architecture to develop empathetic design ecosystems.
Yuyi Shen
Professional School Sustainability Action Plan Research Assistant
Yuyi is a first-year master's student at the school of architecture. She's interested in designing inclusive and engaging public spaces that address the challenges and uncertainties we face in climate change. Her architecture portfolio features design strategies that use the fluctuation of natural forces to activate public space.