Student Employees
Research Assistants
Anniket Aggarwal
Community Impact Fellow
Aniket is an MBA student at Yale School of Management. Prior to joining Yale, he has worked on his social venture in the 'digital education' space back in India. Aniket has also worked closely with Teach for India, Make a Difference foundation and RobinHood Army. He seeks to engage with more stakeholders to advance in the intersection of sustainability and social good. 
Sebastian Baez
Resilience Campus Research Assistant
Sebastian is a year four Environmental Studies student in Benjamin Franklin College. His academic interests center on the role of urban areas in historical and present climate and environmental issues, especially in the relationship between policy, people, and the nonhuman environment. As the Resilience Campus Research Assistant, he hopes to ensure the Yale Community is well-prepared to adapt to the multiple impacts of climate change. Outside of class and work, he enjoys biking, hiking, roller skating, going for walks in New Haven, and being involved in the environmental community at Yale.
Dilge Buksur
Social Media Assistant
Dilge is a rising junior from Izmir, Turkey. She is majoring in Economics with a certificate in Statistics and Data Science. On campus, she is involved in Women's Leadership Institute, YUDI, YES, Global Research Consulting Group and more. Dilge has worked in biomedical research and investment strategy for a while and loves design and marketing. During the very limited time she has left after all such meetings, you can always find her in Atticus, sipping coffee. She cares deeply about sustainability and being able to integrate it to the everyday lives of the younger generations. Thus, she is very excited to work within the Marketing & Communications Team in the Office! 
Emily Cai
Graphic Design Assistant
Emily Cai is a sophomore at Pauli Murray College, studying Computing and the Arts. She is interested in the intersection between art and technology, and hopes to use graphics to promote a more sustainable campus. Outside of Yale, Emily enjoys writing short stories and taking walks with her dog.
Jamie Chan
Resilience Campus Research Assistant
Jamie (she/her) is a senior in Ezra Stiles College majoring in anthropology. She grew up in Hong Kong with an interest in environmental justice and has been involved in the Yale Student Environmental Coalition (YSEC) since she came to campus, focusing on Yale-New Haven coalition building. Over the summer, she conducted independent research on disaster resilience in New Orleans, with the goal of understanding how disaster risks are socially constructed, who is responsible for being resilient, and what the relationships across the state, industry, and community reveal about vulnerabilities in disaster management. As she continues to explore this topic for her senior thesis, she is excited to work on Yale's resilience plan and to engage students in the process.
Cassie Du
Sustainable Development Goals Assistant
Cassie Du is a second year MPH student at the Yale School of Public Health concentrating in chronic disease epidemiology. She received a B.S. in Public Health at the University of Maryland, College Park. She has previously conducted cancer research at the Dana Farber Cancer Institute and worked for the Baltimore City Health Department on a food sustainability project. She is currently a research assistant for the Yale Office of Sustainability, working on data management/data analysis to promote the United Nation's Sustainable Development Goals and hopes to continue conducting data analysis work upon graduation. 
Ruiyan Huang
Sustainable Development Goals Assistant
Ruiyan is a sophomore from Suzhou, China, pursuing a major in Applied Mathematics and Comparative Literature. Her academic interests in both fields revolve around the environment, as she hopes to understand quantitative aspects of the earth as well as the relationship between nature and culture in writings from past to present. Outside of academics, she loves travelling, movement, and art of all forms. She is excited to work as SDG Program Assistant and learn about how research at Yale connects to global sustainability challenges.
Queenie Lam
Student Energy Efficiency Program
Queenie is currently an undergraduate junior in the class of 2024, majoring in Economics with a certificate in Energy Studies. She is excited to be part of the Student Energy Efficiency Program (SEEP) team. She is passionate about sustainability and being able to help with student efforts toward campus wide energy saving practices through energy audits of student dorms. Outside of academics and extracurricular activities, she enjoys going on hikes, picnics, and trying to visit every restaurant in New Haven.
Shay Liu
Transportation Demand Management Research Assistant
Shay is a 2nd year MBA student at the Yale School of Management. Before business school, she was a City Planner for the City of Toronto. Her work involved planning the future of Cities by guiding the development of new building proposals, typically towards a more sustainable direction. She is a strong proponent of sustainable transportation options.
Daniela Macaya
Student Energy Efficiency Program
Daniela is a second-year at Morse College majoring in Environmental Studies, potentially concentrating in Biodiversity and Conservation. Having grown up in Costa Rica, Daniela loves wildlife, nature, and the ocean. She also loves combining painting with raising awareness on environmental issues. 
Ezinwa Osuoha
Sustainable Development Goals Assistant
Ezinwa graduated from Cornell University in May 2022 and is now a 1st year MPH student at the Yale School of Public Health. She is from Philadelphia and loves spending time outdoors, fashion, and trying out new foods. Ezinwa's passions intersect sustainable development, infectious disease prevention, and social determinant of health. As SDG Program Assistant, Ezinwa is excited to learn more about how the research of Yale's faculty is influencing the world's efforts to reach the UN's SDGs by 2030. 
Balajee Renganadthan Sumathi
Sustainable Development Goals Assistant
Balajee is a 1st year MBA student at the Yale School of Management. Prior to Yale, he was part of a product team in the ed-tech space in India where he launched a platform for teachers. He is a foodie, enjoys trying new experiences, and playing soccer. Balajee is excited to learn more about Yale's work in sustainability, which prompted him to take up the role of SDG Program Assistant.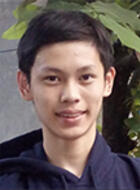 Sena Sugiono
Energy Liaison
Vijjasena Sugiono is a second-year at Benjamin Franklin College potentially majoring in Environmental Studies focused on Energy and the Environment. He is very passionate about energy, particularly focusing on global access to electricity and a just transition to renewable energy. This year, Sena is the president of the Yale Student Energy Association, Yale's premier energy club, and leads the Yale Solar Decathlon team. Beyond Yale, he also serves as the Chair for the US national Student Energy Consortium. Sena is excited to join the team and is looking forward to helping students navigate the energy community at Yale and connecting them with the wonderful opportunities at Yale.
Bulldog Sustainability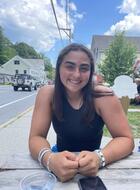 Oren Aviad
Bulldog Sustainability Project Coordinator
Oren Aviad is a sophomore in Pierson College on the varsity gymnastics team. She is currently undeclared but interested in potentially majoring in Neuroscience on a pre-med path. She has always been an outdoors person, enjoying any hike, beach trip, or sunset she can get to. She is very excited to promote Bulldog Sustainability on campus and hopes to make Yale a greener community. 
Willa Ferrer
Bulldog Sustainability Project Coordinator
Willa Ferrer is a junior from New York City majoring in Ethnicity, Race, and Migration.  In addition to playing for the Yale Softball Team, Willa is heavily involved in the Yale Undergraduate Prison Project and Kasama: The Filipinx Club at Yale. She believes strongly in making sustainability accessible to all while honoring the diversity of ways communities are already making sustainable choices. 
Hannah Turner
Bulldog Sustainability Project Coordinator
Hannah is a sophomore in Silliman College majoring in Environmental Studies. She is also a member of the Yale Softball team. Hannah was born and raised in Texas, and she enjoys spending time kayaking, cooking, and reading. Hannah is passionate about the intersections of health equity and the environment, and she aspires to promote collaboration and unity via sustainability. She is excited to work with the Bulldog Sustainability team to foster meaningful action and progress.
Marymegan Wright
Bulldog Sustainability Project Coordinator
Marymegan Wright is a sophomore in Davenport College majoring in Environmental Studies. She is very passionate about environmental justice - including working to provide justice for marginalized and indigenous communities - and global climate policy. Beyond Bulldog Sustainability, Marymegan leads the YU Matter Subcommittee of Yale's Student Athlete Advisory Committee (SAAC), manages events for the Yale Women's Athletic Council, and is an active member of the action-based sustainability group GREEN at Yale. 
Sustainability Liaisons
Parker Chang
College Sustainability Liaison
Parker Chang is a second-year student in Trumbull College from Maunalua, Hawaiʻi. He is planning on majoring in either Environmental Studies or Molecular Biophysics and Biochemistry and is interested in the intersection between sustainability and global health. As the Sustainability Liaison for Trumbull, Parker hopes to promote healthy human-environment relationships and bring the Trumbull community together through sustainability events and projects. Outside of academics, Parker is in the Yale Precision Marching Band and is always excited to meet new people and talk about anything, so feel free to say hello!
Leah Clayton
College Sustainability Liaison
Leah Clayton (she/her) is a junior in Davenport College studying Earth & Planetary Sciences on the Energy & Environmental Geoscience track. She started getting involved in sustainability work after observing the drop in snowpack and increase in wildfires throughout her childhood in the mountains of Colorado. At Yale, she's involved in YSEC (composting project chair!), Yale Outdoors, FOOT, Club Geo, the Yale Climbing Team, and the triathlon team. She hopes to work closely with Davenport students and the administration to promote a climate-friendly culture!
Ben Everett-Lane
College Sustainability Liaison
Ben is a junior majoring on the Energy & Climate BS track also pursuing certificates in Chinese and Statistics & Data Science with specific interests in climate science and communication. Ben currently works as a research assistant for the Yale Program on Climate Change Communication and as a peer mentor and event coordinator for the Environmental Studies Department. He has previously worked as an assistant editor, reviewer, and co-author for YSE Professor Florencia Montagnini on her conservation book, research assistant for YCELP on their 2022 EPI report, conference planner for the IUCN, and wilderness trips leader for Overland.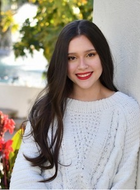 Felicia Fraizer-Bisner
College Sustainability Liaison
Felicia Fraizer-Bisner is a second-year student in Grace Hopper College from Mesa, Arizona. She is planning on majoring in Environmental Studies and is interested in the intersection between sustainability and everyday people, especially those more vulnerable to the negative impacts of climate change. As the Sustainability Liaison for Grace Hopper, Felicia hopes to promote a loving and responsible relationship with nature and bring the Hopper community together through sustainability events and projects. In her free time, she works three on-campus jobs, and enjoys listening to music, going on hikes, spending time with friends and family, and doing anything creative. Felicia is excited to collaborate on any and all sustainability projects.
Selin Goren
College Sustainability Liaison
Selin Goren is a rising junior at Yale College pursuing a BS degree in Environmental Studies, a certificate in Energy Studies, and an advanced language certificate in Spanish. She's from Turkey and is engaged in climate advocacy in her hometown, Istanbul. She's passionate about the green energy transition of companies and cities, youth participation in climate politics, along with the intersectionality of environmental justice. At Yale, she's working as a student research assistant at Yale Carbon Containment Lab and the Student Director for EVST. Outside of classes, Selin can be found acting, dancing, bird-watching, or chatting with her friends in the Timothy Dwight College courtyard. 
Roxana Grunenwald
College Sustainability Liaison
Roxana Grunenwald (she/her) is a sophomore in Branford College studying Philosophy and MCDB. She is from southern Wisconsin and is interested in empowering students to make more environmentally-conscious decisions in their own lives by encouraging everyone to think about the world and their interactions with it. As Co-Sustainability Liaison, she hopes to help cultivate a tight community of environmental activists within Branford and among the rest of the colleges. She is involved with sustainability on the political side with Yale College Democrats and in sustainable startups with Yale Entrepreneurial Society, she writes for a few campus magazines, and is in Students and Alumni of Yale.
Caroline Koppel
College Sustainability Liaison
Caroline is a sophomore from New Orleans, Louisiana and a prospective Cognitive Science major. She wants to focus on the intersection between psychology and technology and appreciates that the Cog Sci major allows the flexibility to do so! 
When not brainstorming ways to make Benjamin Franklin College more sustainable, Caroline enjoys singing in her a cappella group on campus, Pitches and Tones, and playing for the club squash team.
Callie Krueger
College Sustainability Liaison
Callie Krueger is a proud Saybrugian, '25, from rural Wisconsin! She is planning on majoring in Global Affairs with a Spanish certificate. Her curiosity for sustainability stems from research on Kiribati's environmental justice and adaptation crisis, and work with Yale's very own Common Closet. Outside of campus work, Callie loves to hit the pitch with the Yale Women's Rugby team and spend time with friends, family, and dogs.
Ciara Lonergan
College Sustainability Liaison
Ciara Lonergan, a sophomore in Morse College, is from a small town in Massachusetts. She is majoring in Political Science with a concentration in International Relations. Ciara is also a Yale College Council Senator for Morse and is involved with the Equitable Bikeshare @ Yale. In her free time, Ciara enjoys writing, coffee, and making Spotify playlists.
Riley Macon
College Sustainability Liaison
Riley Macon is a sophomore in Pauli Murray College from Laurel, Maryland. She plans on double majoring in English and Urban Studies. Riley wants to prioritize incorporating sustainable item swaps, repurposing goods, and planting within her college and around campus. She would also like to educate students campus-wide about proper recycling habits. Riley is also in involved with TAPS on campus and enjoys expanding her plant collection in her free time. 
Peyton Meyer
College Sustainability Liaison
Peyton Meyer is a junior in Timothy Dwight College and is from a small town near Madison, Wisconsin. He is majoring in Environmental Studies and is in the Energy Studies Program. Outside of the classroom, he is involved in mental health advocacy through the Yale Student Mental Health Association, and in his free time he enjoys cross country skiing and hiking.
Anna Oehlerking
College Sustainability Liaison
Anna Oehlerking is a sophomore in Pierson College and is from just outside of Duluth, Minnesota. She is majoring in Environmental Engineering and is considering a double major in Ecology and Evolutionary Biology, as she is interested in renewable energy infrastructures and their influence on ecosystems/environmental conservation. Anna is on the Yale Trap and Skeet Club and the Yale Alpine Ski Team. She enjoys hiking, kayaking, and vanilla lattes, and has a goal to visit every U.S. National Park!
Isabelle Ramseyer
College Sustainability Liaison
Isabelle Ramseyer is a sophomore in Saybrook College. She is from Puerto Rico and Switzerland, but primarily grew up in San Juan. Isabelle is planning on majoring in Global Affairs and Environmental Studies. She is interested in climate change policy and environmental law. Isabelle became interested in sustainability during the aftermath of Hurricane Maria that greatly impacted Puerto Rico. She is also involved in Yale Polo and is a production photographer for Yale College of Arts. 
Katy Sun
College Sustainability Liaison
Katy is a junior from Boulder County, Colorado double majoring in Environmental Studies and Economics. She serves as the Branford College sustainability liaison and is particularly passionate about studying effective strategies for promoting corporate sustainability and its implications on environmental justice. This year she hopes to further bring together the Branford community with more sustainability campaigns and projects. Outside of academics, Katy is an avid hiker and dances with Rhythmic Blue.
Professional School Coordinators
Ben Derlan
Professional School Sustainability Action Plan Research Assistant
Benjamin Derlan is an M.Arch I candidate at the Yale School of Architecture. He previously worked with the Neighborhood Design Center and The 6th Branch in Baltimore, MD to increase access to healthy public space through the greening and revitalization of vacant lots. As the manager of the Oliver Community Farm last year, he further developed his passion for reimagining the ecology of the city. While pursuing his undergraduate degrees in studio art and environmental studies at St. Mary's College of Maryland, he worked with the school's Office of Sustainability on outreach and education and the operation of a compost collection program. In his studies, he aims to explore new models for collective ownership, local agriculture and shared resources in the built environment.