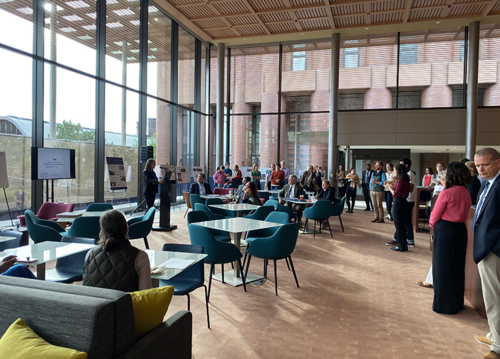 At the start of the new year, the University reflects on a busy and productive 2019. We are proud of the efforts and accomplishments of faculty, staff, students, and alumni in advancing Yale's sustainability goals, making impacts locally and globally, and connecting across disciplines and departments on creative and innovative solutions to today's complex challenges. Here are some of the highlights:
Leadership
Empowerment
In April, Yale Sustainability hosted its Earth Day Awards breakfast. Former Department of Energy and Environmental Protection Commissioner Rob Klee and Forestry & Environmental Studies Faculty member Karen Seto offered insights on Yale's role as an anchor institution in New Haven. Awards were given to Alan Organschi, Cathy Jackson, David Evans, Maya Prabhu, Miraj Desai, Misha Semenov, Sergio Gonzalez, SWAY, and Vanessa Correia. 
Yale's annual Celebrate Sustainability took place throughout campus during the second week of October. Events included Growing Native Plants from Seed, Tree Planting, a Pay As You Throw Celebration, and much more. The highlight of the week was a poster session and reception where 20 departments and colleges from throughout campus showcased their sustainability innovations, and Bryan Garcia (FES '00), the CEO and President of the CT Green Bank offered a keynote about Yale's role in supporting sustainability in Connecticut. 
Health & Well-Being
Throughout spring 2019, students from the Schools of Architecture, Public Health, and Forestry &Environmental Studies collaborated with peers from Cambridge, Oxford, Harvard, MIT, and Stanford to co-host a series of events focused on Nature, Heath, and Built Environment. Notable speakers at Yale included Vivian Loftness from Carnegie Mellon and Allison Mears from The New School. 
In September, Yale Sustainability launched a project to assess the use of toxic materials in the arts part of campus. Led in collaboration with Environmental Health and Safety and the Schools of Architecture and Drama, this work is focusing both on improved communications about risks and the reduction of toxic materials coming onto campus. 
Also in October, Yale Hospitality launched its sustainability action plan, which charts a course to even more ambitious procurement standards, reduced food waste, increased efficiency, and ongoing research and development in support of sustainable food systems. 
Climate Action
Stewardship
During the summer, faculty members and local researchers teamed up with grounds maintenance employees to launch a set of designed experiments in support of the development of the Yale Biodiversity Plan. The results of the summer work have already informed next steps for a rain garden installation on the athletic campus.
Built Environment
Materials
In September, Berkeley college launched a pilot program aimed at improving recycling efforts that is testing the use of recyclable paper bags instead of plastic bins. A mid-year survey showed mixed results and highlighted the need for better communication. 
Mobility
In October, Yale Sustainability distributed the Transportation Survey, focused on gathering information on commuter habits within the Yale community. The report will be released early 2020, with a focus on improving the existing Yale infrastructure for commuters of all types.
In December, Yale was awarded funding for the purchase of an electric bus to add to the shuttle fleet. 
Technology
Looking Forward