In May 2014, Yale held its 10th annual Spring Salvage Program, a resource recovery / waste diversion program which captures and donates reusable materials during student move out. This year's Spring Salvage was widely regarded as Yale's most successful year of implementation since the program's inception in 2005.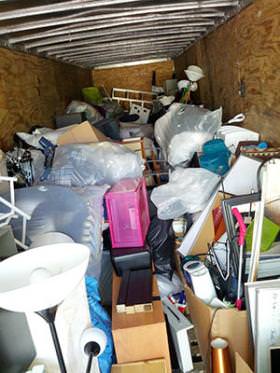 In total, over 60,000 lbs (30 tons) of materials were donated, in the following categories:
Approximately 13,450 lbs textiles/linens
Approximately 10,992 lbs house wares (appliances, shoes, pillows, books, etc.)
Approximately 36,300 lbs furniture (lamps, daybeds, couches, etc.)
Total: 60,742 lbs (30.37 tons) of materials
All materials were donated directly to Easter Seals Goodwill Industries of Hamden, CT. Between 2013 and 2014, donations increased by 19% and the amount of trash disposed of during undergraduate move-out decreased by 14%. 
Managed by Yale Recycling and the Office of Sustainability, the program has evolved since its inception in 2005. This year, the partnership with Easter Seals Goodwill Industries, a strong student workforce, and the use of external contractors during peak move-out days were key success factors.
Over 150 donation bins were placed in 33 collection sites across Old Campus and the twelve undergraduate residential colleges. Students donated items such as books, lamps, electronics, clothing, and furniture. Working all day during peak days and in two shifts during non-peak days, the twenty two Spring Salvage student employees collected materials daily.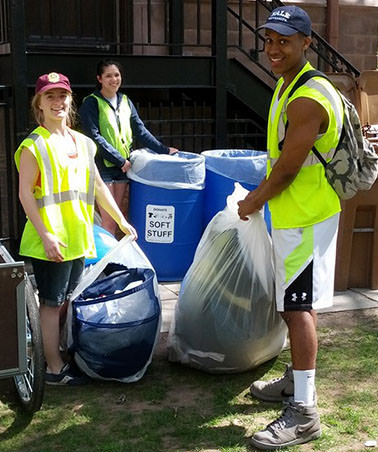 The smooth and efficient implementation of the program was recognized and lauded by many at Yale. Mary Beth Radigan, the Facilities Superintendent for Saybrook and Trumbull colleges praised this year's program as "the best year yet…  I can't say enough how well it went this year."  Kirsta MacLellan, the Facilities Superintendent for Davenport and Pierson colleges, also said, "This year was the most successful since I have been in Residential…  [the] operation was streamlined from beginning to end… The folks hired for Spring Salvage did an excellent job! By far the best year."
"We are very happy with the success of the program this year, thanks to the generosity of the Yale student population, the dedicated efforts of the Spring Salvage student employees, and the partnership with Easter Seals Goodwill Industries," said Sharon Hsu, the Sustainability Fellow who coordinated the program with Robert Ferretti of Yale Recycling.  To everyone involved with Spring Salvage, from students, to Facilities, to staff – let's keep up the great work next year!
For more information, please see the Spring Salvage page on Yale Sustainability.