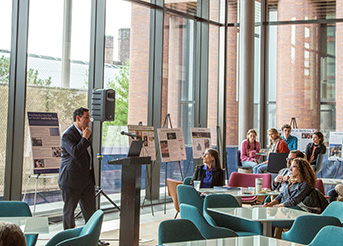 The Office of Sustainability released its third annual progress report to the Yale Sustainability Plan 2025 . The report was announced during Celebrate Sustainability 2019, an annual week-long series of events that highlights both academic and operational sustainability successes across the University while deepening engagement with campus sustainability.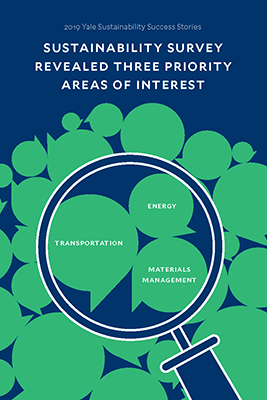 The Plan, released in 2016, has 9 ambitions that are supported by 38 measurable and time bound goals. Evolutionary in nature, the Plan's goals are evaluated and innovated annually. As of fiscal year 2019, over 70% of the goals outlined in the Plan have been achieved or are on track to be achieved by their deadline.
 "Yale's academic and operational communities have once again proven their commitment to sustainability on campus, as demonstrated through measured progress towards our sustainability goals," said Ginger Chapman, Director of the Yale Office of Sustainability. "We look forward to strengthening and innovating our efforts in the coming years as we continue to enhance sustainability at Yale and beyond."
Here are some notable achievements from fiscal year 2019:
Leadership: Students and faculty have been invited to bring their expertise to several applied research and active learning projects, including a biodiversity plan for campus, the reduction of the use of polystyrene among external food vendors, and healthier standards for furniture on campus. The Office of Sustainability published Global Priorities, Educated Solutions, a report quantifying how the teaching and research of 4,415 Yale faculty members connects to the U.N. Sustainable Development goals. This research highlights in-house opportunities for transdisciplinary collaboration.
Empowerment: Each of the 14 residential colleges launched their own Sustainability Action Plans in Fall 2019. Sustainability Liaisons guide the implementation of the action plans at each of the residential colleges, which were tailored to the unique culture and context of each college and its facilities. There are now 27 Sustainability Action Plans in place across the University, and 8 more under development.
Empowerment: A Sustainability Survey was administered in Fall 2018 to assess the Yale com

munity's sustainability priorities. Based on the 1600 responses, the top three areas of interest are materials management, transportation, and energy. The survey also determined that the Yale community is knowledgeable about sustainability but would like clearer ways to measure sustainable behaviors.
Climate Action: Despite a 21% increase in campus size, Yale has reduced campus emissions by approximately 20%. A number of strategies have been employed to meet Yale's carbon neutrality commitment, including net zero new construction standards and efficient growth principles, vigorous building retrofit and renovation standards, increased onsite renewable energy, and more.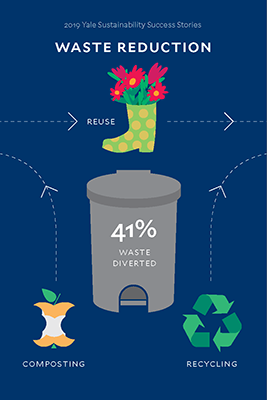 Materials: Yale achieved a waste diversion rate of 41%, and a construction and demolition diversion rate of 88%. The Pay As You Throw (PAYT) program was piloted successfully in Spring 2019. PAYT was the first of its kind in an American institution and focused on positive behavior shifts surrounding the generation of waste. A final analysis of the pilot will be reported in the Fall of 2019. 
Read more about our sustainability goals, our progress to-date, and ways you can take action.
Yale is committed to building a more sustainable world. By doing what we do best—integrating science, the humanities, and our community—Yale creates, tests and adopts innovative solutions to the environmental and social challenges we all face.