Celebrate Sustainability kicks off this week with the release of the 2017 Sustainability Progress Report. The Report reflects Yale's progress in the first year of implementing the Yale Sustainability Plan 2025, indicating how far along Yale is in reaching its goals.
The Yale Sustainability Plan 2025 was launched in October 2016, and invites broad engagement by offering academic pathways as well as commitments to operational excellence. The Plan includes 38 goals organized under 20 objectives, and nine ambitions: Leadership, Empowerment, Health & Well-Being, Climate Action, Stewardship, Built Environment, Mobility, Materials, and Technology.
The Report uses progress circles to depict the percent completion of each ambition and goal. Since the Plan spans a nine-year timeframe, the completion times of the goals vary, as does the progress within each goal. To date, Yale has made measurable progress within each of its nine ambitions.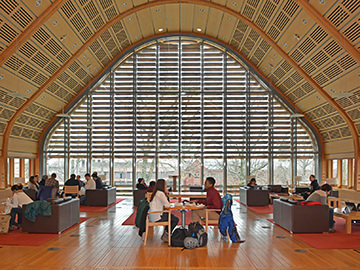 A few notable achievements include:
A Sustainability Advisory Council and Implementation Steering Committee have been established to provide guidance and support for the ongoing work of implementing the Yale Sustainability Plan 2025.
A pan-university program has been created that brings together faculty from social sciences, natural sciences, and humanities who are researching and teaching about urban challenges.
Ten sustainability action plans have been developed for various professional schools and operational units across the University.
Thirty building energy conservation measures have been implemented by Energy Management, reducing carbon dioxide emissions by approximately 2,500 metric tons.
A committee has been convened by Facilities to set five-year targets for greenhouse gas emissions reductions in support of a strategic plan to achieve carbon neutrality by or before 2050.
A comprehensive update of the Yale Sustainable Design Requirements has been started by Facilities Planning to reflect the new version of Leadership in Energy and Environmental Design (LEED), as well as other rating systems, to achieve emissions reductions, optimal performance and use, and positive health and ecosystem outcomes.
A Sustainable Transportation Framework Study has been published that presents strategies to encourage bicycling, walking, and transit use and reduce traffic congestion and parking demand on and near campus.
A "Pay As You Throw" Task Force has been established to develop a program akin to the Yale Carbon Charge where University departments will pay fees based on actual waste volume.
"Over the past year, there has been tremendous effort by individuals and groups across Yale in support of Yale's sustainability goals," says Ginger Chapman, Director of the Yale Office of Sustainability. "We are looking forward to further engagement and progress in the years ahead as we work to support Yale's mission 'to improve the world today and for future generations'."
The Report, along with past reports, can be viewed here.
Yale is committed to building a more sustainable world. By doing what we do best—integrating science, the humanities, and our community—Yale creates, tests and adopts innovative solutions to the environmental and social challenges we all face.