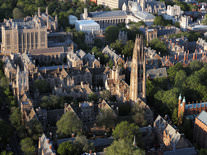 Sustainability is a high priority to the Yale community. University-wide sustainability efforts have been guided by strategic planning documents, designed to look comprehensively across divisions and involve all members of the Yale community to create the infrastructure and behaviors that support institutions goals.  
 The current 2013-2016 Sustainability Strategic Plan includes five major focus areas to address sustainability issues even more systematically with a broader reach across campus. The first Sustainability Strategic Plan (2010-2013) focused on campus systems, administrative systems, earth systems, education and engagement in an effort to strengthen the foundation of the University's sustainability commitment. 
Progress Reports are released annually to measure progress toward our goals. Refer to documents below to learn more. Annual Greenhouse Gas Emissions reports provide more in-depth baseline data and progress toward our emissions reductions.