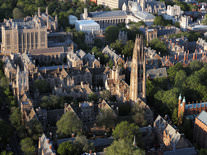 Sustainability is a priority across the Yale community, and is embedded into both the operations and the academics of the institution. The Yale Sustainability Plan 2025 lays out a vision for a more sustainable future and outlines nine major ambitions to focus our efforts.  
Read the plans below to learn more and find out how to get involved.
Progress Reports are released annually to measure progress toward our goals. Our annual Greenhouse Gas Emissions reports provide more in-depth baseline data and progress toward our emissions reductions.