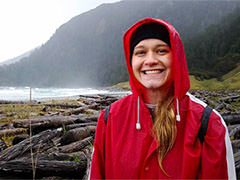 Beata Fiszer, a recent graduate of the Yale School of Forestry & Environmental Studies (F&ES), started working as a Woodbridge Fellow for the Office of Sustainability on Aug. 15. "I am thrilled to be part of the Office as we launch the Yale Sustainability Plan 2025, moving the University forward to a more ambitious approach toward sustainability," she stated. The Office of Sustainability will launch the new plan on Oct. 5, Founder's Day. Fiszer will promote and support sustainability efforts undertaken by the Office of Sustainability and the Yale community through her work on monthly campaigns, Celebrate Sustainability, and Spring Salvage.
Hailing from Chicago, Fiszer first came to know Yale back in 2010, as an incoming Morse freshman. She became immersed in the residential college culture from her freshman year working in the Morse Buttery, and later, as a Freshman Counselor her senior year. During her undergraduate career, Fiszer was part of the Office of Sustainability's Energy Squad, conducting projects aimed at reducing energy use in Yale's twelve residential colleges. "I had more than one suitemate say that I inspired her to change her daily habits to be more sustainable whether by turning off the faucet when brushing her teeth or by shutting off the lights," Fiszer recalls, "A lot of sustainability relies on changing simple habits so even a small shift in someone's daily routine can have a lasting impact."
At the end of her senior year, Fiszer knew she would be back at Yale pursuing a Master's degree in Environmental Management, having been accepted into the 5 year joint Yale College and Yale F&ES degree program. She graduated in May 2014 with a B.S. in Geology and Geophysics, submitting her thesis on the use of rain as a proxy for determining the height of mountains in the Patagonian Andes. However, she did not have the opportunity to visit this research site, maybe part of what led her to seek out a mountainous new home during her gap year.
Sitka, Alaska – a city on Baranof Island of approximately 9000 people, part of the largest national forest in the United States, was home to Fiszer for a year. She was one of twelve Sitka Service Fellows, a group of recent graduates living communally and each working for a local non-profit. Fiszer worked for the Alaska Longline Fishermen's Association, mapping seafloor data to help fishermen reduce non-targeted catch and creating sustainable fishing lessons for local schools.
She was moved by the fishermen's collaboration with each other and their use of on-the-ground knowledge combined with scientific innovations to ensure that their fishing efforts would be economically viable, but also leave abundant fish populations for future generations. "One of my favorite moments came after finishing a 5th grade lesson, and asking the students whether they were proud of their local fishermen. The students replied with an enthusiastic yes." She hopes to be able to spur that same kind of excitement and inspiration here, at Yale, by promoting the sustainable actions of individuals and groups all around campus.
Fiszer came back to Yale in 2015 as a graduate student at Yale F&ES, where she focused on water issues, learning about various projects that local organizations were conducting to address these problems. She graduated with a Master of Environmental Management this past May. On her decision to stay in New Haven, she responded, "I grew to think of this place as home, and wanted to do my part in creating positive change at a university and in a city that has given me so much."
While new to her role as a Woodbridge Fellow, Fiszer is not new to the Office. She spent the summer at the Office of Sustainability while working with Yale Facilities on updating Yale's Water Management Plan. "While I have a lot to learn as I follow the guidance of past fellows, I am excited to be working with such a supportive and enthusiastic team."
The Office of Sustainability is also excited to have Fiszer on their team. Ginger Chapman, Director, said, "Beata comes to us with a wealth of experience, knowledge, and enthusiasm. We look forward to her engagement with the work of our office especially as we embark on the launch and implementation of Yale's new Sustainability Plan!" Fiszer is eager to fully immerse herself in the momentum of the Office and encourages the Yale community to keep an eye out for Celebrate Sustainability!