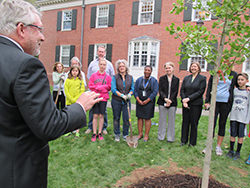 2014 was a record year for Celebrate Sustainability Yale's annual week of sustainability events. With the highest number of events and participants to-date, this year demonstrated that awareness of the importance of sustainability at Yale is not only strong, but continuing to grow.
The week kicked off with the release of our Progress Report and a video about our office's mission. We proceeded to experience Yale sustainability in many ways, from talking and sharing, to planting and walking, to tweeting and inspiring.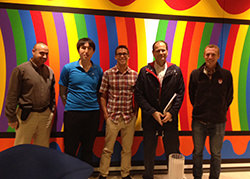 Over the course of the week, we toured both Yale power plants to learn about power generation. We also learned how to optimize energy use as we surveyed one of Yale's buildings for energy reduction opportunities. To reduce waste, we purchased reusable containers from the Environmental Stewardship Committee, and swapped office supplies at the Peabody Museum, Whitney Grove Square, and Yale Health.
To learn, we heard Lawrence Jones from Alstom Power speak about energy, water, and data for a growing population, thanks to the Center for Business and the Environment at Yale. We also sat down with Paul Greenberg, author of American Catch: the Fight for Our Local Seafood, and a panel of speakers assembled by the Yale Sustainable Food Program, to discuss the American seafood industry.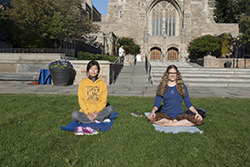 We also explored Yale's outdoor spaces, from stretching in urban meadows with Yogis at Yale, to spotting birds with Citizen Science, to meditating at Farnham Gardens with Being Well at Yale. We even got our hands dirty as we walked and cleaned up the Farmington Canal Heritage Trail, planted trees for longtime employees with Human Resources, and worked on both the Yale Farm and West Campus Urban Farm.
Following Celebrate Sustainability, we hope that the Yale community feels more empowered to continue making sustainability a fundamental part of Yale.
Thanks for participating. Let's continue to celebrate sustainability—today, tomorrow, and beyond.
To view the winners of this year's #YSustain contest, click here.
We extend a special thanks to our event hosts:
                Being Well at Yale
                Branford College
                Center for Business and the Environment at Yale
                Central Power Plant
                Citizen Science
                Energy Management
                Environmental Health & Safety
                Environmental Stewardship Committee
                Environmental Studies Major
                Facilities
                Farmington Canal Rail-to-Trail Association
                Federal Relations
                Grounds Maintenance
                Human Resources
                Library Staff Association
                Peabody Museum of Natural History
                Physics Department
                Preservation Department of Sterling Memorial Library
                Procurement
                School of Art
                School of Forestry & Environmental Studies
                School of Public Health
                Sterling Power Plant
                Sustainability Service Corps
                The Environmental Film Festival at Yale
                Urban Resources Initiative
                Visitors Center
                West Campus Urban Farm
                Yale Dining
                Yale Entrepreneurial Institute
                Yale Food Action
                Yale Sustainable Food Program
                Yale University Art Gallery
                Yogis at Yale