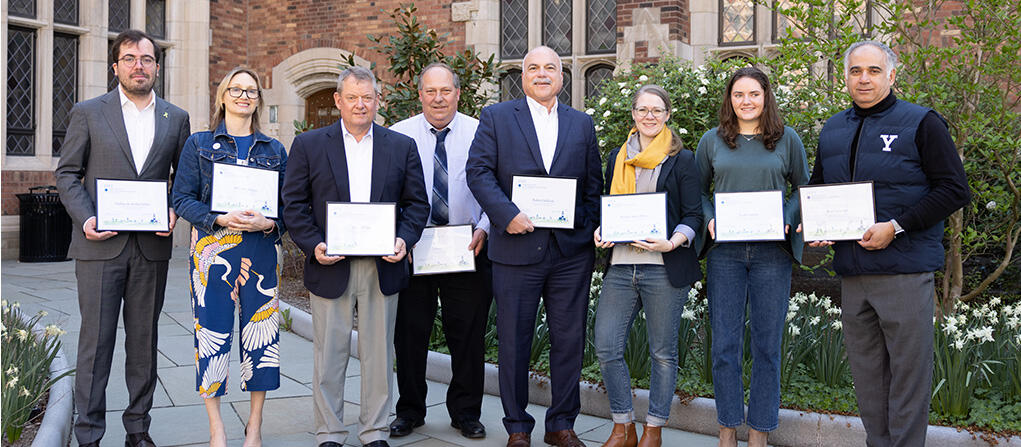 In celebration of Earth Day, the Yale Office of Sustainability honored 10 individuals on April 21 for making significant contributions to sustainability at the university. The recipients of the 2023 Sustainability Awards include a faculty member who created a course on sustainable finance policy and regulation at Yale Law School, an energy-systems specialist who is using automation software to dramatically reduce energy use, and a student who is working with Yale Hospitality to switch to compostable tea brands.
The annual State of Sustainability and Awards Breakfast took place at Humanities Quadrangle—marking the first time the gathering was held in-person since 2019. The event featured an update on Yale's sustainability progress by Amber Garrard, the newly appointed Director of the Office of Sustainability, and a keynote address by Yale School of Management Senior Lecturer Zoe Chance, who spoke about the power of influence to build a more sustainable future.
The event also featured a video message from J. Mike Bellamy, Vice President for Facilities and Campus Development, and an inspired performance by two Yale School of Music students—violinist Sophia Steger and cellist Jenny Bahk.
'Yale can help tackle these challenges'
In her State of Sustainability presentation, Garrard highlighted Yale's collaborative approach to sustainability, the progress toward meeting goals laid out in the Yale Sustainability Plan 2025, and the work that remains to be done.
"Our world needs urgent action right now and Yale is positioned to help us tackle these challenges," Garrard said. "We all bring different skills, different assets, different perspectives, but it's our ability to work together and leverage this as a whole that can help us make this University part of the solution."
Garrard highlighted several areas where Yale is making progress on its climate action goals. Among other things, the University is:
Creating guidelines, standards, and budgeting for new projects to use as little energy as possible, and to generate or receive energy from fossil fuel-free sources.
Transitioning new buildings to heat and cool with electricity, instead of fossil fuel-based steam.
Actively planning for two geothermal plants to support heating and cooling new campus development over the next 10 years, each with 150-200 geothermal wells.
Pursuing installation of approximately three megawatts of new solar energy coupled with battery storage where feasible.
Leveraging Inflation Reduction Act funding for building projects to help with electrification of the campus vehicle fleet.
Garrard also recognized the passing of a longtime partner in Yale's sustainability efforts: Brenda Armstrong, Environmental Affairs Manager with Yale Environmental Health and Safety. Armstrong led the university's green laboratory certification program, helped contribute to the Yale Sustainability Plan 2025, and was a trusted voice for sustainability who touched and inspired so many across the university.
'Conversion happens not in a single conversation, but in a relationship'
Keynote speaker Zoe Chance talked about the power of influence to inspire sustainable behaviors—from her daughter persuading fellow middle schoolers to join a waste reduction committee, to a former Yale student who opened Chance's eyes to the benefits of plant-based eating simply by inviting her to take part in a 30-day meatless challenge.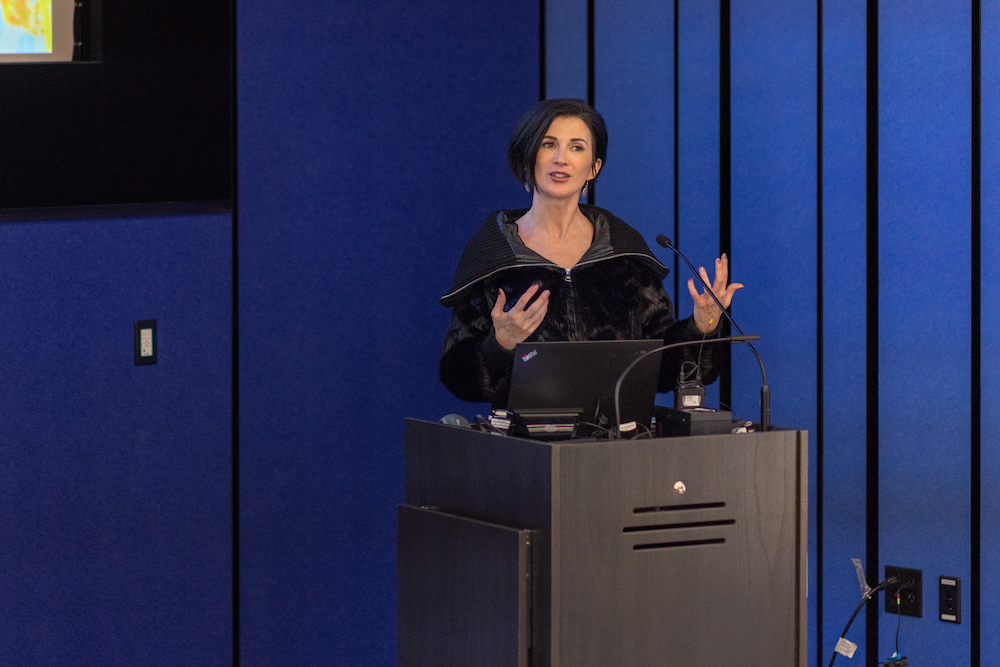 "I'm still not vegetarian, but now the default in my house—and for an increasing number of my friends and students—is we default to plant-based meals," Chance said. "These little seeds that were planted—of just asking—is how influence works. Conversion happens not in a single conversation, but in a relationship, and in a series of relationships."
After the event, Chance generously made copies of her bestselling book, Influence is Your Superpower, available for free to Yale staff who were in attendance. She also noted that half of the book's profits are being donated to 350.org and other groups working to solve the climate crisis.
The Earth Day event concluded with the presentation of awards in the following categories to individuals at Yale who have made outstanding contributions to advancing sustainability over the prior year.
Group Award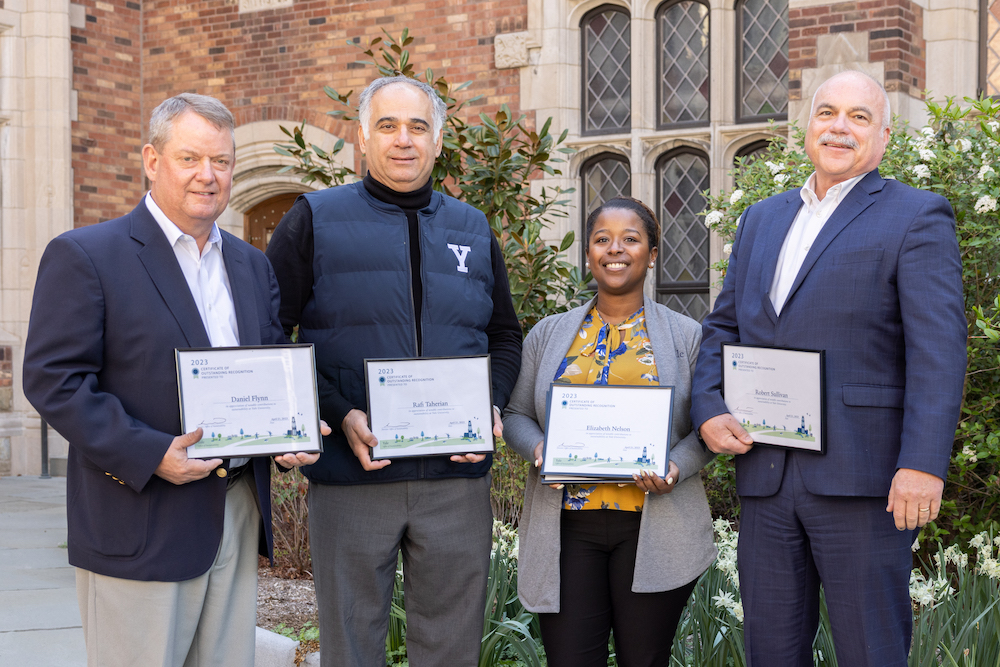 Daniel Flynn, Elizabeth Nelson, Gerry Remer, Bob Sullivan, and Rafi Taherian are integral members of the Yale Hospitality Food Reclamation and Community Collaboration team. For more than 15 years, Yale Hospitality has positively impacted the New Haven community through close partnership with Downtown Evening Soup Kitchen (DESK) via daily food rescue, fundraising events, annual Thanksgiving holiday meals, and more. To support the city's residents in need, DESK provides food assistance to individuals and families experiencing homelessness or living in poverty. For the fourth time, Hospitality hosted the annual DESK Breaking Bread Dinner which raised a record-breaking $75,000 to help advance DESK's food insecurity initiatives and maintain and renovate community operations. Yale made an additional $100,000 contribution toward DESK's capital campaign.
Undergraduate Student Award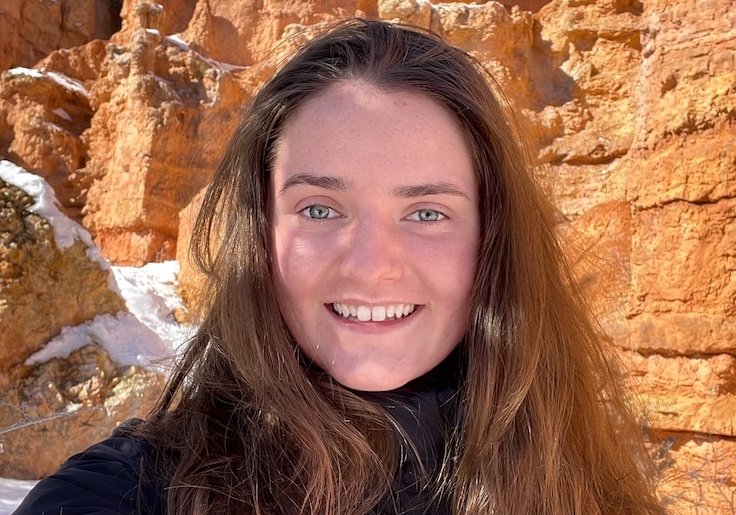 Leah Clayton '24, a junior in Davenport College, has displayed a rare commitment and perseverance in her continuous engagement in sustainability efforts at Yale. Clayton is working with Hospitality's Daniel Flynn, Director of Asset Renewal and Planned Projects, to change the tea bags offered in the dining halls, to one that is compostable. As Davenport College's Sustainability Liaison, she has worked to guide infrastructure and behavioral change among the student body. Clayton acts as an informed and trusted resource on sustainability in her college and several student organizations, including the Yale Student Environmental Coalition, Composting at Yale, Yale Outdoors, the Yale Farm, the Department of Earth & Planetary Sciences, and the Carbon Containment Lab—bringing thoughtfulness and confidence in the power of institutional change to each one.
Graduate Student Award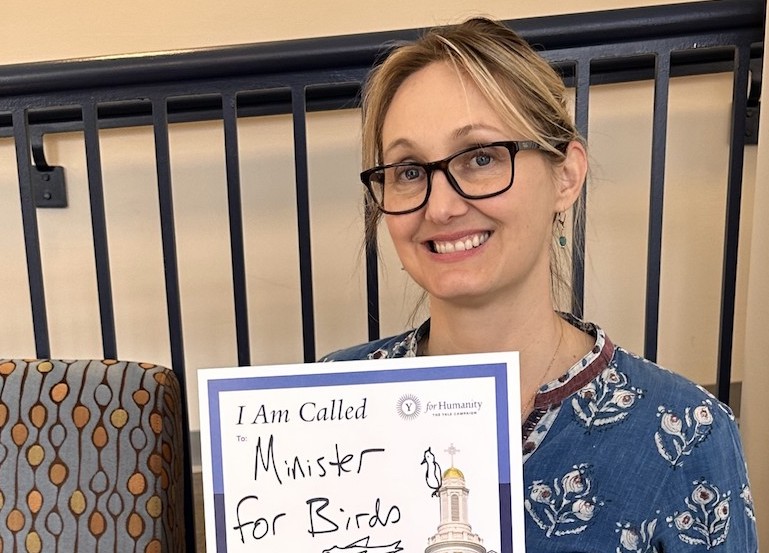 Meredith Barges is a Yale Divinity School student who earns her master's degree in May 2023. She has led and contributed to multiple efforts to help make Yale's campus safer for birds, focusing on reducing light pollution and window collisions and addressing the use of anticoagulant rodenticide that can harm hawks, owls, falcons, and eagles. In 2021, Barges co-led a successful campaign to encourage the Divinity School to join the national Lights Out movement. The movement aims to dim lights during peak bird migration season to protect migratory birds that are attracted to and can become disoriented by artificial lighting, resulting in fatal window collisions and other threats. In 2022, she co-founded Lights Out Connecticut, a statewide project of the Audubon Alliance. Barges is also a policy researcher for the Yale Bird-Friendly Building Initiative, studying laws in five U.S. cities regulating glass and lighting to save birds.
Faculty Award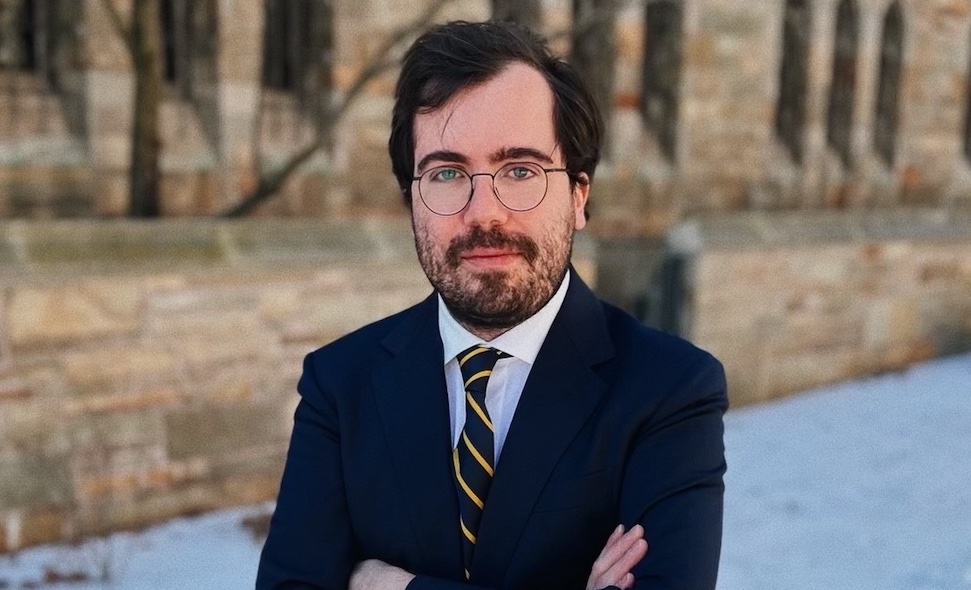 Nathan de Arriba-Sellier is the Research Director of the Yale Initiative on Sustainable Finance, where he designs and conducts research on the impact of climate change on financial markets, particularly through law and policy. As a Yale faculty member, de Arriba-Sellier is determined to advance research and teaching and brings a relentless commitment to engage his students in this endeavor. He has mentored students, helping them to organize student groups and launch conferences such as the Comparative Perspectives on Sustainable Finance Law Conference.
Staff Awards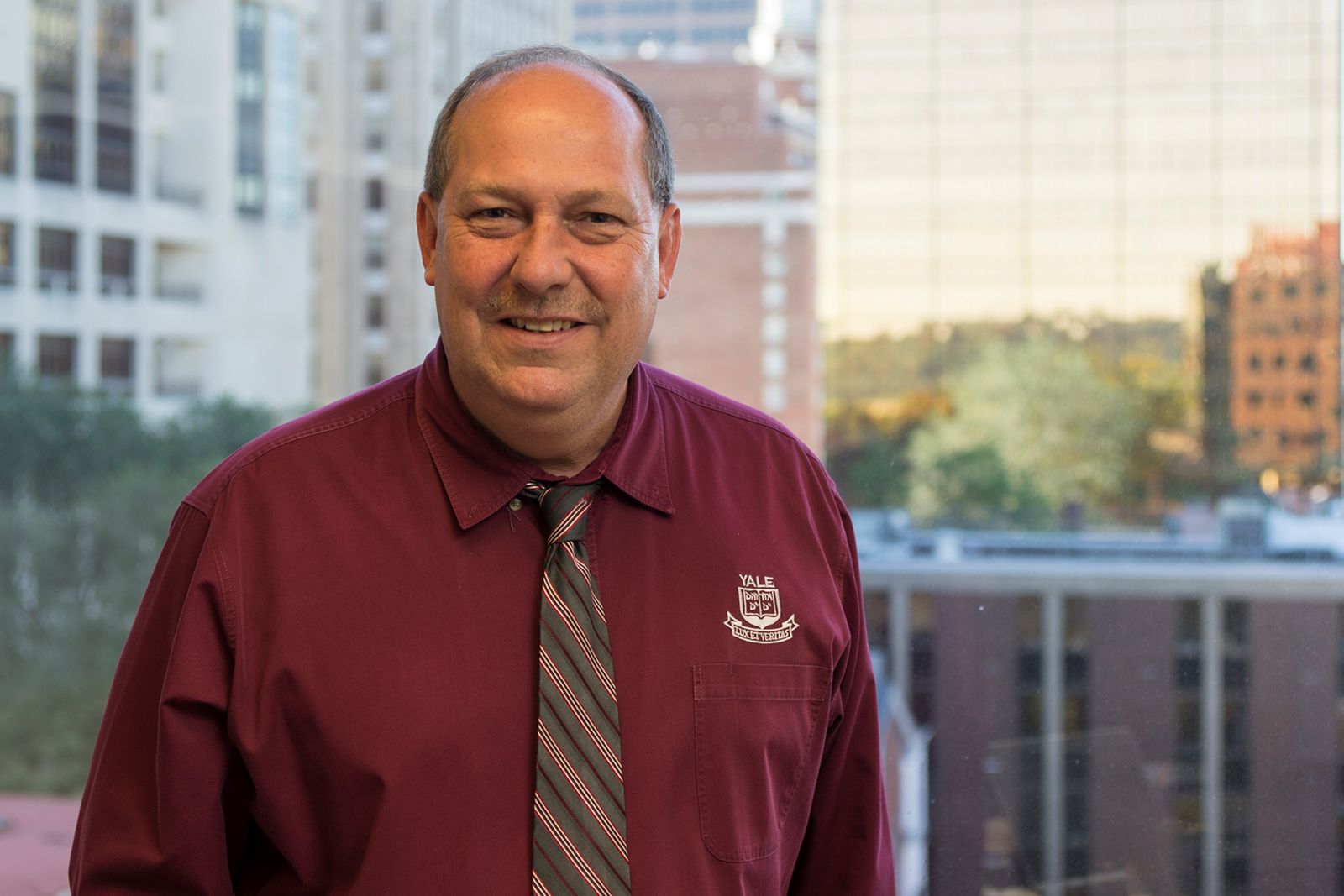 Ed Lipsett has been a Yale employee for more than 35 years and a key member of the Facilities Engineering & Energy Management team for the past eight years. In this role, Ed has led a variety of retro-commissioning activities to save energy, reduce carbon emissions, and improve comfort in dozens of Yale buildings, including achieving more than 30% energy and carbon reductions in the Yale University Art Gallery and Rudolph Hall. This year, Lipsett led efforts to utilize analytics software to continuously monitor performance issues in nearly 700 pieces of building mechanical equipment. He helped pilot the use of this software to help final commissioning and turnover of major capital projects like the Schwarzman Center, Humanities Quadrangle, and the Peabody Museum—activities that are foundational to the success of Yale's climate action plan.
Kristen Sorek West is the Director of Marketing for Executive Education at Yale School of Management. West consistently provides urgent leadership on sustainability efforts across her department. She co-leads a Gifts Committee that re-evaluated program gifts for thousands of participants to help reduce waste and revived her department's Sustainability Committee. That committee is actively incorporating the Green Event Checklist into the planning and execution of dozens of on-site programs, it hosted a textile recycling drive that collected more than 18 30-gallon bags of fabric, and it is progressing toward a Green Workplace Certification.
The success of Yale's sustainability efforts is built upon the contributions of individuals and groups across the University, and we congratulate and thank all our 2023 honorees for their leadership! If you know of a sustainability champion at Yale who should be recognized for their work, email the Office of Sustainability at sustainability@yale.edu.