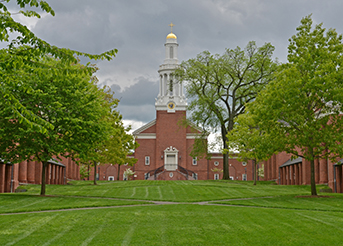 Yale Divinity School (YDS) is blazing a new path at Yale as it launches a program to offset the environmental impacts of academic and administrative travel. YDS is the first school within Yale to propose such an initiative.
As is typical at a major research university, travel is a frequent and often necessary part of academic scholarship at Yale. Due to the many choices associated with booking travel, including cost, group rates, and flexibility, it is difficult to track overall university-related travel. However, we know that air travel in particular has significant environmental impacts. Travel by air contributes 12 percent of all U.S. transportation greenhouse gas emissions. Indirect flights have particularly high impacts, as nearly one-fourth of an airplane's carbon emissions are a result of takeoff and landing.
Some globally-minded universities are tackling the issue of academic travel as part of their sustainability efforts. At ETH Zurich in Switzerland, departments are now expected to reduce air travel as a result of a student launched initiative in 2016. The University of Cambridge has committed to reducing flight emissions per full time employee by 25% by the year 2024. The University of Edinburgh has also committed to a flight tracking program to reduce total academic travel.
Yale Divinity School is now leading a similar effort at Yale. YDS has an Action Plan to integrate sustainability into its academics and campus life. This includes a travel offset goal. Inspired by other universities with offset programs, earlier this year, the Dean proposed a program to add a flat-rate "tax" to all domestic and international flights taken by staff or faculty for academic or business travel.  
The adoption of this goal required buy-in from many constituents. YDS Dean Greg Sterling first proposed the program to the Dean's Advisory Council (a group of YDS alumni and supporters who provide expert advisory assistance to the Dean) as well as key faculty and staff members. With expertise, support, and encouragement from Nora Gallagher and Paul Minus (members of the Dean's Advisory Council, the plan was further revised and tailored to YDS, addressing some early concerns of faculty members. When put to a vote, faculty, staff and the Advisory Council voted unanimously (with one abstention) in favor of the proposal.
"They did this because they believe in it," said Dean Sterling of the positive response from the YDS community, emphasizing the shared commitment to sustainability goals.
The program, which was first tested by the Dean's Advisory Council in mid-October, will be kept simple. Domestic flights will incur a $50 charge and international flights will incur a $100 charge. The revenue from the charge/tax will be used to support sustainability efforts at YDS. Projects will be selected based on a cost-benefit analysis and input from students, staff, and faculty. Dean Sterling hopes that early success will be able to fund new water bottle fill stations that have been requested by students.  He also noted that an expansion of composting programs might be an early priority for the funds.
"I am excited and proud of Dean Sterling's leadership in this area, both for YDS and the Yale community at large," said Emily Bruce, YSD '19. "Not only does it set a standard at Yale for incorporating sustainable thinking - especially in an area where sustainability can have such meaningful impact - but it sets an example for the future religious leaders and scholars in our student body."
YDS intends to produce an annual report of travel, funds collected, and how those funds were used towards sustainability efforts on campus. The report, which will be shared with faculty, staff, and Dean's Advisory Council, will generate reporting metrics and accountability for the program. Should the program be successful, it may be expanded to include flights for visiting scholars, lecturers, and conference presenters. In addition, Dean Sterling is interested in investigating the possibility of offsetting student travel as well, to be as inclusive as possible.
Although the YDS program is just the beginning, Yale is looking more closely at travel accounting and sustainable recommendations. The Yale Community Carbon Fund also serves as a key outlet for departments interested in offsetting their travel impacts and benefiting the local community.  
Yale is committed to building a more sustainable world. By doing what we do best—integrating science, the humanities, and our community—Yale creates, tests and adopts innovative solutions to the environmental and social challenges we all face.