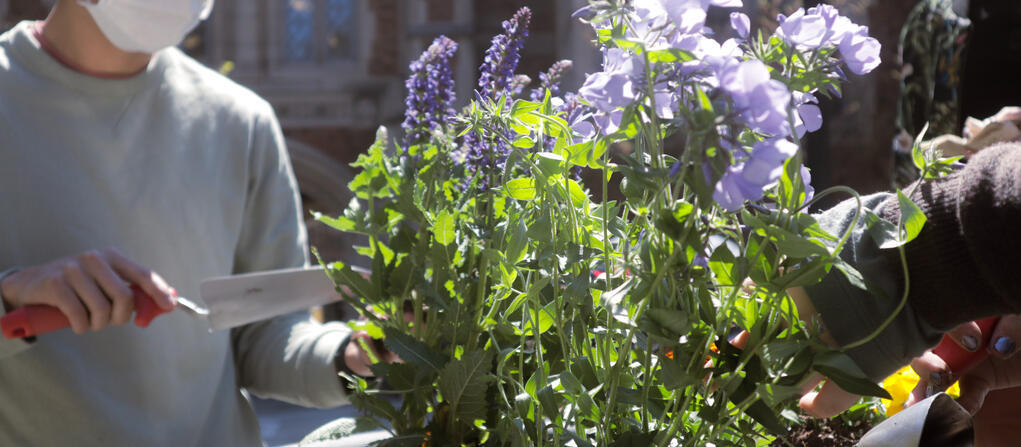 On the 51st Anniversary of Earth Day, the current cohort of Sustainability Liaisons received the 2021 Yale Residential College Sustainability awards in recognition of their tremendous achievements during the 2020-21 academic year. More commonly known as the annual "Sustainability Superlatives," these fun designations celebrate the unique contributions each Liaison has made within the culture and context of their residential college beyond the scope of their Sustainability Acton Plan. The Superlatives are designed in the style of high school yearbook awards and range from "Most Minimalist" to "Biggest Foodie."
On Earth Day, Liaison Coordinator Ashley Jankowski announced the Sustainability Superlatives to Liaisons, Operations Managers, and Heads of Colleges from each of the residential colleges
with an interactive StoryMap
as well as through digital certificates, which will be printed, framed, and displayed upon the community's safe return to campus in the fall.
"We are pleased with the way our Sustainability Liaisons stepped up to prioritize sustainability and the wellness of both our campus and the surrounding New Haven communities this year," said Ginger Chapman, Director of the Yale Office of Sustainability. "Their commitment to advancing an inclusive and equitable student culture of sustainability will continue to inspire our work for years to come."
Since 2018, the Sustainability Liaison program has served to advance an inclusive student culture of sustainability. The Liaisons, a diverse cohort of Yale College students from each of Yale's 14 residential colleges, are tasked with implementing their
college's unique Sustainability Action Plan
to drive sustainable culture shifts within the undergraduate community while helping to advance progress towards the institutional sustainability ambitions of the
Yale Sustainability Plan 2025
.
The COVID-19 pandemic posed a new set of challenges and opportunities to our Sustainability Liaison program, which previously relied on in-college messaging, campaigns, and events. Further, these 13 Liaisons found themselves all over the map – some were on-campus, others in New Haven, and even others in completely different time zones.
To cope with these challenges, during the summer of 2020, Yale Sustainability updated the 14 unique Sustainability Action Plans for each college to reflect on-campus restrictions and to allow for engagement of students studying remotely. In response to re-emerging examples of systemic racism and inequities, the Action Plans were also updated to further drive home the connection between climate change and social injustice, and to encourage principles of justice, equity, diversity, and inclusion within each month of programming and action. In close coordination with their Operations Managers and one another, the Liaisons seamlessly implemented their college's Action Plan despite the unprecedented circumstances.
Many of the Liaisons had not met each other in person, and yet they were able to develop a warm, collaborative working atmosphere and bring forth creative and innovative projects. Liaison-led initiatives included capturing non-perishable food from the colleges to distribute to local New Haven community members, educating the Yale student community around the management of Yale Hospitality's To-Go Bag materials and PPE, socially-distant courtyard gardening events, and much more. 
As a capstone to this year of programming, the Liaisons will present their work to Yale College, Operations, Facilities and Sustainability staff at the biannual Student Sustainability Presentations in May. 
"The Sustainability Liaison program provides an ideal structure for students passionate about sustainability to turn their ideas into practical solutions," says Tanya Wiedeking, Pierson College Operations Manager. "With expertise from Yale Sustainability and guidance from college staff they have the support necessary to introduce sustainable solutions with real impact. In Pierson College the sustainability liaisons invited speakers on relevant topics, found ways to reduce waste, and introduced energy saving measures, and other colleges had similar successes. I'm extremely proud of what the sustainability liaisons have accomplished as part of this pioneering program."