New residents of Benjamin Franklin and Pauli Murray colleges will find their bedrooms and common rooms furnished with items that promote sustainability and health.
The furniture is made domestically from sustainable wood, and is low in chemicals that can pollute indoor air. As the common rooms are furnished, students don't have to worry about buying their own furniture, reducing expenses and waste.
All the bedrooms are furnished with a bunkable bed, wardrobe, three-drawer chest, desk, and desk pedestal produced by New England Woodcraft, a local wood manufacturer and supplier. The organization uses a distinct finishing process that reduces volatile organic compounds (VOCs), pollutants that can cause eye and respiratory tract irritation, headaches, and dizziness.
Rather than using a common solvent-base finish like nitrocellulose lacquer, New England Woodcraft uses a UV cured finish. Nelson Sweeney, the Connecticut liaison at New England Woodcraft, compared the two finishing processes.
For every gallon of nitrocellulose lacquer, 25 percent is composed of solids. The other 75 percent is chemicals added to the solid resin so that the finish can be sprayed. The finish needs to be cured, and during this drying process, that other 75 percent of the material goes into the atmosphere as VOCs.
Alternatively, for a gallon of the UV cured finish, 100 percent is composed of solids. This material stays on the furniture and is cured by ultraviolet (UV) lights, emitting virtually zero VOCs and improving the health and safety of the employees.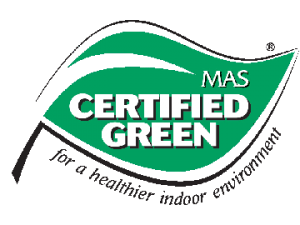 The furniture is MAS Certified Green, meaning that it passes rigorous testing requirements to ensure it was "designed and manufactured to dramatically lower chemical emissions released into the indoor environment." Less off gassing of chemicals from the furniture means healthier air inside the bedrooms and common rooms, places in which students will spend much of their time.
The wood is a domestic and natural maple mostly from forests in Pennsylvania. "Because [the maple] is high value, forestry companies and land owners grow and harvest it sustainably," says Sweeney. "You have that beautiful cycle of harvesting, and you're not changing the natural environment nor the diversity."
The common rooms are furnished with a wooden occasional table, along with a lounge chair, loveseat, and sofa manufactured by Edgecombe Furniture. The upholstery is Castillo Vinyl – comfortable, easy to maintain, and durable – necessary attributes for furniture to last in a college dorm room. The vinyl is free of polyvinyl chloride (PVC), a plastic used in upholstery that can release cancer-causing toxins during its manufacture and disposal.
Furnished common rooms will cut back on the number of items students need to purchase when moving in. Each year, Spring Salvage, a waste diversion program for Yale undergraduate move-out, collects around 13 tons of unwanted furniture. Although these items are donated to Goodwill Industries, reducing the amount of materials that come onto campus from the onset can save time and resources, and encourage sustainable habits.
Yale is committed to building a more sustainable world. By doing what we do best—integrating science, the humanities, and our community—Yale creates, tests and adopts innovative solutions to the environmental and social challenges we all face.