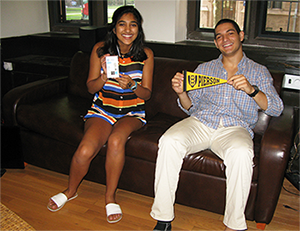 Incoming freshmen are not the only new arrivals to Yale's Old Campus. This August, Yale Facilities provided permanent furniture in the common rooms of Bingham Hall and Lanman-Wright Hall dormitories, which collectively house Berkeley, Calhoun, Pierson, and Trumbull College freshmen.
It's a move that will save students money and reduce the amount of furniture that is discarded each spring. This initiative is a big step forward for sustainability on campus.
Although Yale provides incoming students with basic furniture in individual rooms such as a bed and desk, the suite common rooms have traditionally been bare. For the first time, this is not the case for some Yale freshmen. Common rooms in Lanman-Wright and Bingham Hall dormitories have each been furnished with a combination of a sofa, chair, coffee table, and/or computer table. Mark Cappello, Area Manager for Residential Colleges, hopes that by providing basic furniture in the suite common rooms, the amount of stuff that students throw out at the end of the year will be reduced, as will some of the expenses of a first-time move to campus.
Last year, Spring Salvage, a waste diversion program for undergraduate move-out, collected over 14 tons of unwanted furniture. Although the items collected are donated to Goodwill Industries, reducing the amount of materials that come onto campus in the first place can save both time and resources, and encourage sustainable habits.
The new additions also take into account sustainable features and the well-being of building occupants. The furniture is made with recycled leather, and is PVC-free. All the wood in the furniture is GREENGUARD certified which indicates that it meets rigorous chemical emission standards reducing harmful off-gassing. Cleaner air means healthier breathing.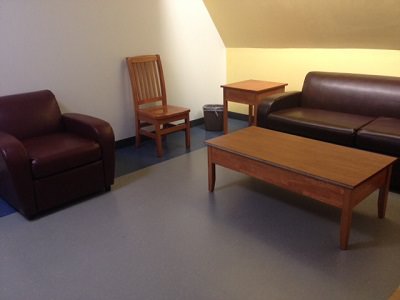 Students are onboard with the initiative. Karin Shedd, Yale '16, remarked, "I'm pleased to hear about this program, both as a former inhabitant of Lanman-Wright and someone who worked for Spring Salvage. The amount of stuff, including furniture that I saw people get rid of this year was shocking, so I'm glad that strides are being made to cut down on that."
Students also played a key role in the positive outcome of the project. Joined by several Heads of College, various student groups such as the Sustainability Service Corps and the Yale Student Environmental Coalition advocated for the project, and wrote letters in support of permanent common room furniture.
While the program has been in the works for a number of years, the pieces finally came together this summer. The final step was deciding which buildings to furnish first. At the residential colleges, furniture can be kept on site as upperclassmen have options to store individual furniture in their suites, and there is a system where graduating students can leave furniture for their residential college classmates.
Old Campus, on the other hand, is uniquely transitory. "Each year, freshmen come to Yale faced with the burden to collectively find and buy common room furniture, only to have to remove all of it at the end of the academic year on account of summer classes," explained Cappello. Storage is limited, freshman year suitemates are prone to change, and moving furniture is a big hassle. Thus, figuring out what to do with the furniture becomes an issue, and disposing of it becomes the simplest solution.
Furnishing Bingham and Lanman-Wright Halls is the first phase of a three year project to provide furniture in all dormitory common rooms on Old Campus by summer 2018. The University will also provide common room furniture to the two new residential colleges, expected to open in 2017.