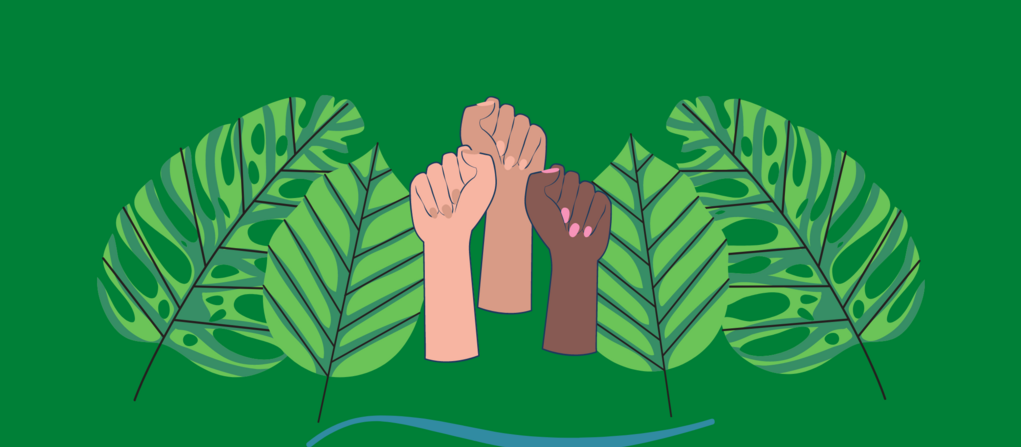 Throughout the month of February, The Good Life Center and Yale Sustainability co-hosted a Community Climate Justice Journaling Series. Over four weeks, the series tackled "Intersecting Identities and Climate Change," "Community (Climate) Grief," "Climate Injustice and Climate Privilege," and "Climate Action and Allyship." Through this progression, participants could practice channeling their grief and anxiety about climate change into productive climate action. 
Ashley Jankowski, Sustainability Fellow at the Yale University Office of Sustainability, was first inspired to collaborate with the Good Life Center when the Office launched the
Yale Community Climate Stories Map
for Earth Day 2020. In that interactive StoryMap, the Yale community submitted stories and photos from around the world about their personal experiences with climate change. With this in mind, Jankowski set out to find a new way for the Yale community to continuing engaging with their feelings towards climate change, and to do so with a lens for justice and equity. 
"The objective was to give people a safe space for reflection about climate anxiety, climate injustices and environmental racism, including how we might witness it, how we might experience it, and how we might perpetuate it," Jankowski said. "We hoped that gaining an understanding of one's own relationship with the environment and climate change could spur positive, justice-centric climate action."
Ashley reached out to Alexa Vaghenas, Woodbridge Fellow at the Good Life Center, who quickly hopped on board. They decided to launch the project during February, Yale Sustainability's Environmental Justice and Equity month.
According to Alexa, the Climate Justice Journaling Series was a natural progression of Yale Sustainability's and the Good Life Center's past explorations of "the relationship between nature and well-being." But in contrast to past collaborations, such as the "
Take a Hike
" and "
5 Minutes in Nature
" infographics, the journaling series was designed to be highly interactive.
Each week, participants received a newsletter that included that week's set of journaling prompts as well as a 5-to-10-minute meditation. Prompts included questions like "What are some important aspects of your identities? How do they shape your world view?" and "Think about the place you call home. How will it be impacted (or not impacted) by climate change?" Participants were encouraged to write honestly in whatever format was comfortable to them, and a set of optional readings were included each week for additional inspiration. The meditations, pulled from
The Good Life Center's SoundCloud
, served to help participants quiet their minds before journaling. Jankowski also wished to highlight The Good Life Center's meditations as a free resource for the entire Yale community.
"We tend to suppress our negative emotions, but what we resist persists, and what we feel, we can begin to heal," Vaghenas said. "We also wanted participants to use this time to focus on the circumstances within their control and how they can take action to fight climate justice."
Hema Patel YC '23 was drawn to participate in the journaling series because she felt sad about her personal carbon footprint. By participating in the series, she hoped to "work through [her sadness] through the journaling aspect." 
Similarly, Jessie Gong YC '22 was inspired to participate in the series in light of the COVID-19 pandemic. "I realized how much of an uptick there must be in
single-use materials
," Gong said. "With COVID-19 taking up most of our time and energy, I felt that climate change activism was placed on the backburner, so I wanted to revisit environmentalism." 
While the journaling series rightfully brought attention to climate change and climate justice, an unexpected silver lining for participants was the way the meditation and journaling techniques bled into their everyday lives. Both Patel and Gong conveyed how revelatory the meditation practice was for puncturing the normal rhythm of their digitally focused days. Patel, too, said that now she feels empowered to write about climate justice during her everyday journaling practice. 
These positive mental health outcomes aligned with Jankowski and Vaghenas' intentions for the program. 
"We work with students every day, and we recognize how draining it is for them to conduct their academic work, social lives, and climate action solely online," Jankowski said. "Alexa and I wanted to provide a new safe space for the Yale community to feel connected with and empowered by one another without needing to sit on a computer screen."
Patel and Gong are just two of nearly 60 Yale community members who participated in the series one way or another. Jankowski said that the four-week series was primarily promoted through various e-newsletters and social media posts. (Patel and Gong heard about the Climate Justice Journaling Series through the e-newsletters sent by Yale Sustainability and The Good Life Center, respectively.) Those who did not officially participate were invited to respond to a selection of the prompts through the
Yale Sustainability Instagram
. For example, to the Yes or No poll asking, "Have you ever felt hopeless or scared about the future of planet and ecological systems; and the future that your children, your family, your community, or all future generations might inherit?" 97% of respondents answered "Yes."   
That fear and doubt are precisely why both Jankowski and Vaghenas are hopeful for another Good Life Center-Yale Sustainability collaboration. 
"Taking time to reflect upon and process difficult emotions such as climate grief is extremely important, yet it is also hard to do on your own," said Vaghenas. 
"Especially in light of our remote circumstances, it is important to highlight the possibilities of simple practices like meditating or journaling," said Jankowski. 
To stay engaged with this work, subscribe to the newsletters of both
Yale Sustainability
and
The Good Life Center
and forward any literature to your friends. As Vaghenas said, "The more we can come together for communal healing and keep each other accountable to creating time for reflection, the better."