As of this fall, all varsity teams and three club teams at Yale have participated in Green Team Certification, as a result of the efforts of Bulldog Sustainability. The program, which was first implemented a few years ago, has steadily grown each year, capitalizing on the camaraderie and competitive spirit among student-athletes at Yale to encourage continued engagement.
Bulldog Sustainability is an organization of student-athletes working towards making athletic programs at Yale more environmentally responsible, in conjunction with the Office of Sustainability and the Department of Athletics. This year, the efforts are led by Konrad Collins '22 (varsity lacrosse), Lenny Jenkins '20 (varsity heavyweight crew), Khaya Klanot '20 (club rugby), Sofia Menemenlis '20 (varsity gymnastics), Miranda Papes '21 (varsity softball), Giovy Webb '20 (varsity softball), and Kira Woods '19 (varsity sailing).
The Green Team Certification Program is part of a suite of green certifications offered through the Yale Office of Sustainability and is designed to encourage student-athletes to incorporate sustainability practices into their team culture. Each team can accrue points for service projects, donations, recycling efforts, and more. In keeping with the competitive spirit, teams that are particularly successful are recognized at the end of each semester.
To achieve the goals of Green Team Certification, each participating varsity and club team has a sustainability captain. That person leads the efforts within their team and tailors the certification program to the schedule and structure of their team.
Carrie Heilbrun, sustainability captain of the varsity women's swimming and diving team noted that, "Participation in the Green Team Certification program has also strengthened our team's bond. We volunteered together at a New Haven Land Trust garden last year and performed manual labor to prepare for spring planting. We were able to use our strength training for a good cause!"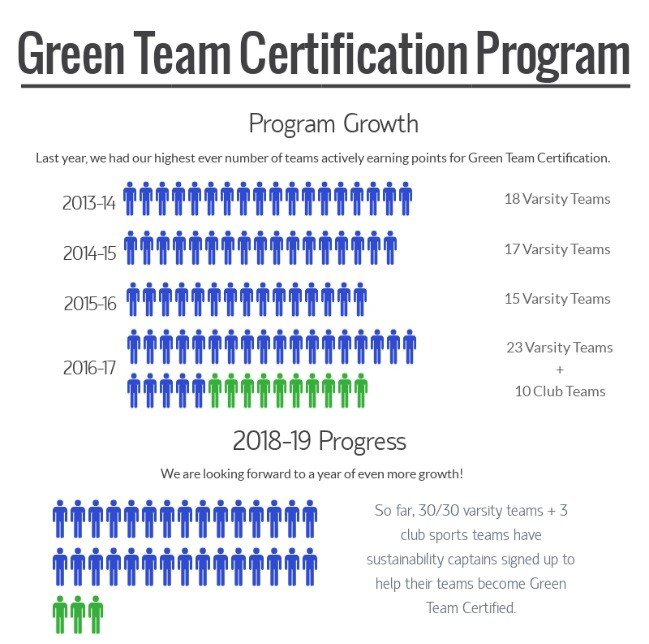 With the certification program in full swing, Bulldog Sustainability is now looking towards continued improvement in waste management at athletic events. Building on past efforts, the group will soon roll out a new program of Gameday Recycling Reps (GRRs). Stay up to date on this and future efforts via Twitter and Instagram.
Yale is committed to building a more sustainable world. By doing what we do best—integrating science, the humanities, and our community—Yale creates, tests and adopts innovative solutions to the environmental and social challenges we all face.