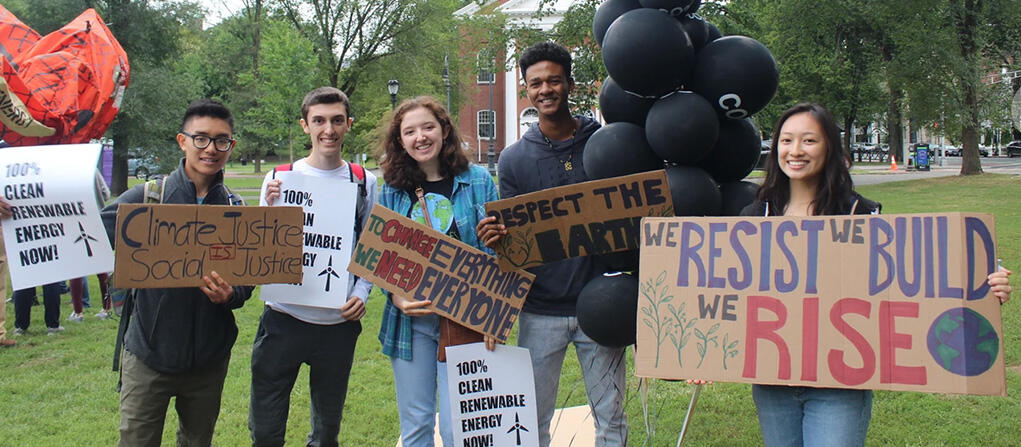 For climate activists, the dread that comes from watching environmental disasters unfold can feel overwhelming, even paralyzing. But Yale research suggests collective action may be an effective antidote to eco-anxiety—and a university community creates an ideal setting to find connections and work alongside others.
Yale students have a long history of organizing around pressing concerns related to climate change and sustainability, building skills that enable them to broaden their impact as global citizens. Alumni networks continue to nurture collective action through programs like the Yale Day of Service, as Yalies come together to give back to their communities. 
Read on for ways to learn about and act on climate anxiety to harness your worry for positive change. If you're currently working to support climate anxiety at Yale, tell us about it by emailing  sustainability@yale.edu and we'll add your project to this list.
Learn
A number of Yale faculty are at the forefront of studying climate anxiety and ways to ameliorate it. Here are three:
The Yale Forum on Religion and Ecology has assembled an extensive list of resources to learn about—and help cope with—eco-anxiety. The list includes books, journal articles, videos, podcasts, a certificate program, even a syllabus.
Find Inspiration
Yale Climate Connections recently published a list of "10 of the Best Climate Change Documentaries to See in 2023," including a few that deal directly with eco-anxiety.
Another documentary film, "A Climate of Anxiety," was co-directed last year by two Yale School of the Environment alumni: Sawyer Cresap Bailey '22 and Benjamin Stern '22. The film, which explores how climate anxiety is impacting the next generation of environmental leaders, is not yet publicly available but the co-directors discussed the project in a Q&A with Yale Environmental Humanities, which provided funding for the film.
Last fall, Yale School of the Environment's Office of Student Affairs hosted well-being consultant Daillen Culver of the firm BeDo to lead two facilitated workshops for students, offering tools for coping with eco-anxiety. They were titled "Self Regulation for Climate Distress: Practical Somatic Tools for Researcher Resilience" and "Overcoming Apathy & Cultivating Agency in the Face of Climate Change."
The Good Life Center has hosted programs on climate anxiety to give students a safe and supportive atmosphere to process their eco-worries. These include a climate journaling event and a series titled "Movement for Emotional Resilience in Climate Crisis."
The Yale Student Environmental Coalition has long provided a space for advocacy and collective action, giving students experience in working toward climate solutions and a way to channel climate anxiety into collective action they can take into their post-Yale lives.
Act
The health and well-being of communities—referred to as collective well-being—will be critical to facing down future climate threats. One of the best ways to build community is to work together in common cause, and Being Well at Yale has assembled a list of ways to contribute to protecting the environment—from adopting a tree to volunteering in a shared greenspace.
The Yale Day of Service brings together Yale alumni, students, and staff each spring to participate in some 300 different service projects. These frequently feature beach and river clean ups, tree planting, and outdoor recreation events that raise funds and awareness for a range of causes. People wanting to organize or volunteer are encouraged to find a local event or create one if they don't see anything in their area.
Action is the best medicine for anxiety, and Yale Sustainability's Take Action page has ideas on how to make sustainable living second nature with tips on saving energy, commuting sustainably, conserving water, disposing of waste properly, and more.