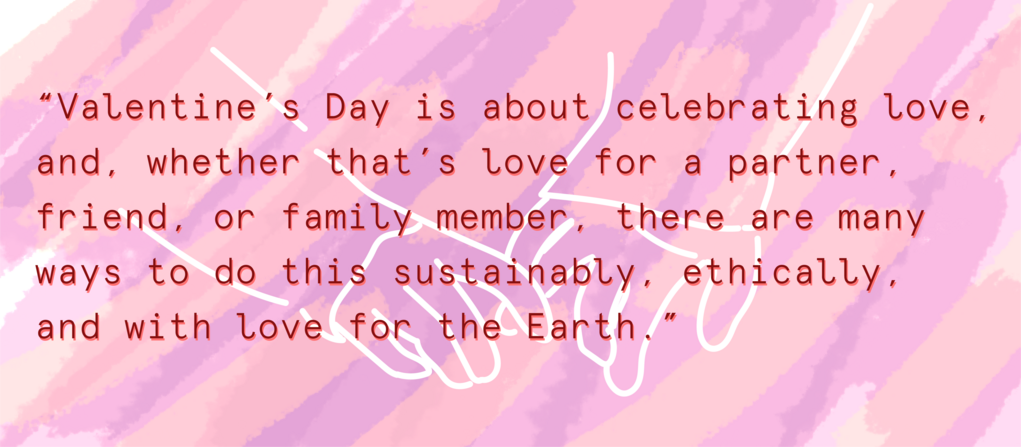 Valentine's Day is the second largest card-giving holiday after Christmas, with over one billion cards given on the holiday. These cards are often laminated in plastic, covered in glitter, or otherwise decorated in a way that makes them unable to be recycled. Giving chocolate is normalized on the holiday, but most of that chocolate is unethically sourced. Add the other throwaway gifts, like balloons, stuffed animals, and decorations, and Valentine's Day can be quite difficult on the environment. But it doesn't have to be!
Valentine's Day is about celebrating love, and, whether that's love for a partner, friend, or family member, Valentine's Day is a wonderful time to let people know you care about them. There are many ways to do this sustainably, ethically, and with love for the Earth. Here are some sustainable ideas for Valentine's Day gifts:
Buy Fair Trade Chocolate
Candy accounts for around half of the gifts given on Valentine's Day, with 58 million pounds of it being purchased the week leading up to Valentine's Day, but chocolate often has a social and environmental cost that far exceeds its actual price tag. The cacao industry is responsible for widespread economic inequality, child labor, forced labor, deforestation, and gender inequality. Look for chocolate with 
the Fair Trade logo
to buy ethically sourced chocolate. Learn where your favorite chocolate companies fall on the spectrum of sourcing through the
Food Empowerment Project.
Buy a long-lasting present
Buy a durable present that the receiver will keep for a long time, such as a mug, piece of art, or much needed item (i.e. a pair of gloves) by using your listening and observation skills to identify something that the recipient actually needs.
Buy jewelry responsibly and sustainably
It's important to buy from a jewelry company that traces its mining practices for precious stones and metals in order to ensure that it's mined responsibly. Often, in gem cutting facilities, the dust from the cut stones gets into workers' lungs. Consider purchasing from a company that ensures that they are using gems that were cut by workers with the proper protective equipment for the job. Jewelry production also often uses harsh chemicals and produces toxic waste. It's almost impossible to ensure that the jewelry company from which you are purchasing has completely sustainable practices, and most of them don't claim to; however, it is important to make sure that you're buying from jewelry companies that do their best to have ethical and transparent sourcing and production practices. If you are going to give fine jewelry as a gift this Valentine's Day, here are some brands to consider:
Smiling Rocks
,
Luna Rose
,
Gjenmi Jewelry
, or
Aurate New York
. Also consider buying secondhand!
Get a fairtrade and recyclable card or make your own
Gift a living plant
The bouquets available for purchase at the supermarket are typically imported from other countries, such as Colombia and Ecuador. These flowers contain fungicides, insecticides, and herbicides that are banned in the U.S. and Europe due to being linked to respiratory problems, neurological impairment, and higher rates of miscarriage. On top of that, the importation process is unsustainable due to the energy it requires. Instead, opt for a plant that will live longer. You can even choose a plant that will help to clear out pollutants in the home (find a list of the
best clean-air plants here
).
Bake some goods
Bake your loved one's favorite dessert or buy something for them from a locally owned bakery.
Give an intangible gift
Plan some quality time with your loved one—cook their favorite meal, watch their favorite movie with them, take a class together (i.e., cooking, photography), set aside time to paint or follow a Bob Ross tutorial together. You could also write a poem for your valentine, sing a song for them, make a video about all of your favorite memories together, ask their friends for their favorite memories with them and compile a list, or write down all of their best qualities and/or all of the things you love about them.
Ultimately, support sustainability by focusing less on consumerism and more on celebrating love this Valentine's Day, and, if you're going to shop this Valentine's Day, seek out options from a small business and those with ethical practices.