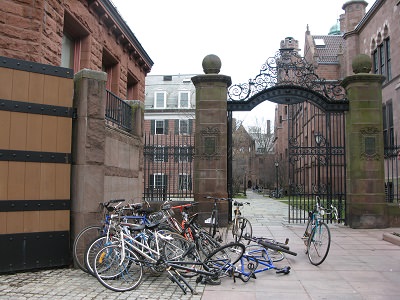 The transient nature of Yale's student body sometimes makes it hard to institutionalize sustainable practices. However, the Yale Office of Sustainability has figured out a way to make the coming and going of students work to our advantage.
As students come and go, bicycles are often left behind. It's not an option to simply leave the bikes on racks over summer break – for events such as graduation, the spaces need to be free of clutter. Yale operational staff always make a good-faith effort to contact the people who own the bikes, posting notices and leaving flyers on the bikes to notify owners that their bikes must be removed. However, some bikes are always left behind.
Many are stored at the Yale Police Department, with hopes that their owners will come by to pick them up. Yale offers free bike registration, which can help reunite recovered bikes with their owners. But owners often don't return, and YPD is lacking for space. Many residential colleges hang onto the bikes and give them to incoming students who need them. Some bikes need repairs before they're usable, and it's not clear what happens to such bikes.
The Yale Office of Sustainability is piloting a program with the Bradley Street Bicycle Co-op and Bicycle Education, Entrepreneurship, and Enrichment Programs (BEEEP) to establish a more standard protocol for handling these bicycles. The Bradley Street Bicycle Co-op is a membership-based organization which helps train individuals to maintain their own bikes, and provides parts and materials to help with maintenance. BEEEP is a program closely linked to the Co-op which recycles bikes, teaches repair and riding skills, and provides bicycles to New Haven residents.
 "[We] recycle bikes, teach repair and riding skills, and enrich the community through biking…the program distributes donated bikes to low income individuals who want a bike to get to and from work and for fitness and recreation," explained John Martin, Secretary and Co-Founder of BEEEP and Bradley St. Bicycle Co-Op mechanic. "We believe in empowering our community through bikes."
The Bradley Street Co-op and BEEEP will help Yale recycle abandoned, surplus bikes, particularly those which are in need for repairs. Minor repairs can be done easily; for those bikes which are too far gone, the Co-op can strip them for parts and then use those parts to fix other bikes. The final products can be recirculated into the Yale community or to other groups served by BEEEP's charitable mission.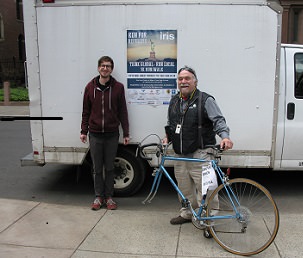 "The new bike recycling program is an exciting opportunity for students, faculty, and staff to get involved in sustainability efforts at Yale and in the City of New Haven. Working with our partners provides a tangible way to have a huge impact on the lives of fellow New Haven residents," said Brianne Mullen, Yale's Urban Sustainability Program Associate. "Plus, the Bradley Street Bike Co-op can teach them how to maintain a bike, which is a useful skill."
Yale community members who need bikes are also eligible to receive a bike through the recycling program. Those in need of a bike must fill out an application, take the Yale Bicycle Safety Training course, and provide at least two volunteer hours at BEEEP and/or the Co-op.
The bike recycling partnership kicked off with a donation of 15 bicycles which had been stored for nearly two years in a basement on Old Campus. All abandoned bikes recovered on the Yale campus are held for at least six months by the Yale Police Department before being donated. Learn more about the Yale Bike Recycling Program and how you can get involved here!