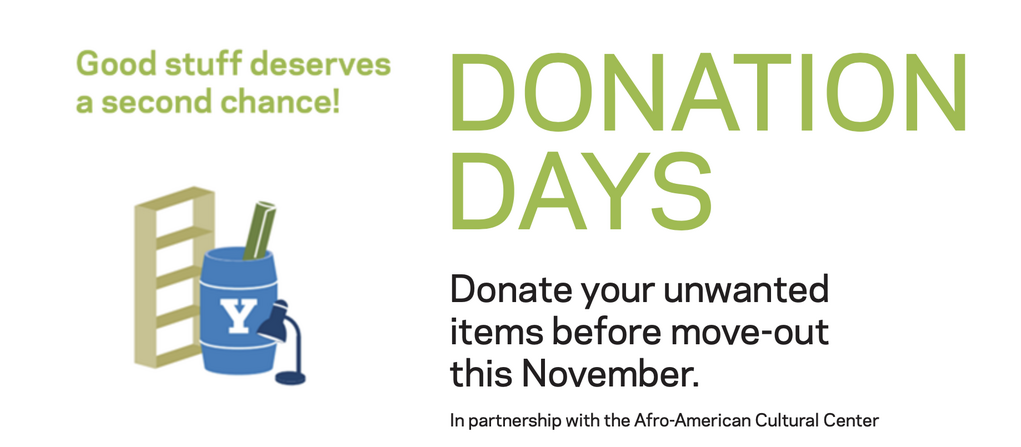 Due to the unusual circumstances of COVID-19, Yale students living on campus will be fully moving out in November, before winter break begins. In order to minimize the waste created from moving out, the Office of Sustainability, in partnership with Yale and Goodwill, will offer Donation Days from November 9th to the 21st, providing bins in residential colleges to capture items for donation that students might otherwise put into the trash. The items collected will be sent to Goodwill, with some items going to the Afro-American Cultural Center. 
It is very important to donate clothing, rather than throwing it away, because it extends the lifespan of the donated clothing by giving it a second life. Stretching the lifespan of clothes by three months per item—from five years and two months to five years and five months, for example—would lead to a 5-10% reduction in each of the carbon, water, and waste footprints. As textiles decompose, they emit toxins into the air and water, polluting the environment. When people donate their clothing instead of throwing it away, it limits pollution created by its decomposition and reduces the demand for new clothing. The fashion industry alone produces 10% of the global carbon emissions and consumes 1.5 trillion liters of water every year.
You can read more about the fashion industry's environmental impact here.
In addition to helping to facilitate the donation of items to Goodwill (find a full list of accepted items below) there will be a parallel infrastructure implemented to collect items such as half-used laundry detergent or shampoo bottles, non-perishable food items, unused personal care items, and things of the like—items that Goodwill cannot collect. These will then be distributed through the Afro-American Cultural Center to local organizations in need. There will be two bins out for donating 
Bins will be available in every residential college from Monday, November 9th through Saturday, November 21st.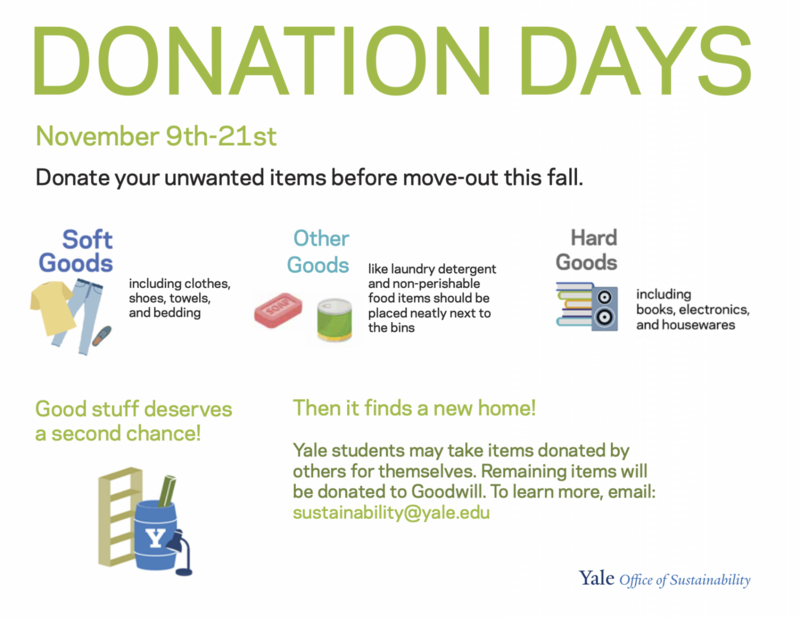 Location of Bins:
Grace Hopper: in the courtyard by Elm St entryway 
Ezra Stiles: by the tower or across from Entry D
Saybrook: in the archway connecting our courtyards
Jonathan Edwards: under the Gazebo
Branford: under the archway by the York Street gate on Library Walk
Morse:

 n

ear Tower Parkway Gate along the Tower ramp.
Davenport: near entryways D & G
Benjamin Franklin: Prospect Street Gate Archway
Pauli Murray: the archway that's between main courtyard and middle courtyard
Pierson: In the archway near entryway F (Park Street gate)
Timothy Dwight: 345 Temple Street Gate arch.  On the right (under the TD map)
Trumbull: Under the archway at the entrance to Trumbull at 241 Elm St
Berkeley: Outside of entryway D and G
Silliman: College St entrance archway and Grove St entrance archway
Items Accepted in Goodwill Bins:
Clothing, shoes and boots
Jewelry
Hats, gloves, mittens and scarves
Books, records, compact disks, video tapes and DVDs
Games, toys and sports equipment
Housewares: dishes, glassware, kitchen utensils, lamps and small appliances
Linens, curtains, blankets, etc.
Electronics: Stereos, radios, VCRs, DVD players, etc.
Furniture: dressers, tables, sofas, bed frames, (except waterbed frames) etc.