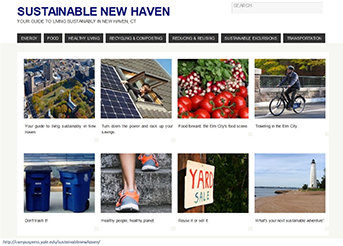 Did you know you can raise hens in the city? Compost? Get a free solar assessment? The Yale Office of Sustainability has created a digital guide called Sustainable New Haven, where you can find resources about these topics and much more. The website was created in response to requests for a central online repository for sustainability resources in New Haven. It offers residents of the Elm City resources to reduce their impact on the environment, save money, and increase their quality of life.
The guide features seven categories: energy, food, transportation, healthy living, recycling and composting, reducing and reusing materials, and sustainable day-trips across Connecticut. Resources are suitable for residents of New Haven and Yale community members, regardless of whether they rent or own a home.
Within each theme, there is something for everyone, whether you would like to make changes to green your routine or would simply like to find a new restaurant to try. The guide highlights over a dozen restaurants in New Haven and the surrounding area that source sustainable ingredients for their dishes.
From information on the best way to get to work to where to take your next run, this site provides many sustainable options for daily needs and activities. If you are new to the Elm City or you have been here for years, Sustainable New Haven contains valuable information to make your life in the city a little greener. Explore the guide and learn something new about the place you call home.
The website will be updated periodically with new information. If you notice something that we forgot, send your suggestions to sustainability@yale.edu.
Yale is committed to building a more sustainable world. By doing what we do best—integrating science, the humanities, and our community—Yale creates, tests and adopts innovative solutions to the environmental and social challenges we all face.