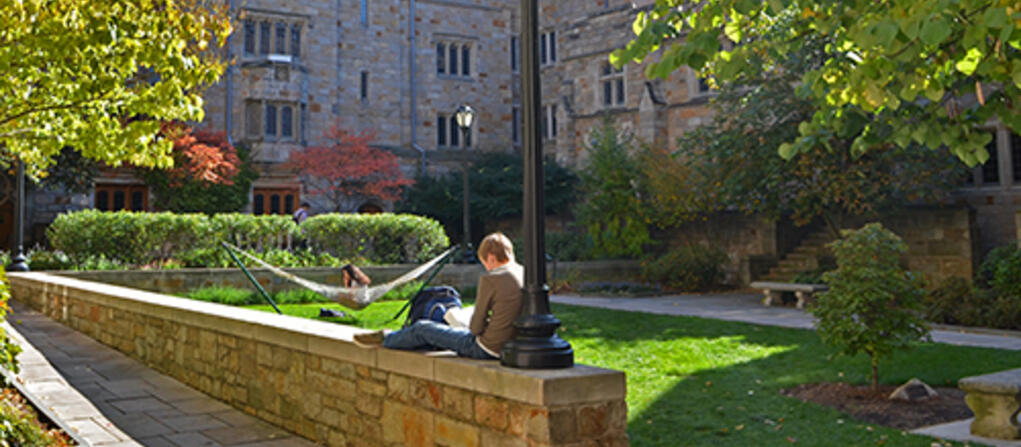 Thanks to a recent study, the Yale Office of Sustainability has a better understanding of how students and staff perceive the University's efforts to create a sustainable Yale. The report summarizes the findings of the 2021 Yale Sustainability Survey and provides direction for improving education, outreach, and policy decisions around sustainability initiatives.
The survey, which was distributed in October 2021, intends to provide an accurate assessment of sustainability knowledge, behaviors, and areas of interest within the Yale community. The data collected provides helpful benchmarking information used to measure progress; compare Yale to peer institutions; and implement initiatives that will help increase sustainability knowledge and behaviors. Results from the 2021 survey show that:
There are opportunities to increase education and outreach around sustainability best practices, particularly in the areas of materials management; energy; and water conservation.
The majority of the Yale community feels it is important for Yale to commit to preserving the environment, yet there are opportunities for the University to show more evidence of this commitment.
Fossil fuel divestment and food waste reduction are of particular interest to Yale College students.
A significant portion of Yale staff have expressed interest in the continuation of telework.
The Yale community has a working knowledge of facts related to sustainability.
Members of the Yale community would be more inclined to perform sustainability behaviors if they had clearer ways to measure and see their impact.
The report builds on findings from a survey that was first distributed in 2018 to fulfill the goal laid out by the Yale Sustainability Plan 2025 to assesses and improve sustainability awareness and empower action, as well as to receive recognition in the Association for Advancement of Sustainability in Higher Education's (AASHE) Sustainability Tracking, Assessment, and Rating System (STARS). Though the assessment is intended to be held biennially, it was not possible to distribute the survey in 2020 due to the COVID-19 pandemic.
Of the 600 Yale College students and nearly 1,400 employees that responded to the survey, more than half took advantage of this opportunity to also share feedback about specific programming or initiatives they want to see more attention drawn to. For example, one student expressed that they would "…like to see Yale further decrease energy consumption, reduce waste, and invest more into New Haven itself to help lead the community towards a greener future." With these findings, the Office will establish priority projects to ensure we are advancing the interests of the Yale community while also pushing forward on the University's sustainability goals; for example, the Sustainability Engagement Manager will work to identify projects that are student-specific based on comments from Yale College students. Other respondents expressed a desire for increased transparency of sustainability data, particularly around energy, fossil fuel divestment, and materials management. A Sustainability Data Hub was launched in 2020 for this purpose, which is constantly being updated and expanded upon and should be revisited frequently.
"Sustainability cannot be accomplished within the silos of University leadership or operations. It requires input and effort from our entire community – everyone doing their part to build a more sustainable world. We appreciate the information and feedback that respondents offered and hope reading the results will help motivate them to be active participants in our sustainability work at Yale."  – Ginger Chapman, Director, Yale Office of Sustainability