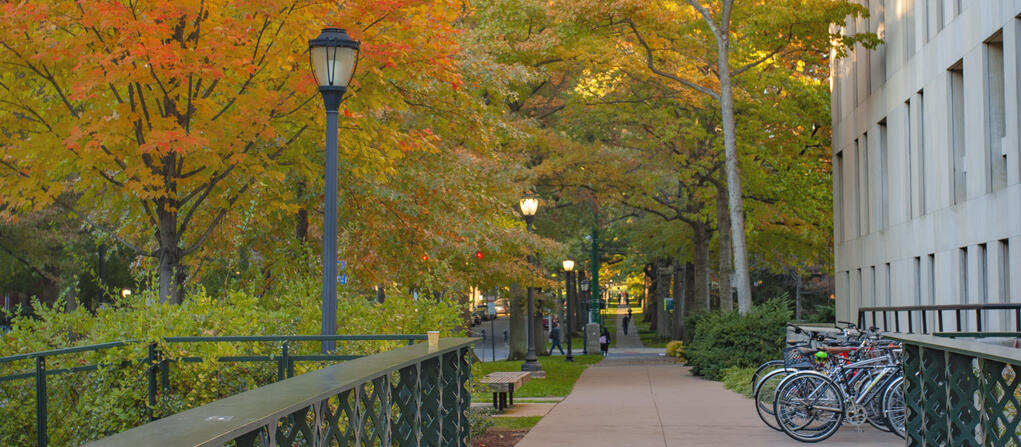 Yale has released its annual report assessing the University's progress toward meeting its sustainability goals. The report highlights Yale's movement toward achieving the ambitions established in 2016, when the University launched a nine-year sustainability plan aimed at building a more sustainable future—both globally and locally.
As this nine-year timeline concludes—and Yale prepares a new sustainability plan—the urgency of the climate crisis continues to influence the university's priorities, research, and progress. Yale's response to environmental challenges has centered on resilience, biodiversity, stewardship, and climate action, culminating in an ambitious, University-wide climate commitment to achieve net-zero emissions by 2035 and zero actual emissions by 2050.
Each year, the Office of Sustainability reports on the University's progress in meeting the goals outlined in the Yale Sustainability Plan 2025. Through data collection and analysis, the annual Sustainability Progress Report tracks goal achievements as well as areas for continued growth and improvement.
The 2022 Progress Report is now available and features updates on a wide range of Yale's sustainability programs—from materials management to transportation to empowerment initiatives and innovations in technology. Among the highlights are:
Achievement of 22 sustainability goals: When released in 2016, the plan announced 38 goals; an additional six goals have since been outlined.
Increased use of sustainable transportation: Our 2021 Transportation Survey results demonstrated that 65% of Yale commuters use sustainable transportation modes (such as public transit), which is a 7% increase from 2015 levels.
Development of a "zero-carbon-ready" standard: Yale Facilities Engineering and Operations leaders created this standard for all new construction and renovation projects, as part of the portfolio of strategies to achieve a zero-emissions campus by 2050.
Return of Spring Salvage: The undergraduate student move-out program resumed after a pandemic-related hiatus, and coincided with a food donation drive held by a team of undergraduate students. Between both programs, 31 tons were diverted from the waste stream.
Funding for research and climate solutions: The Yale Center for Natural Carbon Capture distributed funding for 17 research projects across several University departments, ranging from investigating forest carbon storage to converting carbon dioxide into sustainable plastics. The Climate Impact Innovation Fund, a $15 million fund supporting research into climate solutions, sponsored 21 proposals in its inaugural round of Planetary Solutions Project seed grants.
Development of a campus-wide Stormwater Master Plan: The plan will guide implementation of priority stormwater mitigation projects and will be completed by 2023.
"Yale is committed to building a more sustainable world and this report demonstrates meaningful progress toward meeting our goals," says Ginger Chapman, Director of the Office of Sustainability. "By doing what we do best—integrating science, the humanities, and our community—Yale can create, test, and adopt innovative solutions to the environmental and social challenges we all face."