Yale is on track to achieve its goal of reducing greenhouse gas (GHG) emissions 43 percent below 2005 levels by 2020. Based on the 2016 Greenhouse Gas Emissions Reduction Progress Report, Yale has achieved a 24 percent reduction to date, despite a 14 percent increase in campus size.
The university has reduced 200,961 metric tons of CO2 equivalent since 2005, comparable to the amount of GHG emissions released from 42,450 passenger vehicles driven for one year.[1]
In the past fiscal year, Yale saw a substantial emissions reduction in comparison to previous years. Numerous energy conservation projects, typical winter conditions, and diminished demand from large buildings currently under construction all contributed to these emission reductions.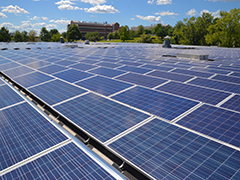 The report states, "it is important to recognize that our emission reduction path will not be linear, but rather a combination of increases and decreases leading to an overall net reduction in 2020."
The overall trajectory looks promising. Conservation and efficiency projects, new technologies, better standards for building controls, sustainable renovation standards, and behavioral changes all attribute to Yale's continual progress toward its 2005 reduction goal by 2020.
"The installation of the West Campus solar array, operational excellence, and multidisciplinary research help the university become more energy efficient. I am very pleased to see our initiatives and projects result in such significant reductions in Yale's greenhouse gas emissions," says Ginger Chapman, Director of the Yale Office of Sustainability.
The reporting comprises emissions from Yale facilities that are connected to the university's two co-generation power plants at Central and Medical Campus—including purchased electricity—and the Yale fleet.
In addition to its internal GHG reporting, Yale inventories, third party verifies, and reports its emissions through the Climate Registry (TCR). In 2014, Yale joined TCR, a non-profit that reports on organizations' GHG emissions. The university has since submitted data for calendar year 2014 and 2015 showing a commitment to consistent and transparent reporting.
The values reported in Yale's Progress Report and in TCR differ in two ways: the Yale reporting is based on the fiscal year while TCR is based on the calendar year, and TCR includes a larger dataset by using Yale's full operational boundary. The inventories differ slightly as a result, but TCR's methodology has confirmed the accuracy of Yale's reporting on the 2020 GHG emissions reduction goal.
Yale currently reports its GHG emissions both ways, and will switch to exclusively reporting through TCR at the completion of its 2005 goal in 2020.