A unique course offered this spring at the Yale School of Public Health teaches students how to address problems dealing with climate change, sustainability, and public health. Instructed by Dr. Robert Dubrow, students work in teams on a range of practical projects for organizations at Yale and in the local community.
The course, "Practicum in Climate Change, Sustainability, and Public Health," is sponsored by the Climate Change and Health Initiative, a program that, through Yale's multidisciplinary expertise and global reach, aims to train future leaders to address one of the greatest risks to public health in the 21st century – climate change.
Elsie Moore, a School of Public Health student currently in the course, is specifically interested in planetary health. "As public health practitioners, we need to conduct research on the topic [of climate change], but also have practice-based education," she says. "I thought this course would be an optimal occasion to conduct an academic project that could have positive implications in our community and promote sustainability and human health."
Students are part of one of four interdisciplinary teams working on an applied research or practice project that addresses problems from healthier pizza to bacterial contamination of beaches. The teams consist of students of various majors and specialties from Yale College and the Yale School of Public Health.
Moore is part of a team conducting a project related to campus transportation for the Office of Sustainability. "I appreciate how this course allows me to pursue tangible skills that will help me measure the health impacts of climate change, which I am dedicating my life's work towards."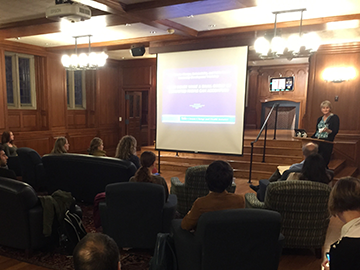 To take the course, students were required to participate in a workshop during the fall semester that provided training on leadership, strategic problem solving, and research implementation. The workshop was co-led by members of the Global Health Leadership Institute and the Office of Sustainability. Teams participated in breakout sessions led by each of their sponsoring organizations that include the East Shore District Health Department, Being Well at Yale, the Yale-New Haven Hospital's Pre-operative Admission Testing Clinic, and the Office of Sustainability.
Final products will consist of analyzed data, technical reports, and strategic planning, helping to further the work of organizations in the area.
Brianne Mullen, one of the Office of Sustainability staff preceptors for the course, is excited to work with the students on addressing the issue of single-occupancy vehicle use for short workday trips. "The students' findings will enhance our efforts to gather data on campus transportation habits and help employees travel more sustainably," she said.
The full list of projects includes:
Bacterial Contamination in Long Island Sound: Improving Beach Closure Policy and Assessing the Effects of Climate Change
Developing a Healthy, Sustainable, and Tasty Pizza for Yale Events
Carbon Footprint Impact of Reduction in Unnecessary Medical Testing in a Hospital Clinic
Reducing Automobile Use for Short Workday Trips by Yale Employees
Yale is committed to building a more sustainable world. By doing what we do best—integrating science, the humanities, and our community—Yale creates, tests and adopts innovative solutions to the environmental and social challenges we all face.