On October 30 – November 6, 2017, representatives from across Yale University participated in a conference hosted by ETH Zurich in Switzerland on strategies to reduce flying for university business. Seven other universities from around the world, all members of the International Alliance of Research Universities (IARU), also participated. However, in keeping with the theme of the conference, none of the participants flew to a conference site. Instead, each university acted as a physical "host" for its group of participants and the event was held via videoconference.
The conference addressed the conflict between the global presence and influence of these major research universities and their commitment to reduce institutional greenhouse gas emissions. Nearly 50 people from eight universities brainstormed strategies, opportunities, and challenges toward reducing flights taken for university-related business. The conference consisted of a series of virtual and "local," or in-person, workshops and presentations to better understand individual institution's cultures and identify potential shared solutions. Specific topics examined include:
The culture of flying for university-related business;
Conditions, policies, and measures that affect this behavior; and
Technologies and tools to promote virtual collaboration and reduce air miles traveled.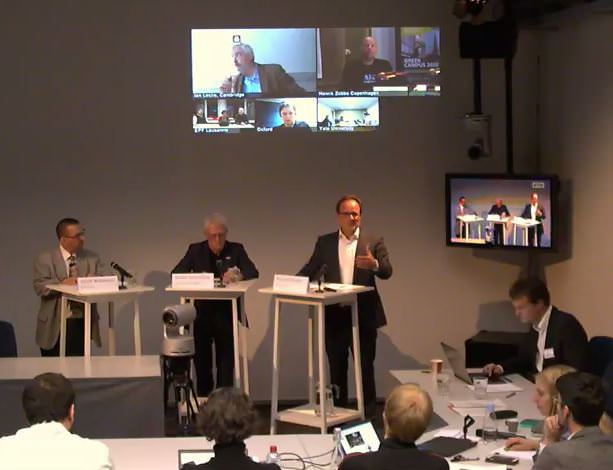 The international audience included participants from ETH Zurich, University of Basel, University of Cambridge, University of Copenhagen, ETH Lausanne, University of Oxford, Yale University, and University of Zurich. Across these institutions, there were several common themes and challenges related to air travel emissions.
Participants discussed the need to raise awareness about the impact of flying and to potentially examine the necessity of this mode of travel for certain events. The goal is not to eliminate air travel altogether, but to instead promote other transportation modes, such as bus or train, or virtual solutions. On the technical side, there was agreement that virtual conference capabilities could be enhanced and expanded to help promote the use of such tools. Finally, the group also discussed the need for improved data collection to better understand the impacts of university air travel and target key populations for potential reductions.
Here at Yale, there are many tools available to students, faculty, and staff to facilitate virtual collaboration. Zoom, a cloud platform for video and audio conferencing, chat, and webinars across mobile, desktop, and room system, is available to the entire Yale community. The Class Web Tools directory contains a listing of many other applications to facilitate virtual communication, file sharing, and other collaborative efforts.
According to the 2017 Yale Transportation Survey, about 40 percent of faculty, staff, and graduate and professional school students use teleconferencing tools for work or class meetings at least once per month. The most commonly used tools were Skype, Zoom, and the Yale MeetingPlace phone conference system (now replaced with Zoom). Each time one of these tools is used, a trip that would have been taken via plane, train, bus, or car could be eliminated, along with its greenhouse gas emissions.
Increasing the use of virtual conference technologies will help the University achieve the goals of the Yale Sustainability Plan 2025. The IARU Virtual Conference was a valuable learning experience, both in terms of content and for the lessons it provided in hosting and participating in virtual conferences. Going forward, Yale will continue to enhance the resources available to the community to participate in such events.