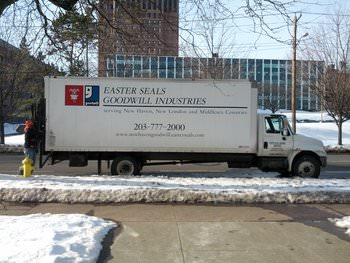 Yale University's Office of Sustainability partnered with the Easter Seals Goodwill Industries to host a donation drive in December 2013. Collection bins were placed in 21 locations around campus, including student residential buildings, research labs, office spaces, a conference center, and a museum. In total, nearly 1,500 pounds of materials were collected, comprised of clothing and linens (1,162 lbs), books (197 lbs), and housewares (135 lbs). The donation drive reduced waste, promoted material reuse, and connected the Yale community with the greater New Haven community.
Jim Murray, Director of Warehousing and Logistics for the Easter Seals Goodwill Industries in Hamden, CT said, "Donations of clothing and shoes are the lifeblood of Easter Seal Goodwill Industries. Without donations, we would not be able to fund our community services. Yale's efforts help ensure that our programs continue to provide employment and education opportunities for people with disabilities and other challenges. Thank you!"
Among the various locations across campus, the Office of International Students and Scholars hosted a bin filled to the brim with donated items by the end of the drive. "The International Center was very happy to host a donation bin for the drive in December. Staff at the Office of International Students & Scholars and other neighboring offices found it very convenient to be able to drop off gently used items on campus. It was also a good reminder to be mindful at this time of year that many are in need of warm winter clothes," said Amanda Eckler, Assistant Director for Programs at the Office of International Students and Scholars.
Donation bins were placed in the laundry rooms of nine residential colleges to collect unwanted items: Berkeley, Branford, Calhoun, Davenport, Pierson, Timothy Dwight/ Rosenfeld Hall, Silliman, Stiles, and Trumbull. Bins were also placed at twelve other sites around campus including Environmental Health and Safety; Class of 1954 Environmental Science Center; Human Resources; Kline Biology Tower; Lab of Epidemiology and Public Health; Office of International Students and Scholars; Peabody Museum of Natural History; Sage Hall; Yale Animal Resources Center at The Anlyan Center; West Campus Conference Center; Whitney Grove Square; and 25 Science Park.