Have you ever wondered what it would be like to own and drive a plug-in electric vehicle? DRIVE CLEAN Connecticut, along with state and campus partners, will host an Electric Vehicle Ride-and-Drive on Tuesday, April 10 from 10 a.m. to 3 p.m. Come to the Broadway Island at The Shops at Yale to test drive multiple EV makes and models with no sales pressure.
EVConnecticut, Plug In America, and the U.S. Department of Energy are working together to increase visibility and awareness of electric vehicles (EVs) through ride and drive events at workplaces and universities in Connecticut. The Yale Office of Sustainability, The Shops at Yale, and the Connecticut Department of Energy and Environmental Protection (DEEP) are partnering to engage the community in learning about and testing the abilities of today's EVs. EV manufacturers, such as BMW, Chevrolet, and Kia as well as local dealerships, will be on hand to offer information and test drives throughout the day.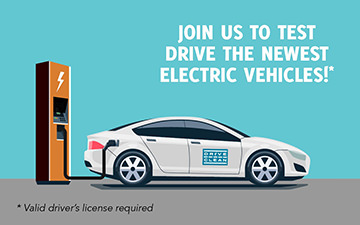 "Connecticut remains committed to taking action to address the most pressing environmental issue of our time – climate change," said DEEP Commissioner Robert Klee. "Given our over-reliance on fossil fuels for transportation, the electrification of a significant portion of our light duty fleet is a key strategy to substantially reducing greenhouse gas emissions in our state.  Through ongoing efforts such as ride and drive events and point of purchase rebates for EVs, we hope to raise awareness among consumers and demonstrate that today's EVs are a smart choice that fit many lifestyles." 
The event will open at 10 a.m. at the Broadway Island with brief introductory remarks on the importance of EVs to Connecticut's energy and environmental future. Speakers will include Ginger Chapman, Director of the Yale Office of Sustainability, DEEP Commissioner Robert Klee, and John Mayes, Associate Vice President for Administration & Chief Procurement Officer for Yale University.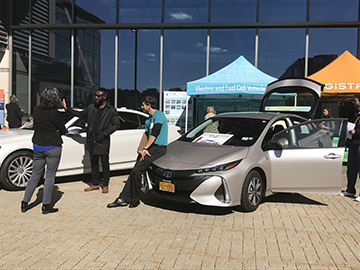 "The Yale Sustainability Plan 2025 spells out the University's commitments to achieving carbon neutrality by or before 2050 and to advance transportation choices that improve human health and environmental vitality," Ginger explained. "The electrification of our transportation system will help achieve these objectives."
Yale's efforts to support EVs on campus cover the University Fleet as well as commuters. The Yale Fleet Management team recently added an all-electric Chevrolet Bolt to its fleet to be used as a patrol vehicle at West Campus, and continues to explore new technologies to enhance sustainability of the over 450 vehicles on campus.
 "Yale supports clean, efficient, and reliable transportation options such as alternative fuel vehicles to enhance the sustainability of our commuters and university fleet," said John Mayes, who oversees both Fleet Management and Parking & Transit. "We are actively exploring options for piloting alternative fuel vehicles for operational department use and enhancing electric vehicle infrastructure on campus."
The event is a partnership between Plug In America, Yale Office of Sustainability, Yale University Properties, Connecticut DEEP, and is professionally produced by REACH Strategies.
Check out the event on Facebook!
For questions please contact Beata Fiszer, Yale Office of Sustainability, at beata.fiszer@yale.edu or (203) 436-3572.