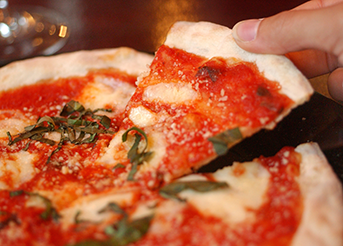 Yale Hospitality operations are already focused on sustainable food sourcing and are now focusing on improving the sustainability of other materials that they source including single-use plastic. Yale Hospitality includes all dining and meal services on Yale's campus, from residential college dining halls, to retail facilities, and catering services. There has been a recent push to reduce plastics in retail dining locations, including Thain Family Café, KBT Café, Café Med, The Refectory at Divinity, and others.
During the 2017-2018 academic year, Yale Hospitality eliminated plastic bags from all retail facilities. Initially, when the change was implemented, Yale posted explanatory signage at the affected dining locations and sold reusable bags to encourage adjustment and behavior change. Now, a year later, the change is no longer advertised, but is seamlessly ingrained in the daily functioning of all on-campus retail dining facilities.
Building on this success, Yale Hospitality is now exploring the possibility of eliminating plastic straws from its operation. Last fall, a pilot was implemented to test the success of removing plastic straws and replacing them with paper straws in one of the retail facilities. Unfortunately, the quality of the paper straws was not high enough to withstand use. In response, Hospitality is now researching multiple alternatives to plastic straws to determine which is most suitable: straw-less lids made from plastic or corn-based materials, paper straws, and bamboo straws.
"Our overall use of plastic packaging and straws is relatively low, but we are constantly looking for ways to further reduce" said Adam Millman, Senior Director of Auxiliary Operations.
Keeping that in mind, Hospitality will continue to look for small changes to make in the future. One opportunity might be to investigate the use of plastic "clamshells" that are typically used to package sandwiches, salads, and other prepared foods.
All this work is part of broader efforts to continually improve the sustainability practices of Yale Hospitality. In addition to their plastic reduction efforts, Yale Hospitality has long been committed to sustainable and locally-sourced ingredients, seeking to provide innovative and healthy menu items while limiting environmental impact of their operations. Through its various operations, all members of the Yale community can enjoy the benefits of their commitment to sustainability.  
Yale is committed to building a more sustainable world. By doing what we do best—integrating science, the humanities, and our community—Yale creates, tests and adopts innovative solutions to the environmental and social challenges we all face.