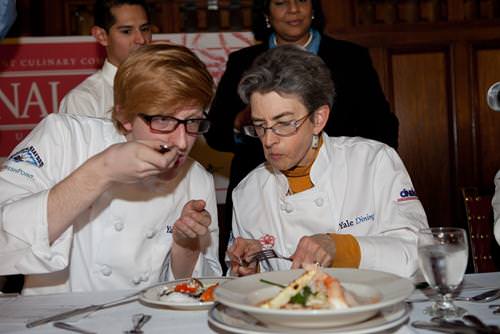 Whether navigating the tricky issue of chicken tenders in its everyday operations, or finding sustainably-sourced crab for high-profile events, Yale University Dining has raised the bar for sustainable university food service. Most recently, Yale Dining, with the Yale College Council, organized the third annual "Final Cut" cooking competition between teams from each residential college, based on the Iron Chef program and incorporating as the theme ingredient wild-caught Alaskan King crab. Crab was chosen as a sustainable alternative to other meat options since US crab fisheries are more rigorously monitored than many other fishing industries (such as overfished East Coast salmon and cod fisheries), to ensure that fishers do not exceed the total allowable catch as calculated by fisheries scientists and ensure long-term sustainability. Furthermore, the methods for catching crab have less impact on the natural environment, since crab pots and traps result in no bycatch.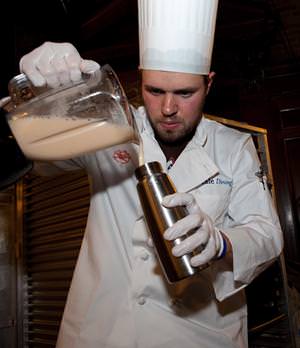 The students participating in the competition embraced the ingredient wholeheartedly, creating dishes such as crab gumbo, crab and chili spring rolls, and crab foam. Judged by a panel including Director of Yale Dining Rafi Taherian and Yale College Dean Mary Miller, the winning dish  (crab zeppole with spicy lemon whip, and pancetta sage crab risotto) will be incorporated into the Yale dining menu.  This event proved both an excellent way for Yale Dining to communicate about sustainability to the student community, and a fun way for students to get involved.
Yale menus have already seen major amendments in the past few years, as Yale Dining has set its sights on greater operational efficiency and sustainable procurement. By consolidating central office positions, orders, and deliveries, Dining was able to save large amounts of money that it funneled back into purchasing higher quality, lower-impact products.  Currently, about 60% of all produce is purchased, in season, from local farms that are either organic, or use Integrated Pest Management, and has played an integral role in the major reconfiguration of the dining hall salad bar and an increase in produce consumption of 60%.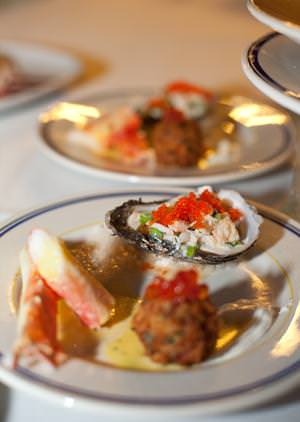 Meat products have slowly been edged out of their traditional prime real estate on the servery line by expanded options for vegetable protein, which has increased by more than 20% over the last year. The meat that has remained has been carefully vetted for sustainability: all chicken is vegetarian fed, antibiotic-free, hormone-free, and sourced locally, as is beef and most pork. The traditional cult following of heavily-processed chicken nuggets, from inhumanely-raised meat, have found a new object of devotion in the in-house chicken tenders, which are prepared fresh by Yale Dining and incorporate only sustainably-raised meat—now the standard for Dining Services even as it serves tens of thousands of meals a day.