On April 20, the Office of Sustainability hosted the State of Sustainability Awards Breakfast, an annual event around Earth Day that celebrates Yale's commitment to building a more sustainable world. The program included a musical performance, a keynote address, and an award ceremony that honored Yale staff and students for their leadership and dedication to creating a more environmentally and socially responsible university.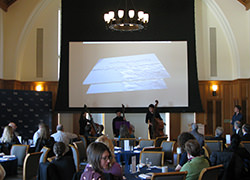 The event began with "An Ocean Beach Cypher," a piece composed by Anteo Fabris, Yale School of Music (YSM) '19. Performed by three double basses, Amy Nickler YSM '19, Kohei Yamaguchi YSM '18, and Kelvin Ng YSM '19, the piece was inspired by Fabris' thoughts on the ocean, tides, and the changing climate.
Yale Hospitality provided a special menu that highlighted their commitment to local, regional, eco-sensitive, fair, human, and house-made products. The menu included items such as maple syrup harvested from trees at Yale's West Campus, a salad with apples, cucumbers, blueberries, and New Haven honey, and bread with jam and butter from Connecticut.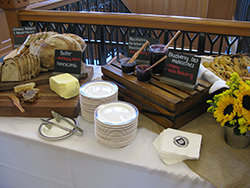 Pericles Lewis, Vice President for Global Strategy and Deputy Provost for International Affairs, offered a keynote address on Yale's role as a global leader for sustainability. Lewis remarked on the collaboration taking place at Yale to create transformative change such as the Yale Institute on Global Health, which will emphasize connections between human and planetary health, and Urban @ Yale, which will foster solutions to urbanization.
Ginger Chapman, Director of the Yale Office of Sustainability, presented awards to members of the Yale community who demonstrated outstanding contributions to sustainability for the academic year 2017–2018.
Yale Landscape and Grounds Management was recognized for transitioning Yale's grounds equipment from gas and diesel to electric alternatives. The initiative will improve air quality, reduce noise pollution, and help Yale in achieving its greenhouse gas reduction commitments. Contracted groups who maintain Yale grounds will also be required to use electrical equipment, providing benefits beyond Yale's campus. By reducing localized emissions and cutting back on noise, the initiative will directly benefit the health and well-being of grounds staff.
Łukasz Bratasz, Head of the Sustainable Conservation Laboratory at the Institute for the Preservation of Cultural Heritage, was honored for reducing energy consumption and lowering greenhouse gas emissions at Yale's cultural centers. Bratasz has enabled the Institute for the Preservation of Cultural Heritage to take a leadership role in convening actors from each of Yale's museums and libraries, which will help Yale achieve carbon neutrality by or before 2050. Bratasz worked with staff at the Yale Peabody Museum on a comprehensive risk assessment that led to a shift in climate control, nightly shutdowns of the air handling system, broader thermal criteria, and a reduction of the amount of fresh air introduced to the buildings.
Jacquie Gaetano, Libraries Superintendent, received an award for promoting sustainable operations in Yale Facilities Services. Gaetano helped to update Yale's Green Cleaning Standards, which aim to reduce the exposure of faculty, staff, students, and visitors to chemical, biological, and particulate matter that may be harmful to human health, and the built and natural environments. Gaetano also helped analyze Yale's use of Orbio technology to find opportunities for expansion on campus, and worked on sustainability engagement, outreach tactics, and materials for Yale custodial staff.
Julia Johnson, Yale Divinity School '18, was recognized for furthering sustainability at the Yale Divinity School. Johnson streamlined food waste in the Refectory tripling their composting efforts, coordinated and tended the Divinity garden, was the chair of the Yale Divinity School sustainability group, created an international graduate conference in religion and ecology, worked with Yale Facilities to begin compositing paper towels in the school's bathrooms, and helped create the school's Sustainability Action Plan.
Tien Tran, Yale College '19, received an award for incorporating sustainability into the Asian American Cultural Center. Tran worked with the Office of Sustainability to conduct waste and energy surveys of the center, organized workshops on how to grow plants in urban areas, hosted film screenings about migration and sustainability, and weaved sustainability into other key issues that the center addresses, such as migration, workers' rights, and racism. Tran continues to organize and promote talks on food justice and mental health, furthering sustainability in an inclusive and thoughtful way.
Yale is committed to building a more sustainable world. By doing what we do best—integrating science, the humanities, and our community—Yale creates, tests and adopts innovative solutions to the environmental and social challenges we all face.